Trump Meets Bolsonaro: From Family Scandals to Embracing the Far Right, Here's How the Controversial Leaders Compare
President Donald Trump was set to meet his Brazilian counterpart, Jair Bolsonaro, for the first time Tuesday in a sit-down that would bring together two conservative leaders pursuing controversial, sometimes like-minded, strategies to make their respective countries "great again."
The two men have expressed great admiration for one another, viewing themselves as right-wing political revolutionaries against failed leftist policies. As with Trump, Bolsonaro's election last year overturned a liberal government accused of further polarizing a divided nation. But their similarities have run much deeper than that.
"Both present themselves as populist outsiders against the establishment. Mocked at first, they won impressive electoral victories. They used new media, such as the social networks, in a much more effective way than their rivals," Mauricio Santoro, an assistant professor at the State University of Rio de Janeiro, told Newsweek.
"They have a similar type of language: harsh, uneducated, often considered abusive against women or minorities—and their supporters love them for being against the elite norms of polite discourse," he added. "They appeal to nostalgic feelings about an ill-defined time of 'lost greatness' to the nation and blame the left and the cosmopolitan upper classes for its decline."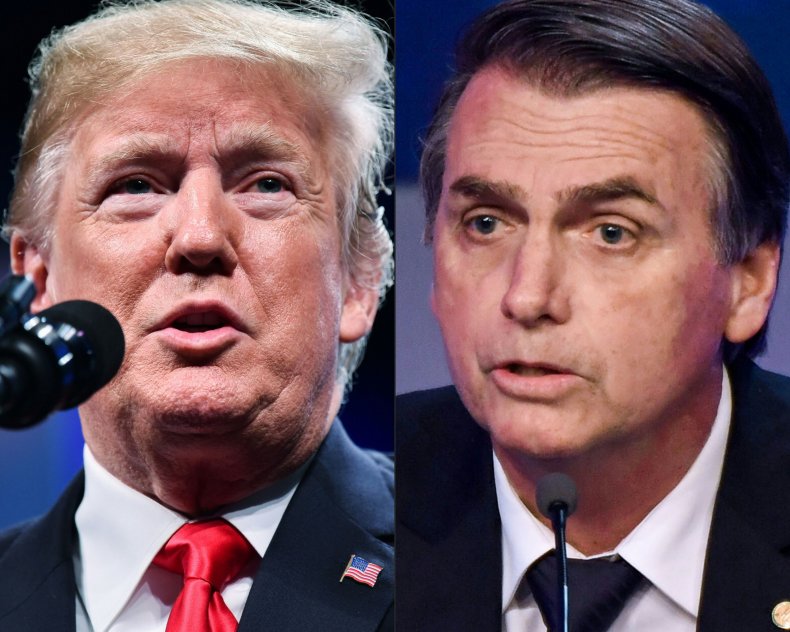 Maria Luisa Mendonça, director of the Network for Social Justice and Human Rights in Brazil, also spoke about Trump's and Bolsonaro's "similar strategies," which included "spreading news in massive social media attacks" and their overall tendency to espouse what she described as "expressed sexist, racist and homophobic views."
In addition, Mendonça pointed out their shared distaste for federal regulation, especially on the environment and firearms, as well as their promotion of "economic policies that cut investments in social programs, in education and health care."
The two leaders have found some common ground on foreign policy too. In one of the Trump administration's first major engagements with Latin America, the president has rallied regional allies against Venezuelan President Nicolás Maduro, a socialist leader long wary of alleged U.S. plots to depose him. The leftist-led Latin American state underwent a socioeconomic boom under the leadership of the late Hugo Chávez, but internal mismanagement and mounting U.S. sanctions have contributed to massive hyperinflation and political unrest.
In January, weeks after Bolsonaro was sworn in, the president of the opposition-controlled Venezuelan National Assembly, Juan Guaidó, declared himself the country's interim president, nullifying last year's election in which Maduro secured his second term. The U.S. swiftly endorsed Guaidó, and Venezuela's neighbors Brazil and Colombia, along with many others in Latin America, quickly followed suit. Abroad, the European Union and Israel were among those also backing Guaidó, while Maduro counted Bolivia, Cuba and Nicaragua among his local allies and China, Russia, Iran and Turkey among his supporters worldwide.
"They are articulating support for a potential war against Venezuela that can have catastrophic consequences in the region. They disseminate the idea of Venezuela as 'external enemy' in the region," Mendonça said, speaking of Trump and Bolsonaro. "This is very dangerous because Brazilian foreign policy was historically based on peaceful mediation of conflicts."
Trump's and Bolsonaro's stances on Venezuela have a clear geopolitical element, especially when seen through the lens of the long U.S. history of attempting to suppress manifestations of leftism in Latin America in favor of right-wing forces. That, however, is not the only factor at play. Mendonça noted that the two presidents "both face investigations of close relatives in their administration, so the attacks on Venezuela also represent a strategy to change attention and discourse."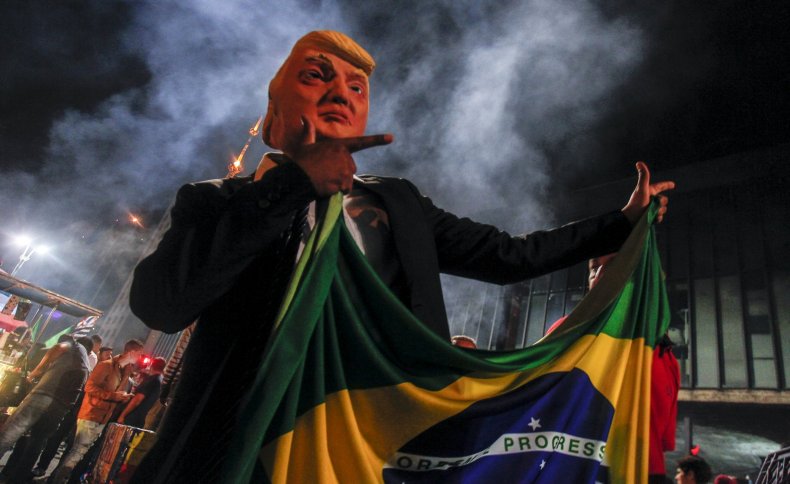 Both Trump and Bolsonaro got their first terms off to a rocky start, with their administrations immediately hit by scandals. The Republican president was accused of colluding with Russia to secure a victory against Democratic candidate Hillary Clinton.
As Trump's tenure progressed, scrutiny over the inner workings of his White House has only expanded, now including calls for investigations into how Jared Kushner, the president's son-in-law and senior adviser, obtained a security clearance and his intimate relationship with Saudi Crown Prince Mohammed bin Salman, who stands accused of ordering the killing of journalist Jamal Khashoggi.
As for Bolsonaro, his eldest son, Flávio, has been hit by two high-profile allegations. The Rio de Janeiro state senator has been accused of illegally siphoning funds through his employees and of hiring the wife and mother of former military police captain Adriano Magalhães da Nóbrega, who was allegedly in charge of a militia—sometimes termed a "death squad"—and accused of killing Rio de Janeiro City Council member and activist Marielle Franco in a brazen assassination that shocked the nation last year.
When it came to violence, both men have also been selective in their criticism. Trump and Bolsonaro have threatened hard-line measures against crime-stricken regions in their respective countries, vowing to fight the narcotics trade with force. At the same time, the two presidents have been accused of courting far-right politics and offered very similar responses to the recent shooting that killed up to 50 people and injured about the same number at two mosques in Christchurch, New Zealand.
While Trump offered his "warmest sympathy and best wishes" and Bolsonaro his "deepest condolences" in the wake of the massacre, neither followed many other world leaders in condemning the white nationalist views widely attributed to the gunman in custody.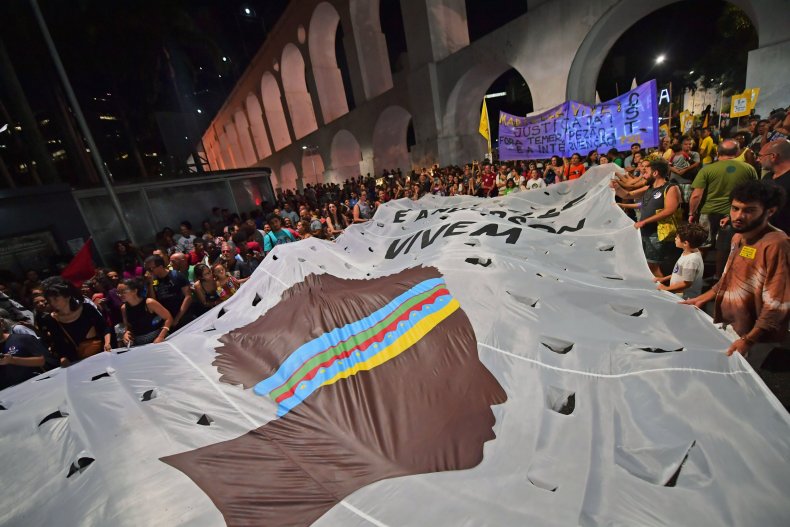 Santoro noted that, despite some striking resemblances, major differences between the two leaders persist. He said that "the big difference between Trump and Bolsonaro is economic policy," as "Trump is a nationalist who is critical of international treaties and multilateral organization" and "believes in bilateral trade deals, such as the one his team is negotiating with China."
On the other hand, "Bolsonaro was like that in his long career in Congress, but during his presidential campaign he claimed to have changed," now seeking "a libertarian agenda: to open the economy, privatize, reform the pension system, reduce/eliminate subsidies."
"It is also important to notice that Trump and Bolsonaro have different social constituencies. The American president's core group of supporters are low-middle-class voters, in small towns and the countryside," Santoro said. "Bolsonaro has a more mixed support, including many elite voters. The main line of division in Brazil was regional: Bolsonaro won across social classes in the South, Southeast and Midwest; the left won in the North and Northeast."
Santoro maintained that "Trump is the great role model for Bolsonaro, as he has stated several times," but wondered if White House's difficult foreign policy record could ruin the burgeoning, right-wing romance in the Americas.
"So far, the American president has not established strong relationships with any Latin American chief of state. Will Bolsonaro be the first one? We may expect them to get along well in a personal way, but that is not a guarantee that they will build solid foreign policy ties," Santoro said.
He continued: "Too many presidents of Brazil overrated their charm and charisma trying to achieve good deals with the United States. Clinton and Cardoso; Bush and Lula—all had nice personal relationships, but that did not lead to extraordinary diplomatic results."