Donald Trump Says He Only Likes Brazil Because Its Anti-LGBT, Pro-Torture New President Likes Being Compared to Him
President Donald Trump has said that he only likes Brazil because its newly inaugurated, far-right president likes being compared to him.
"Brazil's got a great new leader," Trump said on Monday while attending the American Farm Bureau Federation's annual convention taking place in New Orleans, The Washington Post's David Nakamura reported. "They say he's the Donald Trump of Brazil. Can you believe that? But he likes it," the president continued. "If he didn't, I wouldn't like the country," he added.
Jair Bolsonaro was elected as Brazil's president in a runoff election at the end of October. Throughout his campaign, he was often dubbed "Trump of the tropics" or "Brazil's Donald Trump." But some analysts have warned that Bolsonaro is actually far more extreme than his counterpart in Washington.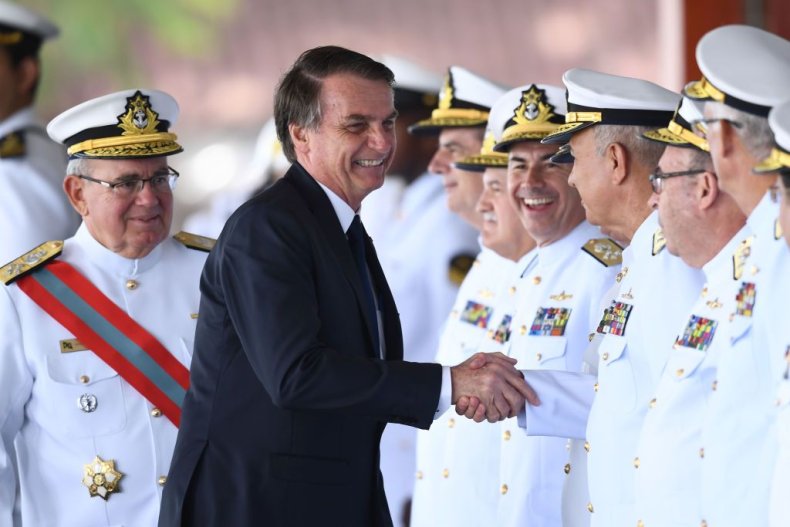 Far-right leader and former congressman Bolsonaro has spoken fondly of the nation's military dictatorship, which ended in 1985, referring to it as a "very good period." He has also spoken positively about torture, and once told a female colleague that she did not deserve his rape. He also has said that he'd rather his son die than come out as gay. In 2016, when pressed by LGBT actor Ellen Page about his positions in the Vice documentary series Gaycation, Bolsonaro responded that he did not view her as gay and would catcall her if he was younger.
Since taking office on January 1, Bolsonaro's administration has already moved to target Brazil's LGBT population, as well as the descendants of slaves and the indigenous community, according to the Associated Press. But his controversial views and policies, which have been characterized by many as overtly racist and sexist, haven't bothered the Trump administration. On the contrary, the president and Secretary of State Mike Pompeo have only voiced praise and support for the new Brazilian leader.
"Great meeting President Jair Bolsonaro to reinforce our shared commitment to democracy, education, prosperity, security, and human rights," Pompeo wrote on Twitter after attending the Brazilian president's inauguration, sharing a photo from their face-to-face discussion. In a follow-up tweet, Pompeo also thanked Brazil for its "hospitality," referring to Bolsonaro's election as a "new chapter" in the country's democracy.
After Bolsonaro's inaugural address, Trump also tweeted his support, saying: "Congratulations to President Jair Bolsonaro who just made a great inauguration speech - the U.S.A. is with you!"
Meanwhile, Brazilian activists and journalists have raised alarm bells about Bolsonaro's plans for their country. LGBT activist Symmy Larrat pointed out that the new administration has already done away with the nation's human rights ministry. "That body just disappeared, just like that," she told the AP. "We don't see any signs there will be any other government infrastructure to handle LGBT issues."