Pompeo Hails Brazil's New President, Who Spoke Fondly of Dictatorship and Torture, for 'Commitment' to Democracy, Human Rights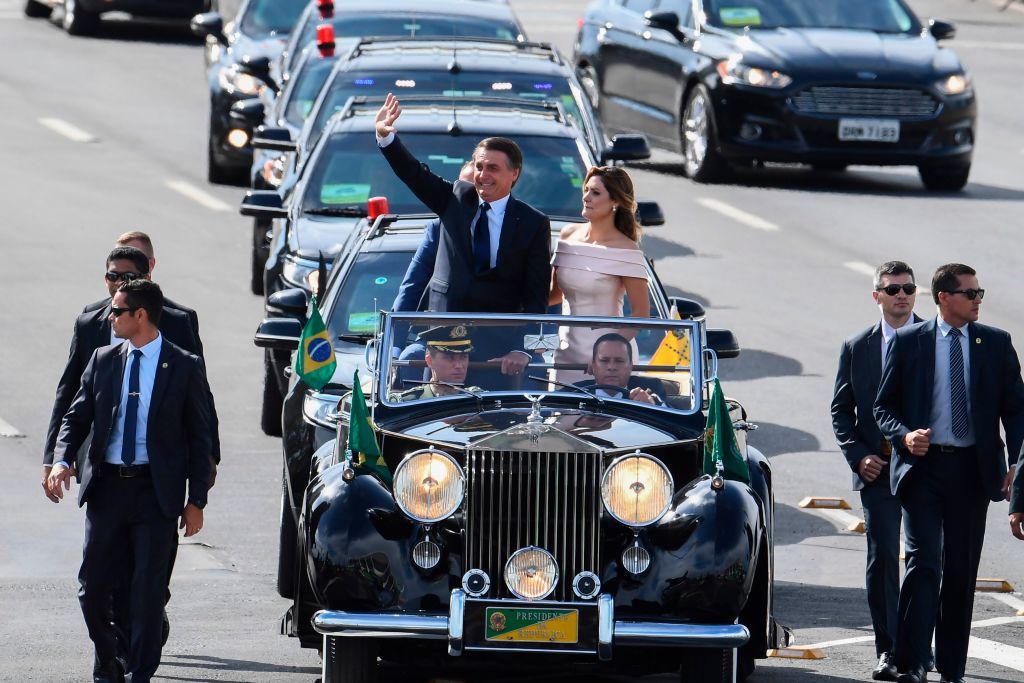 Secretary of State Mike Pompeo met with Brazil's newly inaugurated President Jair Bolsonaro on Wednesday, lauding the South American leader's commitment to "democracy" and "human rights."
Bolsonaro had previously said that Brazil's two decades of military dictatorship, which ended in 1985, was a "very good period" and that he is "in favor of torture." The far-right politician, who won in an election runoff in October and took office on Tuesday, had also been noted for his misogynistic comments, once telling a fellow politician that he wouldn't "rape" her because she didn't deserve it. In 2017 he also attacked Brazilians of African descent, saying, "They do nothing! They are not even good for procreation."
Despite these views, Pompeo threw the Trump administration's support behind Bolsonaro after holding a meeting with the new president.
"Great meeting President Jair Bolsonaro to reinforce our shared commitment to democracy, education, prosperity, security, and human rights," the secretary of state wrote on Twitter, sharing a photo from their face-to-face discussion. Pompeo added that he looks forward "to working together to support those suffering in Cuba, Nicaragua, and Venezuela under the weight of dictatorships." In a follow-up tweet, Pompeo also thanked Brazil for its "hospitality," referring to Bolsonaro's election as a "new chapter" in the country's democracy.
At the beginning of November, President Donald Trump's national security adviser John Bolton dubbed the Latin American countries Cuba, Nicaragua and Venezuela as the "Troika of Tyranny," referring to their leaders as the "Three Stooges" of socialism. In December, Bolsonaro vowed to do everything "within the rule of law and democracy" to oppose the governments of Cuba and Venezuela, according to Voice of America. During his inauguration speech on Tuesday, he also hailed his presidency as Brazil's "liberation from socialism," The Guardian reported.
Trump shared his personal support for Bolsonaro following his inaugural speech as well, tweeting: "Congratulations to President Jair Bolsonaro who just made a great inauguration speech - the U.S.A. is with you!" The Brazilian leader is a self-identified fan of his U.S. counterpart and has been dubbed Trump of the Tropics, or Brazil's Trump. Some analysts have pushed back against the comparison, noted Common Dreams, arguing that Bolsonaro is, in fact, far more extreme.
Although Bolsonaro spent years on the margins of Brazilian politics as a congressman, he rapidly gained popularity during the 2018 presidential campaign, winning the runoff against Fernando Haddad, of the left-wing Workers' Party, by a sizable margin. Analysts have said that the controversial right-wing candidate's success was largely due to Brazilian frustration over a corrupt government and a struggling economy that has been led by the Workers' Party for years.
Regardless of his past racist and sexist comments, the new Brazilian president called for a "society without discrimination or division" in his inaugural address. He also reiterated campaign promises to tackle crime, corruption and economic woes.
However, Bolsonaro has already drawn outcry from Brazil's indigenous population after he transferred the regulation and creation of new reserves for the community to the agriculture ministry directly after taking office. According to The Guardian, indigenous leaders said that the move will not only lead to more violence against their community but also to "an increase in deforestation." The new president also signed a provisional measure that removed government policies and guidelines that promoted the improvement of human rights for the LGBTQ community.