Jan. 6 Hearings Will Not Change How Donald Trump Behaves: Mary Trump
Donald Trump will not change his behavior for the better in the wake of the damning presentations from the House Select Committee investigating the January 6 attack, according to his niece.
Mary Trump, author and frequent critic of the former president, made the remarks on her podcast while speaking to Bloomberg executive editor Tim O'Brien.
During the show, the pair were discussing whether Donald Trump's influence may have a negative effect on the GOP in November's midterms, with O'Brien suggesting his endorsements in some primaries have been "dead weights" and the January 6 hearings showing the country he is a "lawless operator, a criminal and a threat to democracy."
In response, Mary Trump said it is clear that her uncle is paying attention to the proceedings, but they will not have any impact on him.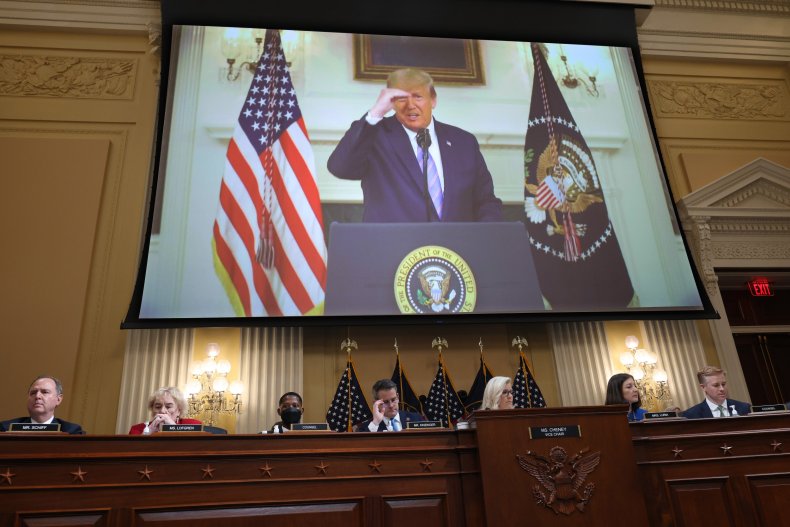 "The good news too, is that although the country is paying attention and and re-evaluating. Donald's paying attention to January 6, but it's not going to modify his behavior in any way," she said.
O'Brien said if anything the hearings around the Capitol riot will "activate" and "enrage" the former president. "He's a toddler," O'Brien said.
"That's exactly what I meant," Mary Trump added.
Mary Trump added that his negative response to the January 6 hearing will "be a good thing" with regards to affecting his chances of winning the 2024 Election, should he decide to run again as expected.
"I told him—I'm sure he listens to me—I told him I think he needs to announce his run before the 2022 midterms because that way, the election will be all about him. And he'd like that," she said.
O'Brien responded that Trump making an early announcement, as it has been previously reported he could do to take the attention away from the January 6 hearings, will be "bad for the party" ahead of November's midterms.
Donald Trump has denied any wrongdoing with regards to the January 6 attack and frequently criticizes the House Select Committee probing the riot.
He also still frequently pushes the false claim the last election was "stolen" from him despite no evidence showing this 18 months later.
"People forget, this is all about a Rigged and Stolen Election. But rather than go after the people that Rigged and Stole it, they go after the people that are seeking Honesty and Truth, and have Freedom of Speech, and many other defenses, on their side!" Trump posted on Truth Social on July 27.
"Justice Department should look at The Crime of the Century. Evidence is massive and irrefutable!!!"
Newsweek has contacted Donald Trump for comment.