New Trump Campaign Facebook Ads Appear to Use Filter to Make Biden Look Older
Facebook advertising from Donald Trump's 2020 reelection campaign appears to be once again using edited images of Joe Biden.
With the president tweeting from the White House after testing positive for COVID-19, a new wave of political ads show his opponent with unflattering facial expressions and a skin tone seemingly edited to make it appear discolored, older or unhealthy.
The Facebook ad campaign became active Tuesday and targeted some battleground states including Iowa, Arizona and Ohio. In each case, the advertisements were running with the slogan: "We cannot let the extreme radical left take over! Vote early."
Last month, the Trump campaign confirmed to The Huffington Post that it had applied a filter to an image of Biden that was circulating on its Facebook ads. That same picture, changing Biden's complexion, was used in a new ad that launched today.
The Trump reelection campaign did not immediately respond to a request for comment from Newsweek asking if the same filter was used on the pictures, and why.
Trump, 74, has repeatedly focused on the health of Biden, 77, throughout his election campaign so far, repeatedly attacking his opponent for wearing a face covering.
For comparison, the Biden campaign appears to have largely stood by its pledge not to launch attack ads on Trump as he continues to suffer from COVID-19.
Facebook's Ad Library database for the ex veep shows active messaging on Tuesday included an endorsement from Barack and Michelle Obama, pro-voting appeals and short video clips reiterating his main campaign promises.
Any signs of President Trump were minimal, aside from one that referencing his payment of $750 in income taxes and brief clips from the recent presidential debate.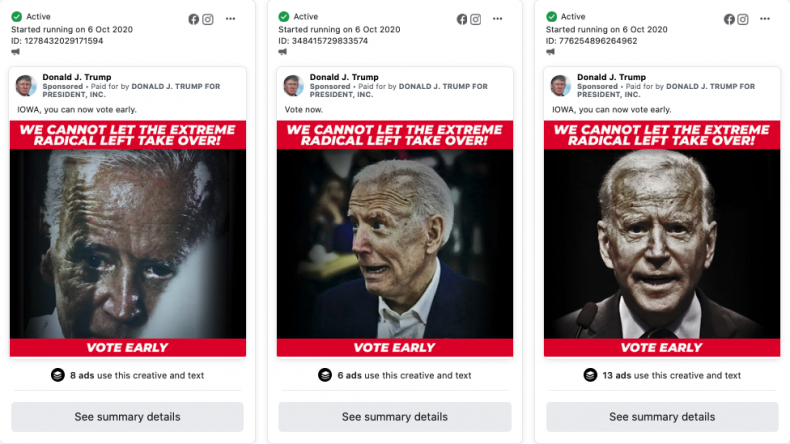 In the past 30 days, Facebook data indicates the Biden campaign has outspent Trump, with the Democrat pouring $20.4 million into ads between September 6 and October 5. In that same period, the Trump campaign spent about $15.5 million.
Broadening the timespan to 90 days—from July 8 to October 5—Biden has spent $48.5 million, compared to the $51 million spent by the president's team, data shows.
Politico reported today the Biden campaign is planning to swarm Texas with a "heavy rotation" of presidential TV advertising, spending more than $6 million in the state over the next month in an attempt to tempt uncertain voters to his side.
After the president confirmed on October 2 that he and the first lady had contracted COVID-19, the Biden campaign said it would temporarily tone down its advertisements about Trump as the campaign schedule continued.
Meanwhile, the Trump campaign has continued to purchase anti-Biden advertising on Facebook, which doesn't fact-check political messaging.
Both Biden and Trump have become very active on social media as the November 3 election day approaches. On October 2, after the president first announced his illness, Biden confirmed on Twitter he tested negative for COVID-19 and wrote that he would "continue to pray for the health and safety of the president and his family."
Trump has taken a more aggressive approach as he combats the respiratory illness from inside the White House, on Tuesday tweeting more than 40 times in the space of two hours. Biden's account issued a concise response yesterday: "Get off Twitter."
Facebook and the Biden campaign have been contacted for comment.