Donald Trump Jr. Calls Out Republicans Worrying More About Cancel Culture Than Constituents
Donald Trump Jr. could "care less" about what people think about him and he criticized other Republicans for not employing the same mentality by putting a fear of being canceled over their constituents.
In an interview with the Washington Examiner, published Monday, Trump Jr. put rumors to bed about a looming Senate run but even if he doesn't seek to hold office, the former president's eldest son has no plans to leave politics. He told the newspaper he'll continue to build on his father's campaign that focused on "hard-working men and women."
Former President Donald Trump's namesake was his father's fiercest defender while he was in office and has taken a similar path as his dad with regard to social media. He hasn't been shy about using social media to launch criticism at those on both sides of the aisle and he told Washington Examiner columnist Paul Bedard he could "care less" about what people think or say about him.
"There is a shortage of conservatives out there who are willing to say what everyone in the conservative movement feels and believes," Trump Jr. told Bedard. "They're worried about being canceled. They care more about what some liberal at some D.C. quote-unquote 'think tank' thinks about them than they do the guy who just lost his job and won't be able to feed his family next week."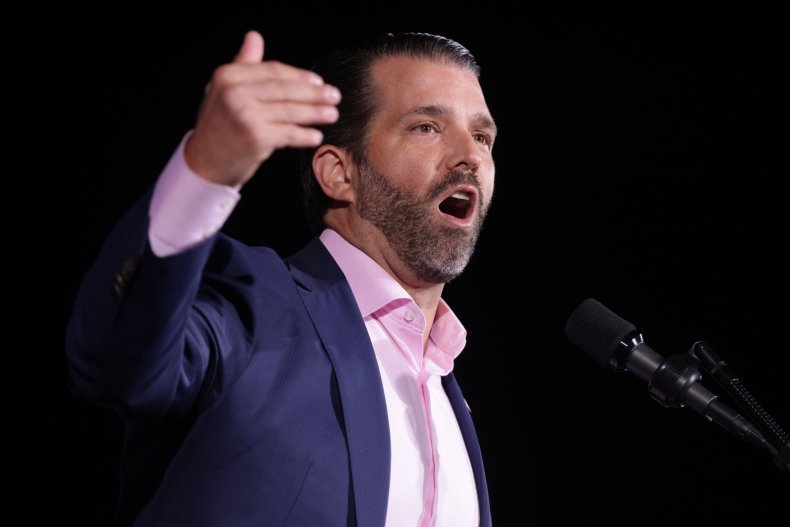 The January 6 riot and Trump's impeachment left legislators on both sides of the debate facing consequences.
Simon & Schuster pulled Senator Josh Hawley's book deal over his "role in what became a dangerous threat to our democracy and freedom. Hawley voted to object to the Electoral College results after the Senate reconvened following the Capitol riot. He was joined by seven other senators and 130 representatives, which prompted calls for their expulsion.
The January 6 riot at the Capitol prompted criticism from even some of the former president's staunchest allies and his historic second impeachment drew lines in the sand. Unlike the first time around when the GOP unanimously backed Trump, when he was impeached in January, 10 Republicans voted in favor.
It prompted censures, primary challenges and a divide in the GOP. Representative Liz Cheney's vote to impeach Trump prompted calls for her to step down from her position and an onslaught of attacks, including from Representative Matt Gaetz, who traveled to her home state of Wyoming to rally against her. Cheney survived a vote to remove her from her leadership position but about 30 percent of the House GOP wanted her gone.
An additional seven Republicans in the Senate voted to convict Trump and in the wake of the impeachment of his father, Trump Jr. called for RINOs—an acronym for "Republicans In Name Only"—in the party to be impeached.
Trump Jr. also targeted Senate Minority Leader Mitch McConnell. A staple of the Republican Party, McConnell worked side by side with Trump to advance his policies through Congress. However, he broke with Trump over his election claims and although he voted to acquit the former president, he put the blame for the January 6 riot on the former president.
"The people who stormed this building believed they were acting on the wishes and instructions of their president," McConnell said after the vote. "And having that belief was a foreseeable consequence of the growing crescendo of false statements, conspiracy theories and reckless hyperbole which the defeated president kept shouting into the largest megaphone on planet Earth."