Donald Trump Jr. Has 'No Intention' of Running for Office—For Now
Donald Trump Jr. said he had "no intention" of running for office right now, but did not completely rule out putting himself on the ballot in the future as his father's impeachment trial entered its second day on Wednesday.
Appearing on Newsmax last night, former President Donald Trump's eldest son said "we'll see" when his father's ex-press secretary Sean Spicer asked if he would be appearing on a ballot anytime soon.
Trump Jr. also said that he believed he could achieve more by not running for office, at least in the short term, so he could focus his attention on the Republican Party and the "weaklings" in the party who voted for his father's second impeachment.
Speaking to the conservative channel, Trump Jr. said: "Honestly, I think I can do a lot more not necessarily running. So I have no intention of running right now.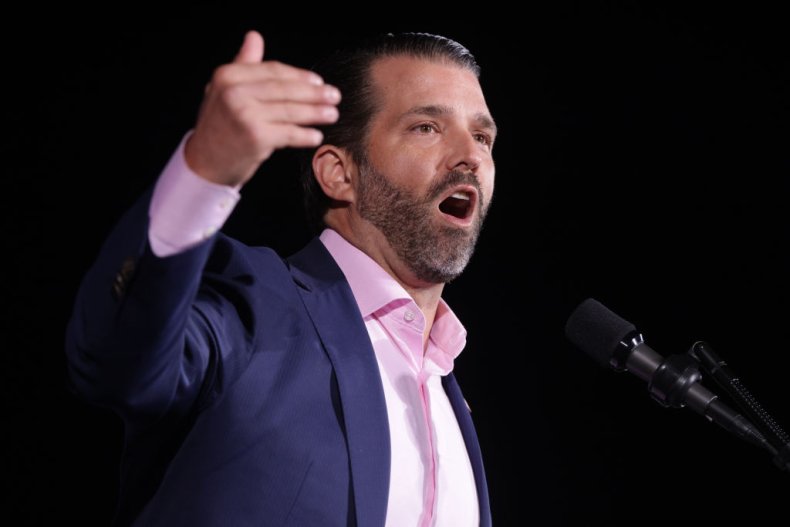 "I want to make sure we get this party and fix it to the way Donald Trump saw it, because that's what's going to be best for America, for our families, for our children, and the working class people that we want to represent."
Earlier in the interview, the Trump Organization executive railed against the "weaklings" and so-called "Republicans In Name Only" who voted to impeach his father on a charge of incitement of insurrection last month, as well as those who voted to go ahead with his trial in the Senate.
"You've seen that from the weaklings. The RINOs. Basically, all of the people that gave you Donald Trump are the people in the GOP that want to take out Donald Trump," he said. "All of the people that let down their constituents."
Trump Jr. later added that Sen. Mitt Romney (R-UT) was upset that he could never do "what Donald Trump could," mocking his defeat against former President Barack Obama at the 2012 presidential election. He also said Republicans who voted against his father couldn't get elected "dogcatcher" in their hometowns.
"We'll keep making the same mistakes over and over again if you have those people in office, and you elect them into positions of leadership and otherwise," Trump Jr. added. "We have to learn from our mistakes from the past. We have to accept what is reality."
Newsweek has contacted the office of Senator Romney for comment.
Former President Trump's eldest son hit out at lawmakers in his own party after 10 House Republicans broke with their colleagues to vote in favor of his father's impeachment in January, sparking calls for their ouster.
Senate Republicans who voted to proceed with Trump's trial in the upper chamber after its constitutionality was contested earlier this week have also come under fire for their decision, even as the chances of the former president being convicted remain very low.
Sen. Bill Cassidy (R-LA) was censured by Republicans in East Baton Rogue Parish on Wednesday after he switched his vote to favor the impeachment trial proceeding on Constitutional grounds on Tuesday. "The Republican Party of East Baton Rouge Parish hereby censures Senator Bill Cassidy and holds him out as an object of shame," the local GOP's censure resolution read.