Bill Cassidy Faces Backlash for Approving Impeachment He Called a 'Show Trial'
On Tuesday, Republican Louisiana Senator Bill Cassidy was one of six Republicans who voted to affirm the constitutionality of holding an impeachment trial for former President Donald Trump. Cassidy was quickly criticized for his vote, especially since he called the impeachment "a show trial" in a February 7 interview.
For instance, shortly after his vote, The Republican Party of Louisiana announced it was "profoundly disappointed" with it. Other right-leaning Twitter users called him a "traitor" and threatened to vote him out of office.
On Tueday, the Democratic-led Senate voted 56 to 44 to reject an argument from Trump's attorneys that it was unconstitutional to try a former president. Previous to Tuesday's vote, only five Senate Republicans had voted on January 27 to declare the impeachment trial as constitutional. Cassidy's Tuesday vote adds him with those five, though he has said his Tuesday vote doesn't mean he'll necessarily vote to convict Trump.
During a February 7 interview with journalist Chuck Todd on NBC's talk-news program Meet the Press, Cassidy essentially called the impeachment trial a sham, stating, "The president wasn't there. He wasn't allowed counsel. They didn't amass evidence. In five hours, they kind of judged, and boom, he's impeached."
"Now, I'm told that under the Watergate, under the Clinton impeachments, there were truckloads of information. Here, there was a video. There was no process. I mean, it's almost like, you know, if it happened in the Soviet Union, you would've called it a show trial," Cassidy said.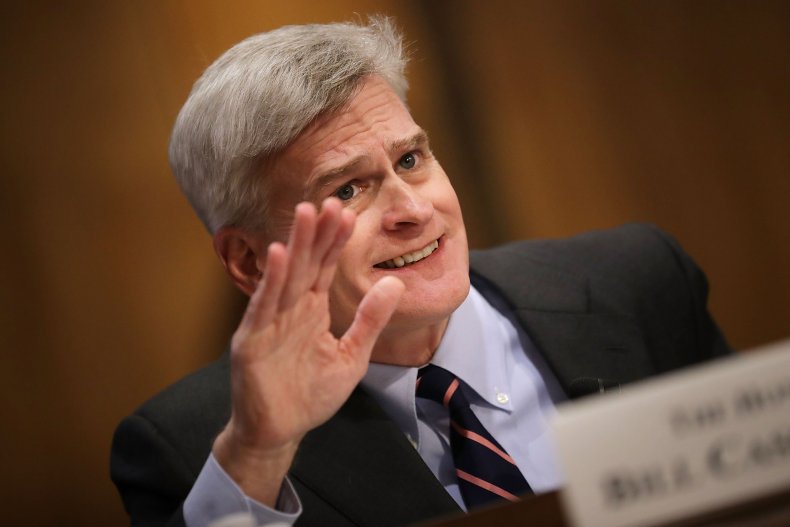 Shortly after Tuesday's vote, the Republican Party of Louisiana issued a statement expressing its disappointment in and disagreement with Cassidy's vote.
"We feel that an impeachment trial of a private citizen is not only an unconstitutional act, but also an attack on the very foundation of American democracy, which will have far-reaching and unforeseen consequences for our republic," the unsigned statement said.
Right-leaning Twitter users also expressed disappointment. One user, @indyymac, called Cassidy and the five other Republican Senators "traitors," writing, "Are you listening you traitors?... You all think you are safe, but we will work to get rid of you all."
Cassidy defended his vote on Tuesday evening in a statement that highlighted his role as an "impartial juror."
"The issue at hand is, is it constitutional to impeach a president who has left office. And the House managers made a compelling, cogent case and the President's team did not," Cassidy said.
"We heard arguments from both sides on the constitutionality of having a Senate trial of a president who has since left office. A sufficient amount of evidence of constitutionality exists for the Senate to proceed with the trial. This vote is not a prejudgement of the final vote to convict," Cassidy's statement read.
Explaining his initial January 27 vote against the trial, Cassidy told Todd on Sunday, "I think it's important to understand the nature of that vote. It was called two hours before [the vote took place]. There was no debate and no explanation from either side."
Cassidy described the January 27 vote as "a vote in a moment of time," explaining that senators had based their votes on "what [they] knew at that point, and felt at that point."
Newsweek contacted Cassidy's office for comment.