Donald Trump Jr. Is Giving $100K Speeches In Latest Possible Ethics Violation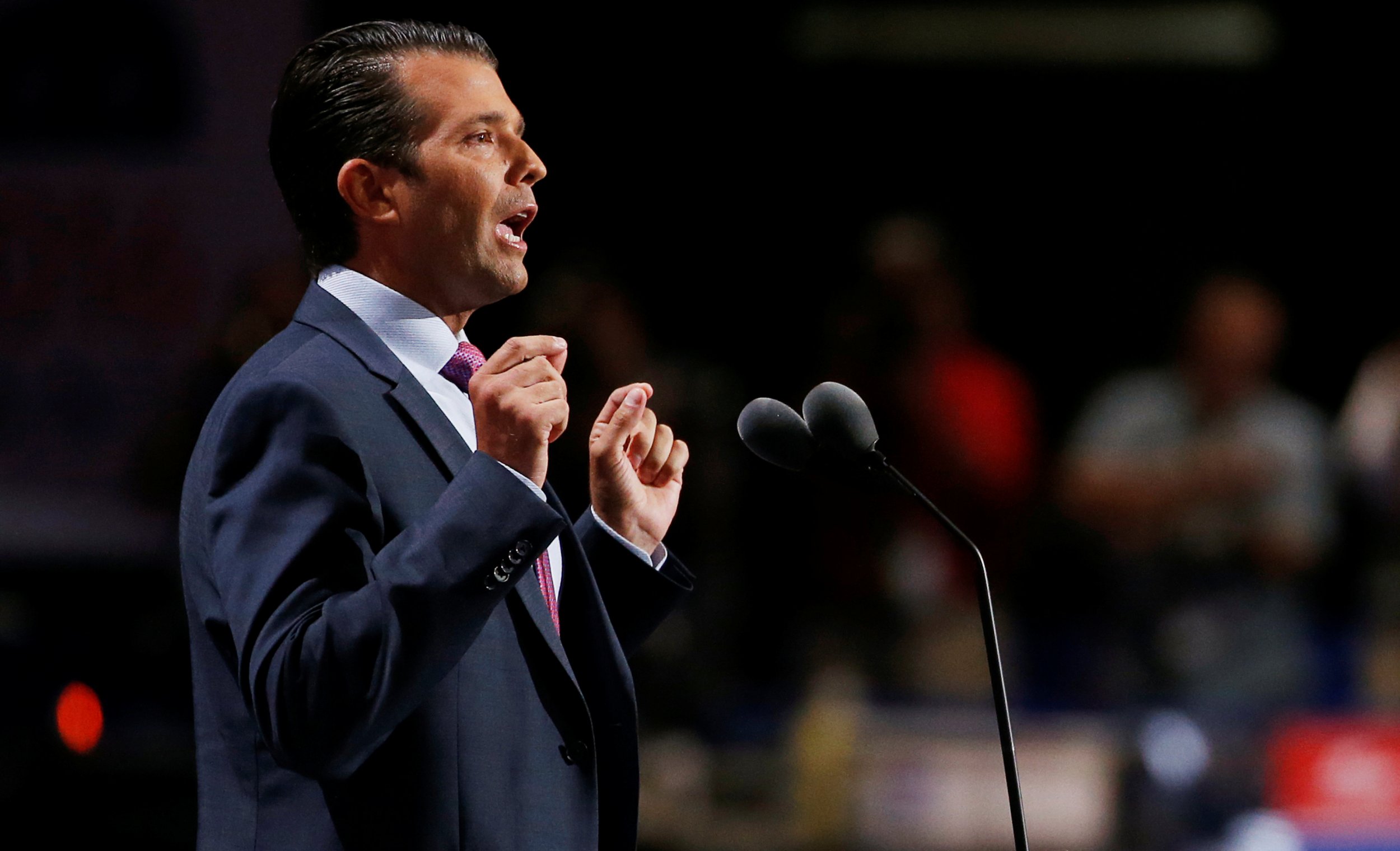 Donald Trump Jr. is facing scrutiny for raking in $100,000 for a sold out speech Thursday night in Alabama, the latest in a string of questionable ethics decisions by the Trump family.
Trump Jr. will also earn the six-figure honorarium, plus up to $5,000 in food, lodging and travel accommodations, to give a 30-minute speech and take questions on October 24 at University of North Texas, matching his Faulkner University fee.
The oldest son of President Donald Trump works as the executive vice president of the Trump Organization, and he is not formally employed the White House, so his speaking engagements don't violate the law. However, members of the Trump family have joined the president at meetings with world leaders of countries where the family has financial interests.
And Trump Jr. remains at the center of a federal investigation into possible collusion between President Trump's campaign and Russia, bringing scrutiny as to whether his speaking engagements can be used to influence the Trump Organization and president.
"The paid speeches do not break any laws, but create a risk of Trump's children getting unethical benefits from their father's role as president," said Noah Bookbinder, the executive director of Citizens for Responsibility and Ethics in Washington, to NBC News. "They also open the possibility of foreign governments using access to Trump's children as a way to influence U.S. policy."
Trump Jr.'s speech comes as the scion is part of special prosecutor Robert Mueller's investigation into Russian meddling in the 2016 election. Emails revealed Trump Jr. arranged meetings at Trump Tower to gather potentially damaging information on Hillary Clinton during the 2016 presidential election.
The meeting connected members the Trump campaign with Natalia Veselnitskaya, a Kremlin-connected lawyer who claimed to have political opposition research on Clinton. U.S. citizens cannot legally conspire or collude with foreign agencies in a federal election, but Trump Jr. maintains that he did nothing wrong and that the 20-minute meeting was "much ado about nothing."
In the emails conversations involving Trump Jr. the meeting's purpose was explained by the event coordinator Rob Goldstone: "This is obviously very high level and sensitive information but is part of Russia and its government's support for Mr. Trump," Goldstone said. Trump Jr. responded, "I love it."
President Trump defended the meeting on Twitter, stating, "Most politicians would have gone to a meeting like the one Don jr attended in order to get info on an opponent. That's politics!"
Trump Jr. is not the only Trump child criticized for monetizing White House access. Ivanka Trump, the president's oldest daughter, auctioned off a private coffee meeting with her to benefit Eric Trump's Foundation, which raises money for St. Jude's Children's Research Hospital. The auction was later canceled.
During the 2016 election, Trump criticized his Democratic rival Hillary Clinton for overlapping the Clinton Foundation with her role as Secretary of State. "It is now abundantly clear that the Clintons set up a business to profit from public office. They sold access and specific actions by and really for, I guess, the making of large amounts of money," Trump said at a rally in Austin.
Chelsea Clinton, who lived in the White House for eight years, now makes between $65,000 and $75,000 on speaking engagements. That money is directed to the Clinton Foundation, she said.