Donald Trump Jr. Wants Media 'Outrage' Over Angelo Carusone's Old Blog Comments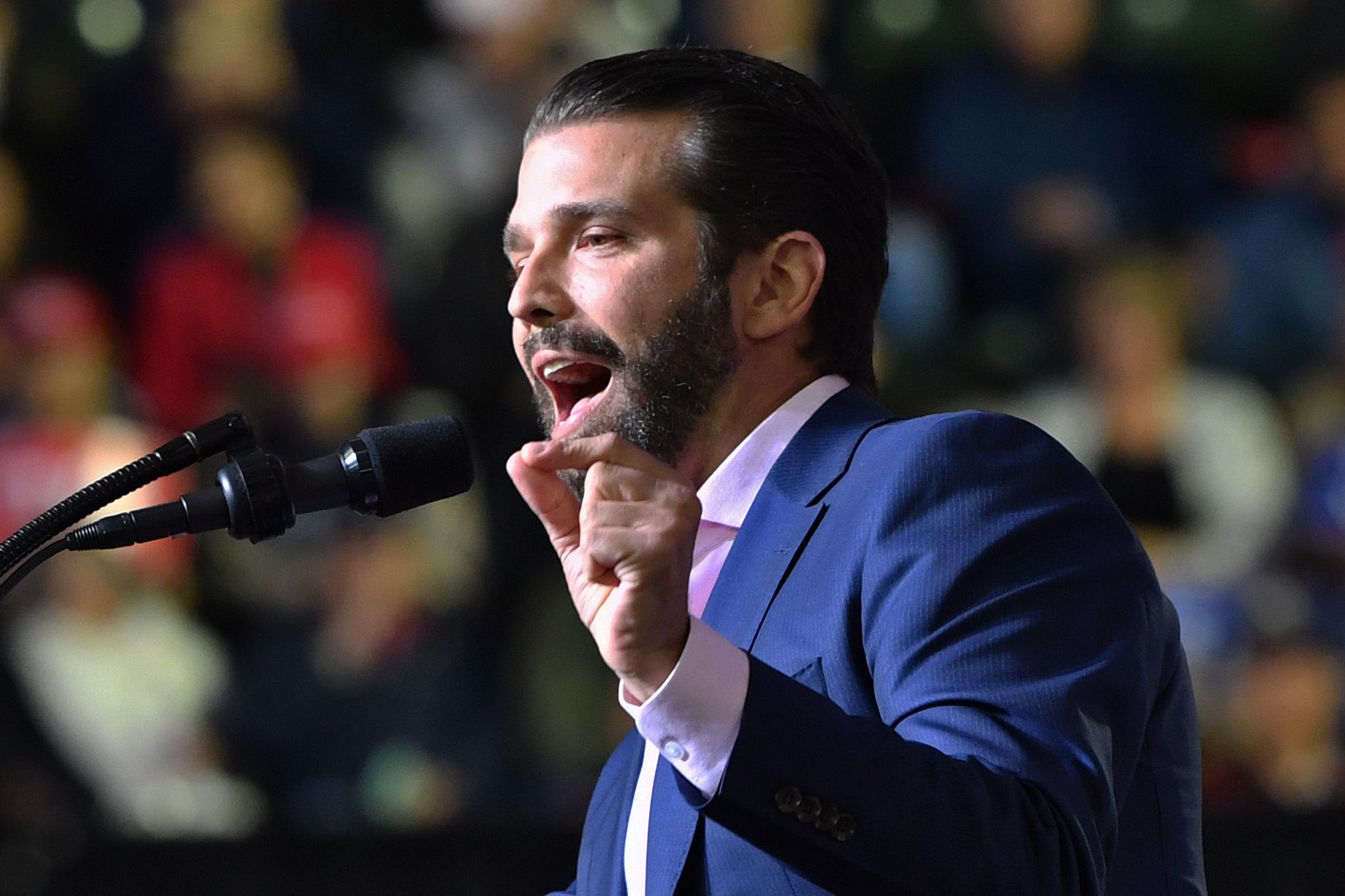 Amid the ongoing furore over Fox News host Tucker Carlson's recently unearthed calls to Bubba the Love Sponge's radio phone-in show, Donald Trump Jr. has asked why similar attention hasn't been paid to Media Matters president Angelo Carusone.
The president's eldest son was reacting to a report from the Carlson-founded website The Daily Caller, which unearthed a series of blog comments made by Carusone more than a decade ago.
The comments from 2005 include remarks about transvestites, Jews and people from Japan and Bangladesh.
One post, entitled, "Tranny Paradise," discusses a crime story in which a Bangladeshi man was assaulted and robbed of more than $7,000 by a group of male sex workers dressed as women in Thailand. Carusone objected to the writer describing the suspects as "attractive" and questioned how a Bangladeshi man was carrying such large amounts of money on him.
"Is the writer a tranny lover too? Or, perhaps he's trying to justify how these trannies tricked this Bangladeshi in the first place?," he wrote. "Look man, we don't need to know whether or not they were attractive. The f*****g guy was Bangladeshi....What the hell was he doing with $7,300 worth of stuff? The guy's Bangladeshi!"
Carusone also described his boyfriend as adorable "despite his jewry."
The comments were previously reported on by The Daily Caller in 2014. The website has recirculated the story amid calls for Carlson to resign from his Fox post.
"Why hasn't CNN run numerous segments calling for the head of Media Matters to be fired? Where's the outrage from [CNN president Jeff] Zucker puppet Brian Stelter?," Trump Jr. tweeted.
"It's almost like Stelter & Co are nothing more than leftwing activists cosplaying as journalists."
Trump Jr. previously leapt to the defense of Carlson after he was found to have described women as "primitive" and compared them to dogs.
"For comments made on the 'Bubba The Love Sponge' show. Obviously a serious policy show where no satire would be made. The left is not going after Tucker Carlson for any reason other then [sic] he's effective at destroying their agenda," Trump Jr. tweeted on March 11.
Carlson also addressed Carusone during a segment of his show. "Almost every day, he issues outraged press releases accusing other people of bigotry. And yet, because everything is irony, Carusone is himself an enthusiastic bigot. We know this because he's written about it extensively," he said (as reported by Real Clear Politics).
Carlson also criticized MSNBC anchor Chris Hayes for inviting Carusone onto his show, suggesting it was difficult to imagine the host "promoting open racism and anti-Semitism."
"To be clear, we're not calling for either of these people to be imprisoned or executed, or even fired from their high-paying jobs," Carlson added. "We're not planning to organize an advertiser boycott. We won't picket their offices with bullhorns. We won't attack their children. But we do think you should know what they're really like."
Responding to the reports, Carusone told Newsweek the blog posts were written while he was in college and claimed they were an attempt to parody "living my life as if I were a self-loathing, bigoted [rush] Limbaugh right-winger.
"Every time Media Matters takes some meaningful action, some awful people bring it up to try to stop us. And every time, I will acknowledge that the writing was gross and apologize because the context only explains; it doesn't excuse," he added.
"But, Fox News (or Tucker) hasn't even acknowledged the troves of their own bigotry and misogyny, let alone apologized or corrected their behavior.
"These aren't one off comments from Fox News—but a pattern of behavior stretching back decades and echoed in all of their work today. This pattern should serve as a major warning sign to advertisers—that there will be more to come from them, because it's what they advocate for.
"We will never, ever, ever stop fighting these vile revanchist a******s."
This article has been updated to include Carusone's statement.