President Thought Donald Trump Jr. Might Be a 'Loser' but Now Says 'My People Love Him'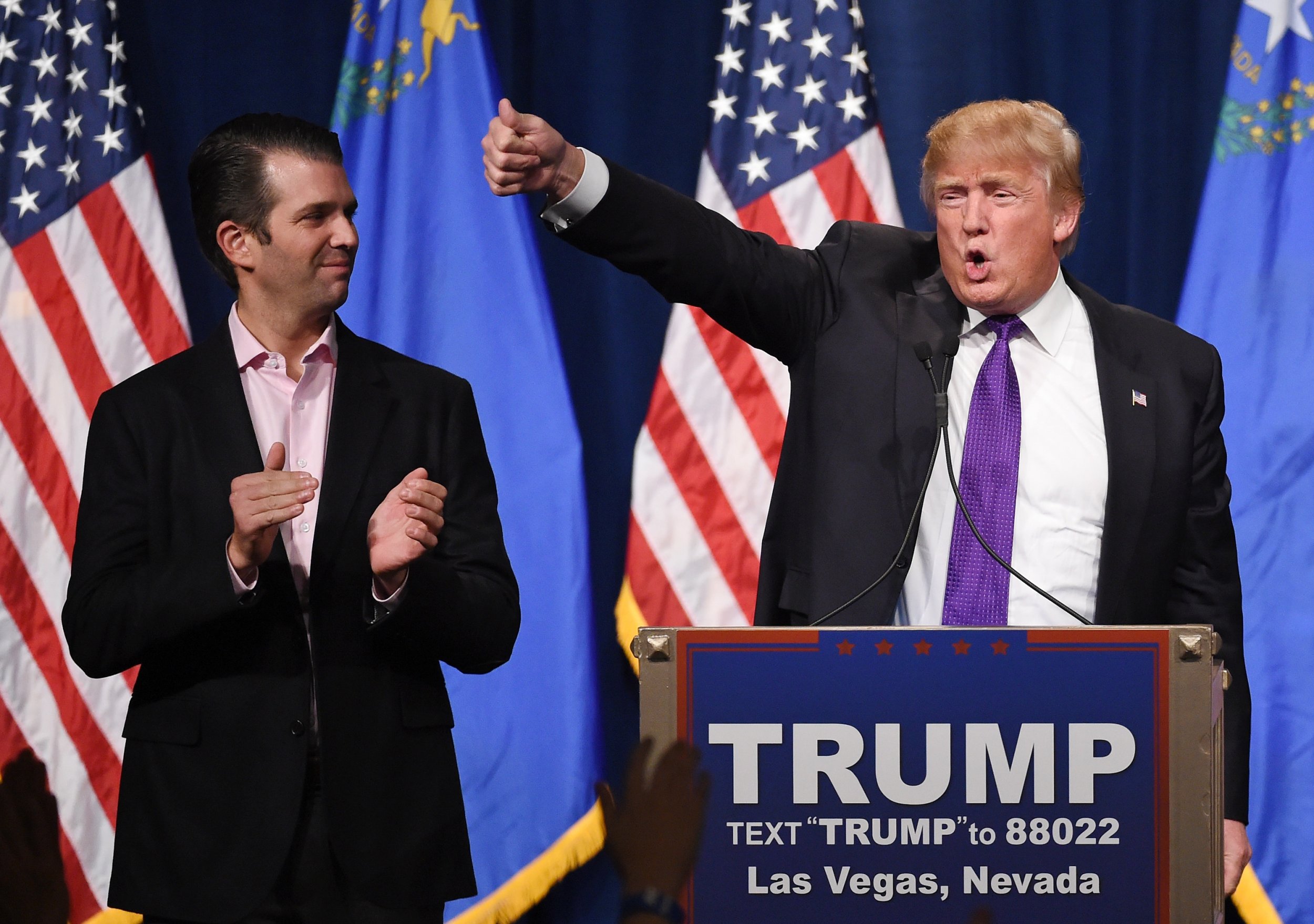 President Donald Trump apparently has had a change of heart about his eldest son, Donald Trump Jr., whom he long doubted could meet his expectations.
Trump Jr. has gone from the son Trump was hesitant to name after himself—in case he turned out to be a "loser"—to "a wonderful son" the president considers an asset on the campaign trail for Republican candidates ahead of the midterm elections, The Washington Post reported on Sunday.
"Don's gotten really good. My people love him," Trump recently said while watching Fox News with aides in the Oval Office and seeing his son come up, a person in attendance told the Post.
Trump Jr. "has proven to be a very good public speaker and was a very likable presence on the campaign trail," the president said in a statement to the newspaper.
"People like when he represents me in front of groups of people. I always get a favorable response," Trump said. "Don likes and enjoys politics, but he likes seeing great results for the American people even better, and that is why he is involved. He truly believes that I am making America great again and loves being a part of it."
The president's comments were a far cry from the early days of his relationship with his son. In her memoir, Raising Trump, Ivana Trump, the president's first wife, said her then-husband reacted to her idea to name their first child "Trump Jr." by saying, "You can't do that! What if he's a loser?"
When the couple divorced, Trump Jr., then 12, apparently did not talk to his father for a year. While the president was close to his eldest daughter, Ivanka Trump, who now serves as a senior White House adviser, the president did not speak with Trump Jr. often, according to The Post.
Trump Jr. became something of a burden to his father early in his presidency due to his involvement in a controversial 2016 Trump Tower meeting with a Kremlin-tied lawyer who promised damaging information on presidential candidate Hillary Clinton.
The president has worried about legal and other troubles Trump Jr. could face as special counsel Robert Mueller intensifies his probe into Russian interference in the 2016 election. But the president recently defended his son in that regard.
"Don has received notoriety for a brief meeting that many politicians would have taken, but most importantly, and to the best of my knowledge, nothing happened after the meeting concluded," he stated to the Post.
The president's higher opinion of his son is not surprising, given Trump Jr. uses Twitter much like his father, bashing adversaries and putting out conspiracy theories.
Trump Jr.'s girlfriend, Kimberly Guilfoyle, who left her post as a Fox News host and has since joined him on the campaign trail, has also praised his presence in politics.
"I think he is the number one up-and-coming political figure for sure, on the right," she said in a Breitbart News Daily interview last month.