Donald Trump Jr Says His Dad Gave Away His Video Game to Michael Jackson
Donald Trump Jr. said his father gave away one of his favorite video games to The King of Pop when the president's eldest son was growing up.
Michael Jackson owned an apartment in Trump Tower in Manhattan through the 80s and 90s and reportedly had numerous playdates with Ivanka, Trump Jr. and Eric who lived just next door.
Trump Jr. recounted the experience as mostly positive, but said he was devastated when his father gave away a copy of Teenage Mutant Ninja Turtles to the icon.
"So this is sort of a cool story," Trump Jr. said. "Michael Jackson used to come up and he was our neighbor at Trump Tower.
"So I was playing Teenage Mutant Ninja Turtles with Michael Jackson! You know, this is in the early 90s—maybe even in the late 80s. Peak Michael.
"We're playing Nintendo and Michael really likes the game. So my dad walks in and says 'well why don't you take the game Michael?'
"And so I'm sitting there like—," he said, before making an expression of disbelief.
"My parents made us work for the things that we wanted and it was one of the great things they did for us," he continued.
"So that took me whatever it was time to earn it — I'm pretty sure Michael could've called Nintendo and said I want one of those. It wouldn't have been a big deal, but he just took it.
"I was like, 'What's going on here?'"
Trump Jr. made the comments as he was promoting his new book Triggered on Fox News' Watters' World with Jesse Watters.
The comments came a few days after it was reported that excerpts of the book, which was released on November 5, claimed that his father could not be racist because he allowed him to play with Jackson.
"Oh, and by the way, given all the things my father has been called, particularly a 'racist,' it sure sounds odd that he'd let his son vacation with a black man or hang out with Michael Jackson, doesn't it?" Trump Jr. writes.
"If he's a racist, he's sure not very good at it."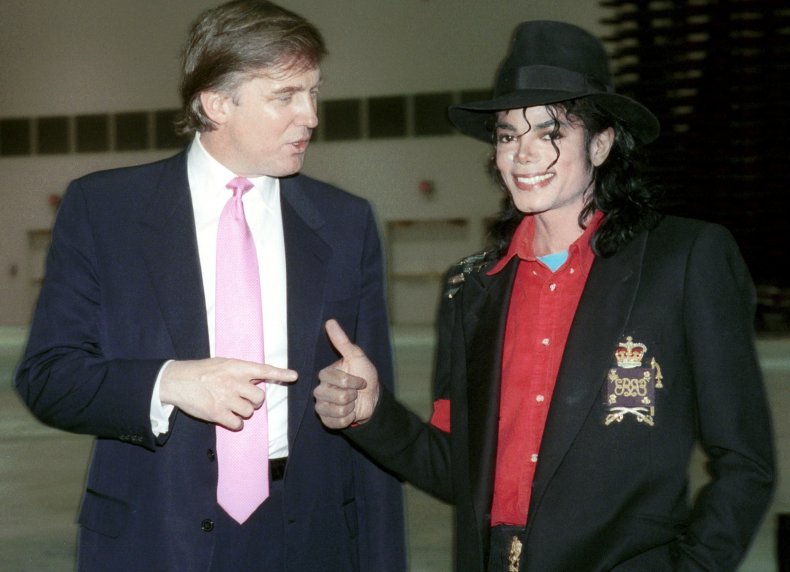 Jackson was accused of sexually abusing children in 1993 and 2003. The charges were dropped in the first case and he was acquitted in the second, however the HBO documentary Leaving Neverland, raised new questions about the star when it aired in March this year.
In Saturday's television appearance, Trump Jr. also recalled a story where Ivana Trump, the president's first wife, wanted Mexican food so took the family to Taco Bell. Upon arrival, she asked for the wine menu.
Last week, it was announced that the book debuted at the number one spot on The New York Times non-fiction bestsellers list, however, it was revealed on Friday that that the Republican National Committee bulk-bought $94,800 of orders which boosted the sales.