Donald Trump Jr. Says Chinese 'Investment in Hunter Biden' Will Affect Joe Biden's China Policies
In a Monday night interview with Fox News host Sean Hannity, former President Donald Trump's son, Donald Trump Jr., said that Chinese "investment in Hunter Biden" will affect President Joe Biden's policies towards China.
"China, tells us what we're going to be doing," Trump Jr. said. "You know, that billion dollars to Hunter, that didn't come for free. That was a great return on investment for the Chinese because they know they can get away with it, and our political class will say nothing because they've been on the take in the same way for decades."
In the months before the November presidential election, Trump and his campaign surrogates repeatedly alleged that Hunter Biden had used his father's previous role as Obama's Vice President to assist his business deals in China and Ukraine.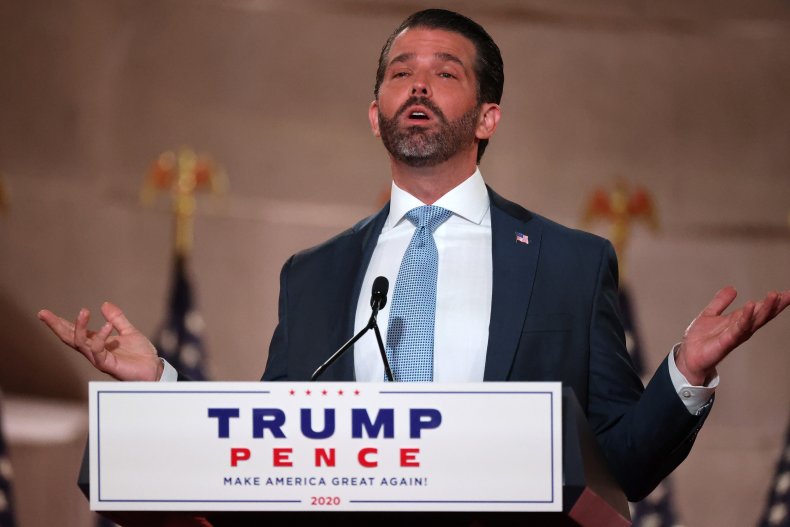 However, the allegations failed to sway voters and were disavowed as untrue by both Hunter Biden's attorney and Biden's campaign spokesperson. A mid-September 2020 Senate Republican report on Hunter Biden's business dealings also found no proof of actual criminal financial activity by Hunter Biden nor did it present concrete evidence of wrongdoing by Biden.
Nevertheless, Hunter Biden is facing an investigation by federal prosecutors in Delaware lead by state U.S. Attorney David Weiss. Weiss is working with the IRS Criminal Investigation agency and the FBI to issue subpoenas and seek interviews in pursuit of possible wrongdoing, CNN reports.
One matter under investigation is the gifting of a 2.8-carat diamond to Hunter Biden by Ye Jianming, the founder and former chairman of the CEFC China Energy firm, when the two met to discuss potential business deals.
"I knew it wasn't a good idea to take it," Hunter told The New Yorker in 2019, adding that he passed it on to another associate. Ye was detained in China in 2018 for corruption and bribery charges.
Hunter also briefly acted as a lawyer for Patrick Ho, who headed a CEFC-backed organization and in 2018 was convicted of paying millions of dollars in bribes to officials in Chad and Uganda, to promote CEFC energy deals.
Democrats worry that the Hunter Biden investigation may serve primarily to discredit the Biden's administration. The investigation could also potentially create problems for Chinese President Xi Jinping as he has recently launched a public campaign against corruption.
In his first conversation with the Xi last week, "President Biden underscored his fundamental concerns about Beijing's coercive and unfair economic practices, crackdown in Hong Kong, human rights abuses in Xinjiang, and increasingly assertive actions in the region, including toward Taiwan," the White House said.
The call took place on the same day that Biden announced a Pentagon review of national security strategies relating to China.
Newsweek contacted the White House for comment.