Donald Trump Jr. Says People Confuse Impassioned Speech for Drug Problem
Donald Trump Jr. compared media coverage of him and Hunter Biden, saying people give Biden a pass while they accuse him of having a drug problem during an impassioned speech.
On an episode of his podcast, Triggered, Trump Jr. had Kash Patel, former Deputy Director of National Intelligence under Donald Trump, on as a guest.
The two Republicans talked about how Democrats are given a pass while conservatives are more scrutinized in the media, noting what Trump Jr. described as "liberal privilege."
"If you were a Democrat, you would be president by now," Trump Jr. told Patel. "But you are vilified for all the things they glorified on the other side. You can no points, no credit."
Patel said he "doesn't want any of it," saying he and Trump Jr. were "put into positions we never thought we would have."
"The one thing we shared is accountability for the American public and putting out the truth overall," Patel said. "It doesn't matter what it costs me or you or our families because the American public are more important than some political tagline."
Trump Jr. said he was "thrown into politics" in his later thirties. He said there are consequences of being a public figure but said he wants "to be in that fight."
"It would have been a lot easier to shut the hell up and be a real-estate developer from New York," he said.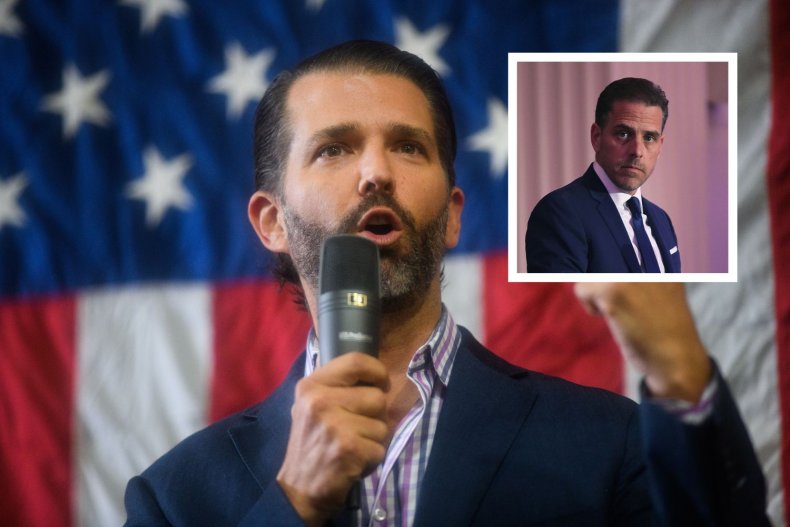 Trump Jr. said Democrats called him a traitor, noting that Representative Adam Schiff of California wanted to try him for treason.
But Hunter Biden can take a billion [dollars] from China, work for Ukrainian and Russian oligarchs, "be a money launderer," be paid in diamonds off the books and cheat on his taxes.
"He's an upstanding human being and I give an impassioned speech and they're like 'Oh Don Jr.'s on coke,'" he said.
Trump Jr. has been critical of Hunter Biden and his business dealings and especially how the media has covered them.
After taking the House in November, Republicans promised to investigate the Biden family's foreign business dealings.
The GOP-led Oversight and Accountability Committee is investigating President Joe Biden's "knowledge of and role in his family's foreign business deals to assess whether he has compromised national security," specifically calling on Hunter Biden to provide documents and testimony, according to a statement from the committee.
Hunter Biden's attorney said his client will not comply with the request, saying the committee's investigation "lacks a legitimate legislative purpose."
The Oversight Committee also held a hearing over Twitter's alleged decision to block a New York Post story about Hunter Biden ahead of the 2020 election.
Last December, Trump Jr. said the mainstream media is "pretending that the Hunter Biden laptop is now conveniently 'old news,'" showing that "there was absolutely no difference between the main stream media and the extreme bias that was going on at Twitter and other similar tech platforms."