Key Moments From the House Oversight Committee's Twitter Hearing
A number of former Twitter employees were grilled on Wednesday by a Republican-led House committee over the social media platform's decision to block a New York Post story about Hunter Biden in the run up to the 2020 Election.
The House Oversight and Accountability Committee hearing gave Republicans the chance to question those who worked at the social media platform about their long-running allegation that Twitter colluded with the FBI to suppress the article about President Joe Biden's son.
In October 2020, Twitter temporarily blocked users from sharing a link to the New York Post piece over fears the story about the laptop's contents was the result of illegal hacking.
During the hearing, Vijaya Gadde, Twitter's former chief legal officer and former head of trust and safety Yoel Roth both admitted that it was "wrong" and a "mistake" to temporarily block access to the story just weeks before the 2020 Election.
During the feisty hearing, there were also a number of other notable moments and revelations.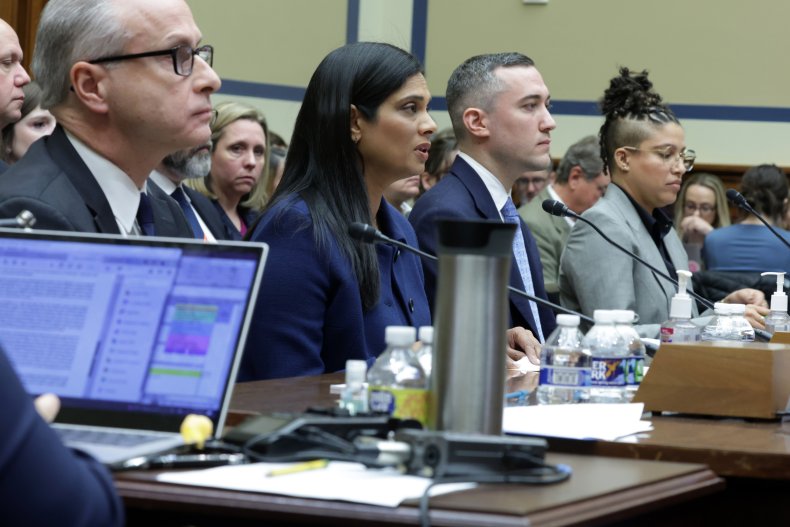 Chrissy Teigen's Explicit Trump Tweet Read Out
Despite the Republican Party pushing allegations the government frequently requested Twitter take down offending tweets, a Twitter whistleblower and former employee revealed that former president Donald Trump had actually done precisely that.
Anika Navaroli, a former member of Twitter's safety policy team, testified that Twitter had received a request from Trump to take down a post from model and TV personality Chrissy Teigen in September 2019.
In a tweet, Trump hit out at singer John Legend and his "filthy mouthed wife [Teigen]" in a series of tweets where the former president sought praise for passing the Criminal Justice Reform, which Legend had also pushed for.
In response, Teigen called Trump a "p**** a** b****," with the phrase soon going viral on Twitter.
While answering questions from Florida rep. Maxwell Frost, Navaroli quoted the explicit tweet from Teigen and then claimed the former president sought to have it removed.
"In that particular instance, I do remember hearing that we had received a request from the White House to make sure that we evaluated this tweet and that they wanted it to come down because it was a derogatory statement directed toward the president," Navaroli said.
As Navorlli quoted Teigen's "p**** a** b****" tweet, the line has now officially entered the congressional record.
Lauren Boebert Compares Twitter Censorship to Kremlin
During her five-minute period of asking questions, the Colorado congresswoman asked the Twitter executives why her account had been "shadow banned" for tweeting a "joke" that suggested Hillary Clinton wanted to rig the 2020 Election.
Boebert also suggested that Twitter's censorship, which includes the banning of Trump, is more far-reaching than Russian propaganda.
"You silence me from communicating with the American people over a freaking joke," Boebert said. "Now who the hell do you think that you are?
"The Hunter Biden laptop story was suppressed, a sitting member of Congress was suppressed, a sitting president was banned from Twitter," Boebert added. "You know, I bet that Putin is sitting in the Kremlin, wishing he had as much election interference as you four here today."
Rep. Jamie Raskin Condemns the Hearing
While the House Oversight and Accountability Committee is bipartisan, Democrats questioned the validity of Wednesday's hearing.
Maryland Democrat Jamie Raskin gave some of the harshest criticism, accusing Republicans of trying to needlessly drum up outrage over the Hunter Biden laptop story.
"Instead of letting this trivial pursuit go, my Republican colleagues have tried to whip up a faux-scandal about this two-day lapse in their ability to spread Hunter Biden propaganda on a private media platform. Silly does not begin to describe this obsession," Raskin said.
Raskin, the ranking Democratic committee member, also dismissed the GOP's claim that Twitter had violated anyone's First Amendment rights.
"We have members who are actually threatening witnesses with arrest and prosecution for clearly imaginary offenses, or at least offenses that might make sense in their mind," Raskin said. "But I don't know quite what they would be ... Twitter is a private, First Amendment-protected media entity."
Twitter Changed Rules for Trump 2019 Tweet
While dismissing claims that Twitter overwhelmingly censors conservative voices, New York congresswoman Alexandria Ocasio-Cortez noted how the platform changed its own rules to allow a racist tweet from Trump to remain up.
In July 2019, Trump attacked the group of Democrat female lawmakers of known as "The Squad"—Ocasio-Cortez, Rashida Tlaib of Michigan, Ayanna Pressley of Massachusetts and Ilhan Omar of Minnesota—by telling them to "go back" to their "totally broken and crime infested" countries.
While answering questions from Cortez, Navaroli said that Twitter found the tweet did violate their policies, but then they changed it so Trump would not be punished.
"That trope, 'go back where you came from,' was removed from the content moderation guidance as an example," Navaroli said.
"So Twitter changed their own policy after the president violated it in order to potentially accommodate this tweet?" Ocasio-Cortez asked.
"Yes," Navaroli replied.
"Thank you," Ocasio-Cortez said. "So much for bias against the right-wing on Twitter."
'God Bless Elon Musk'
During the hearing, a number of Republicans such as Georgia's Marjorie Taylor Greene and Texas' Pete Sessions praised Twitter owner Elon Musk for purchasing the platform, as well as for allowing the release of the so-called "Twitter files," which detailed disputed allegations of how the government had consulted with the platform to remove tweets.
"You abused the power of a large corporation and Big Tech to censor Americans," Greene said. "I'm so glad that you are censored now and I'm so glad that you've lost your jobs. Thank God Elon Musk bought Twitter."
"God bless Elon Musk," Sessions added: "It was Elon Musk that revealed data that uncovered a disturbing cabal."
In response, Maryland Democrat Kweisi Mfume dismissed the suggestion that people should be thanking God for Musk's takeover of Twitter.
"I would disassociate myself with the remarks of the gentlewoman from Georgia when she said 'God Bless Elon Musk,'" Mfume said.
"For me, it's God bless my country, God bless my family, God bless my friends," Mfume added. "Mr Musk can take care of himself."