Donald Trump Jr. Wanted Clinton Money Info, Russian Lawyer Says, Contradicting President's Statement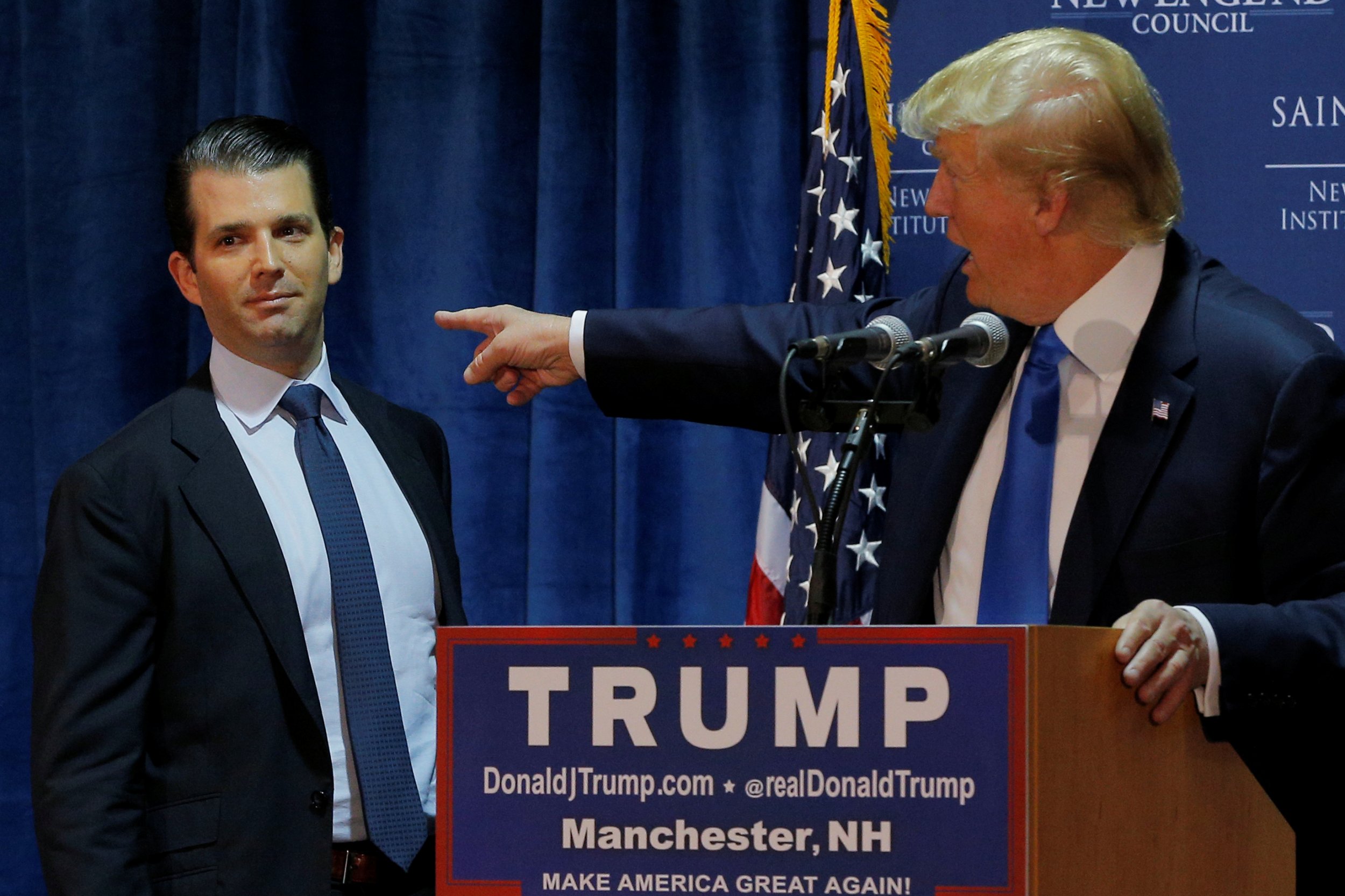 A Russian lawyer linked to the Kremlin says Donald Trump Jr. asked her for evidence of illegal donations to the Clinton Foundation when they met at Trump Tower in June 2016.
In a letter responding to questions from the Senate Judiciary Committee, Natalia Veselnitskaya contradicts how President Donald Trump characterized the meeting set up by his eldest son.
The 52-page letter was obtained by NBC News on Tuesday. On Wednesday, Trump Jr. is set to testify to the House Intelligence Committee, according to reports.
Congress and special counsel Robert Mueller are currently investigating whether the Trump campaign worked with Russia to interfere in the 2016 election.
Last July, The New York Times revealed Trump Jr. set up the meeting after a wealthy Russian oligarch's publicist, Rob Goldstone, sent him an email offering the Trump campaign "official documents and information that would incriminate Hillary and her dealings with Russia," which were "part of Russia and its government's support for Mr. Trump."
On June 9, 2016, Trump Jr. and President Donald Trump's son-in-law Jared Kushner and Trump campaign chairman Paul Manafort met with Veselnitskaya and former Soviet intelligence officer Rinat Akhmetshin at Trump Tower to discuss the details.
In her letter to the committee, Veselnitskaya states she did not have the evidence that Goldstone promised Trump Jr.
Read more: Mueller's Trump investigation cost slammed by Republican: "They must be having one hell of a Christmas Party"
"Donald Trump, Jr. asked if I had any financial documents proving that what may have been illegally obtained funds were also being donated to Mrs. Clinton's foundation. I said that I did not and that it was not my issue. The meeting, essentially, ended there," Veselnitskaya writes.
She says that Trump Jr. misunderstood the purpose of the meeting and chalked this up to the "roguish letters of Mr. Goldstone."
Veselnitskaya states she was there to talk about America's Magnitsky Act. Both Veselnitskaya and Akhmetshin have lobbied heavily to end the act, which sanctions Russian officials responsible for the death of Russian tax accountant Sergey Magnitsky. The officials on the list are barred from entering the U.S. and using its banking system. Veselnitskaya met with Russian President Vladimir Putin's prosecutor general, Yuri Chaika, ahead of the meeting to discuss the talking points, The Times reported in October.
Russia responded to these sanctions in 2012 by ending a program allowing Americans to adopt Russian children.
When news of the meeting originally broke, President Donald Trump personally dictated a response to the story, according to senior advisers that spoke with The Washington Post.
Trump's statement called it "a short introductory meeting" that focused on "a program about the adoption of Russian children that was active and popular with American families years ago and was since ended by the Russian government, but it was not a campaign issue at the time and there was no follow up."
The president's statement concerned his advisers. "This was ... unnecessary," one anonymous adviser told The Post. "Now someone can claim he's the one who attempted to mislead. Somebody can argue the president is saying he doesn't want you to say the whole truth."
Democrats have lobbied for Trump Jr.'s testimony to be made public, but Wednesday's testimony will happen behind closed doors. Goldstone will give his side of the story in testimony to Congress next week, according to CNN.
Veselnitskaya wrote in her letter that she wishes the meeting had never happened. "Now that I know the kind of apocalyptic Hollywood scenario that a private conversation between a lawyer and a businessman can be turned into," she wrote, "I very much regret that the desire to bring the truth to the [Congress] has thrown the U.S. president's family, as well as Mrs. Clinton, into the whirlwind of mutual political accusations and fueled the fire of the morbid, completely groundless hatred for Russia."