Donald Trump Shows Off His Letters From Kim Jong Un to White House Visitors: Bring Me 'the Letters,' Report Says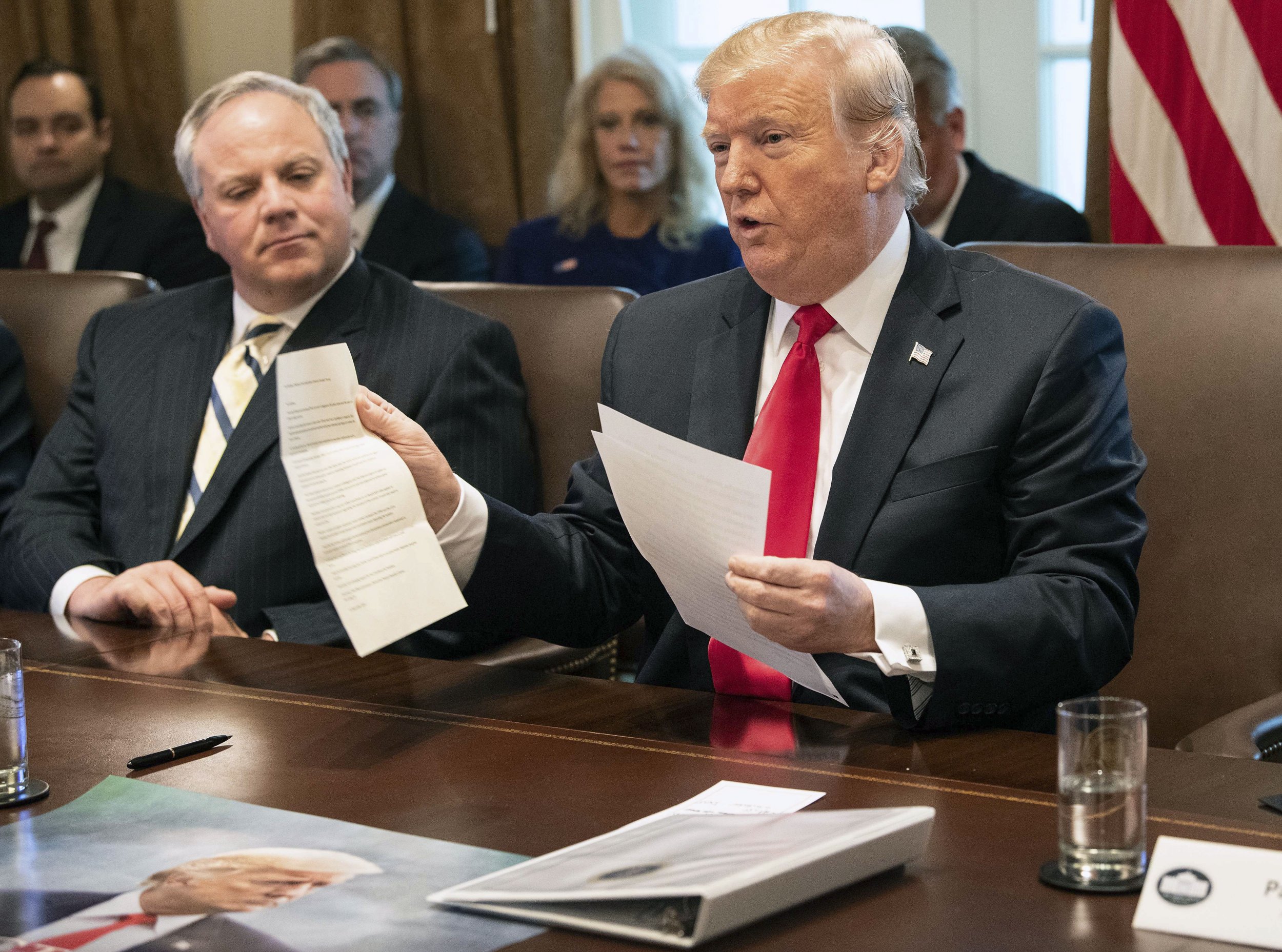 The contents of the unlikely correspondence between President Donald Trump and North Korean supreme leader Kim Jong Un may be a mystery for much of the general public, but the first sitting U.S. president to meet with a North Korean ruler has reportedly shown off his letters to visitors at the White House.
Trump said Wednesday during a cabinet meeting at the White House that he had "just got a great letter from Kim Jong Un," one of several exchanged between the two since turning a new leaf as the young North Korean leader began a peace process with the rival, U.S.-backed South Korea in early 2018. Trump said that he had already shown the note to a "few people," remarking that "they've never written letters like that."
In an article published later that day, The New York Times cited individuals who have witnessed Trump's letter exhibitions, providing some insight into an unprecedented display of affection between the heads of two states long hostile to one another.
The report said that Trump, upon receiving guests, would call on one of his aides just outside the Oval Office to bring him "the letters" and then have them handed out to his visitors. The letters were said to have been translated into English and were laden with honorific language in reference to Trump, addressing him as "Your Excellency," a point evidenced by one note made public in July that contained the same phrase.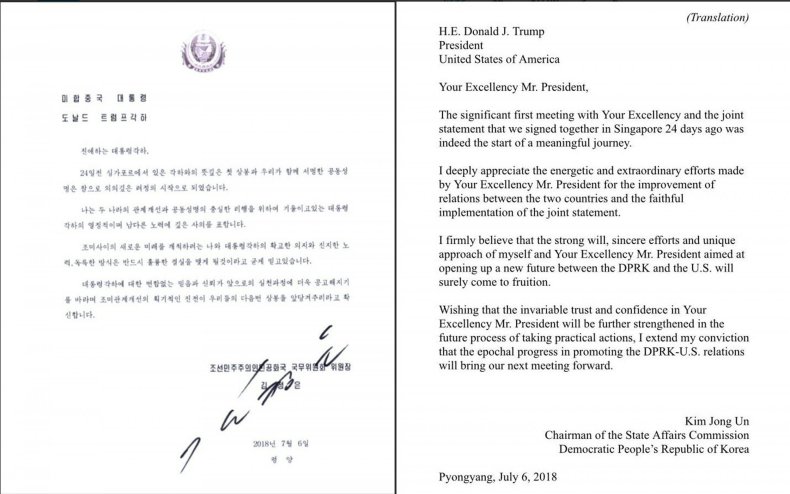 Trump posted the July 2018 letter to Twitter about a month after his historic meeting with Kim in Singapore. During the summit, Kim agreed to give up the nuclear weapons long valued by his country as an essential deterrent to U.S. hostilities in exchange for peace, security and sanctions relief. In the note, Kim called their sitdown "the beginning of a meaningful journey" and said, "I firmly believe that the strong will, sincere efforts and unique approach of myself and Your Excellency Mr. President aimed at opening up a new future between the DPRK and the US will surely come to fruition," using the acronym for the Democratic People's Republic of Korea, his country's official name.
Known for his bombastic rhetorical attacks against his foes, Trump had previously berated Kim with such nicknames as Little Rocket Man and threatened to answer North Korea's own fiery worded threats with nuclear weapons throughout 2017 and the very beginning of last year. Kim's outreach to South Korea during his 2018 New Year's speech, however, ultimately developed into a full-fledged peace process between the two neighbors, who technically remain at war, and the debut U.S.-North Korea summit.
Since this invitation, Trump has noticeably softened his tone with Kim and, even in a May letter in which the president told the young ruler he was tentatively canceling the upcoming Singapore talks in response to a dispute between the two countries' officials. Trump addressed Kim as "His Excellency" and told him, "We greatly appreciate your time, patience, and effort with respect to our recent negotiations and discussions."
A response was later sent and published by the official Korean Central News Agency, reiterating North Korea's willingness to still hold the talks, which ultimately took place in June. As seen in the July letter, the correspondence remained cordial throughout the summit and beyond, with Trump going so far as to say in September that he and Kim "were going back and forth, and then we fell in love" as he received the "beautiful letters" from North Korea.
South Korean President Moon Jae-in, who has met with Kim three times over the past year and whose government now maintains regular contact with Pyongyang, told reporters last month that Trump had asked him at the G20 summit in Argentina to pass a message telling Kim that the president "likes him" and will help Kim "get what he wants."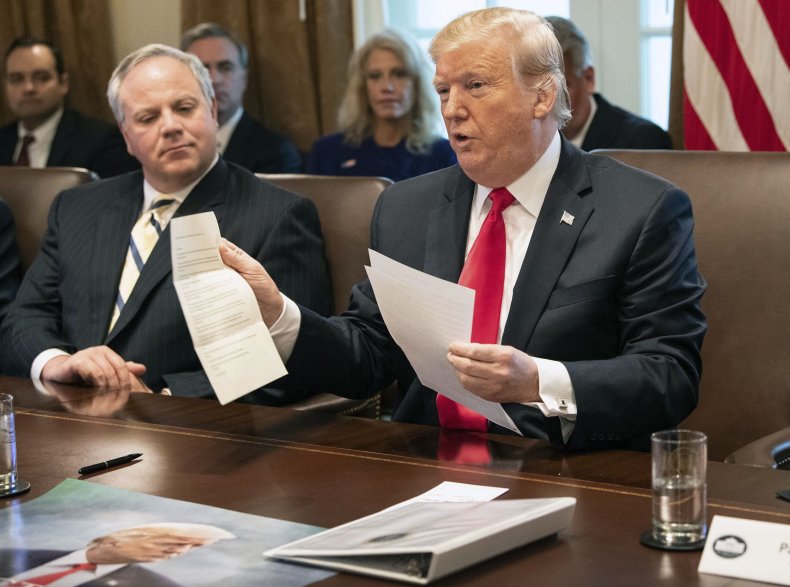 Though the text of the latest letter has not been made available, South Korean newspaper Chosun Ilbo cited a diplomatic source Monday as saying that Kim had sent Trump a "conciliatory message" reaffirming support for their dialogue and urging the need for a second summit. During his New Year's address shortly after, Kim warned Washington that Seoul and Pyongyang were moving forward with their own bilateral diplomacy and suggested he may pursue "a new way" of defending his country and stabilizing the Korean Peninsula should the U.S. not come through on its promises.
Trump told a cabinet meeting Wednesday that he has "really established a very good relationship" with Kim and that "a lot of good things are happening." He said that he would "probably now have another meeting" with Kim "in the not-too-distant future," but offered no specific timeline. Trump also credited his decision to pursue peace with North Korea as preventing a "big fat war in Asia," which may have turned into "World War III."
In a commentary published Thursday by the Korean Central News Agency, the ruling Korean Workers' Party official newspaper Rodong Sinmun argued that Washington should separate its own peace efforts with Pyongyang from the inter-Korean dialogue, saying the "U.S. is urged to do what it should do for the improvement of the DPRK-U.S. relations, not making useless admonition while meddling in the issue of the north-south relations, an internal issue of the Korean nation."