Donald Trump Lost Big Money While President for Second Straight Year, Report Says
A decline in revenue from his signature New York tower and his golf courses reportedly resulted in a drop in President Donald Trump's net worth for the second consecutive year.
Trump, who placed his assets in a trust prior to becoming commander-in-chief and put his two eldest sons in charge of the Trump Organization, saw his worth dip to $2.8 billion compared to $2.9 billion last year, according to Bloomberg's Billionaire Index, which citied the president's most recent financial disclosure form earlier this month, as well as real estate records and other data.
At the same time, the president's companies paid down $30 million in debt and now carry a minimum of $520 million in debt.
Specifically, the president's most famous building and others around it experienced a decline in occupancy rates that resulted in a $220 million slip in revenues, according to Bloomberg.
Trump's golf courses also fell in value by $70 million overall and are now worth $650 million. However, the president's courses in Scotland and Ireland achieved revenue gains.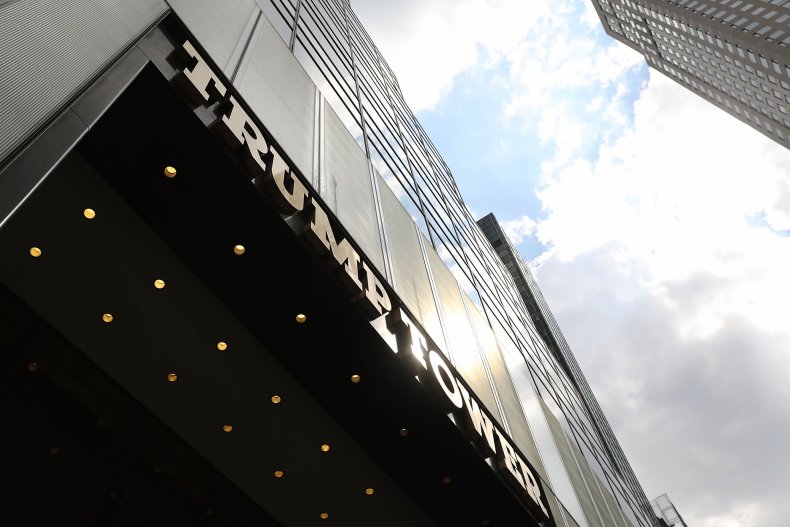 A Trump Organization spokesperson challenged Bloomberg's estimates and noted the location of the properties "affects the rents it can achieve."
Some of the reported lost revenue was offset by gains at other Trump properties around the country, most notably office buildings in New York and San Francisco. Those saw an increase in value of $75 million.
And Trump International Hotel in Washington jumped in value to $100 million after gaining $30 million. The hotel and Trump's ownership of it has faced scrutiny over potential conflicts of interest with foreign dignitaries staying at the property in an attempt to curry favor with the president. The Republican National Committee has also spent heavily at the property, paying out $271,000 on "venue and catering" expenses between the Washington hotel and Trump National Doral Miami in Florida in February.
Bloomberg's latest estimate conflicts with rival publication Forbes. In March, Forbes reported a decline of $400 million to peg Trump's net worth at $4.1 billion, citing a $41 million drop in Trump Tower's value and the loss of a major Nike store in the adjacent 6 E. 57th street property in Manhattan.
The president has been accused of inflating his actual net worth for decades. Most recently, a former New York real estate reporter who previously helped Forbes compile its very first wealth list claimed Trump used to call him and exaggerate not only his net worth but the stake he had in his father's company in the 1980s.