President Donald Trump said Monday that his administration would soon announce a second meeting between him and North Korean supreme leader Kim Jong Un in hopes of restarting a stalled denuclearization process.
After a bilateral meeting with South Korean President Moon Jae-in, Trump told reporters at the White House that a proposed sequel to the first-ever summit between the U.S. and North Korea would be announced in a "pretty short period of time," and the location of such a meeting was "to be determined." While Trump was "in no rush," he said such talks would likely take place "in the not-too-distant future."
Moon's meeting with Trump came after the South Korean leader traveled to Pyongyang last week to co-host his third inter-Korean summit and the fifth such event since the two Koreas were split and went to war in the mid-20th century. Moon said Kim affirmed his commitment to denuclearization efforts, while Trump said his relationship with Kim was "very good, in fact, in some ways it's extraordinary."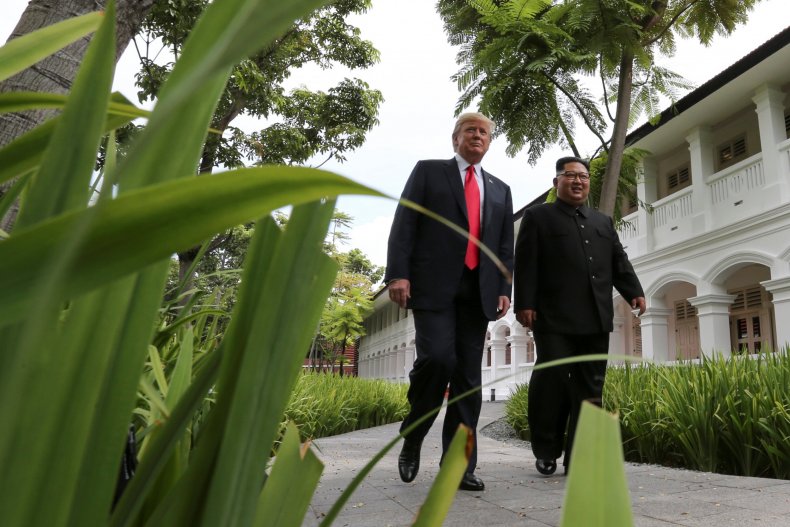 Moon and Kim vowed to continue the historic peace talks between the longtime rival neighbors as part of the Pyongyang Declaration. After returning from his three-day visit to North Korea, Moon said Thursday that there were further discussions "not included in the agreement" to be shared with Trump directly during their planned meeting. By sharing messages between the U.S. and North Korea, which do not have formal diplomatic relations, Moon said he was "faithfully fulfilling" his role as mediator.
Moon and Kim have met twice this year and both times pledged to end a decadeslong conflict, in which Washington has been a staunch supporter of Seoul. As the two Koreas began peace talks earlier this year, an initially reluctant U.S. grew increasingly involved, ultimately accepting Kim's invitation to a face-to-face meeting that took place in June. At the unprecedented summit, the format of which Trump said Monday the next meeting between the men would likely mimic, Kim agreed to abandon the nuclear weapons his country had long argued were necessary for self-defense.
Pyongyang has not tested a nuclear weapon in over a year, and it has gone nearly 10 months without conducting a major ballistic missile launch. In addition, it returned the remains of U.S. troops who died during the 1950s Korean War and dismantled some sites associated with its nuclear and missile programs. However, the U.S. accused North Korea of not making insufficient progress and canceled a high-level visit last month.
Since then, Kim has said he would aim to denuclearize by the end of Trump's first term in 2020, and the two men have exchanged their regard for each other and affirmed their support to move forward with their dialogue, which North Korea hopes will lift tight sanctions and formally end hostilities with the U.S. and South Korea.
"I really believe North Korea has tremendous economic potential, and I really believe that Chairman Kim and the people of North Korea want to see that potential arrived at, and we will help them to that end," Trump said.