What Does North Korea's Kim Jong Un Want to Tell Donald Trump? New Message on Its Way
North Korean supreme leader Kim Jong Un has a new message for President Donald Trump, the latest in a series of communications aimed at advancing a historic nuclear peace process between two Cold War–era foes.
Following a three-day trip to Pyongyang, South Korean President Moon Jae-in told reporters Thursday that he discussed "the complete denuclearization of the Korean Peninsula and the resumption of the now-stalled North Korea-U.S. dialogue" during his third meeting with Kim. The summit, the fifth event since the two Koreas went to war in the 1950s, produced a joint declaration. But Moon said the heads of state discussed even more that he would bring to Trump personally during a visit to the U.S. next week.
"Some of the discussions are not included in the agreement. I plan to share such details with the U.S. side should I come back to hold a summit with Mr. Trump," Moon said during a press conference in Seoul.
"As you know, the U.S. wants to communicate its message to North Korea through us, and we want to hear the answer. On the other hand, North Korea also want to send a message to the U.S. side through us. I would like to promote dialogue between the U.S. and North Korea by faithfully fulfilling those roles when I meet President Trump," he added.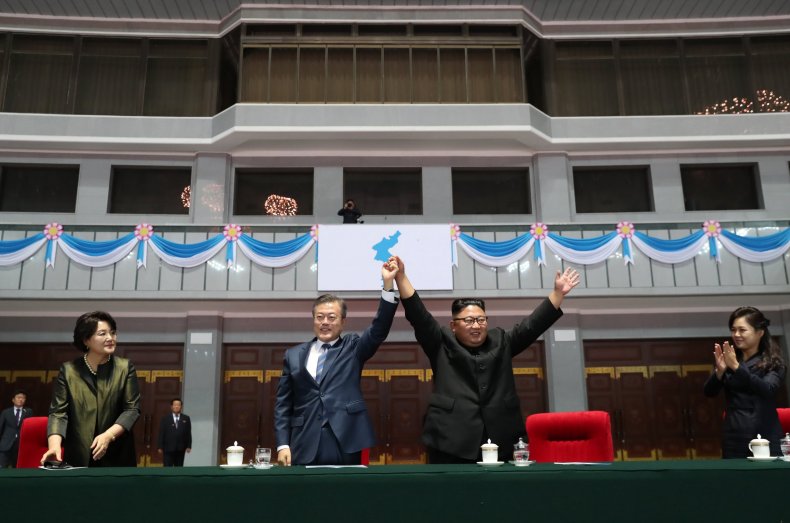 After feuding with the Trump administration last year, North Korea has engaged with South Korea and its sponsor, the U.S., in ways like never before, promising a reset in relations and the dismantling of the nuclear weapons it has long considered vital to its survival. The peace process momentum peaked last spring with two inter-Korean summits and an unprecedented meeting direct meeting between Kim and Trump in June. Nevertheless, Washington's skepticism over the pace of Kim's denuclearization efforts has threatened the future of U.S.-North Korea talks.
Last month, Trump canceled Secretary of State Mike Pompeo's fourth planned visit to Pyongyang, blaming the ongoing trade conflict with China and insufficient progress on the ground in North Korea. Trump ended his tweet, however, by sending his regards to Kim. Shortly afterward, a South Korean presidential delegation returning from Pyongyang told the U.S. leader that Kim was fully committed to the process and was frustrated with outside depictions of him as otherwise.
The White House revealed last week that Trump had received a "very positive" letter from Kim formally requesting another meeting. The Pyongyang Joint Declaration of September 2018 adopted by the two Koreas, as well as agreements regarding visits from U.S. and International Atomic Energy Agency officials to North Korean sites, appeared to affirm that talks were moving forward. Trump called the developments "very exciting" that same day and Pompeo lauded the diplomatic achievements at a press conference.
"On the basis of these important commitments, the United States is prepared to engage immediately in negotiations to transform U.S.-DPRK relations," Pompeo told reporters, using the official name's acronym the Democratic People's Republic of Korea.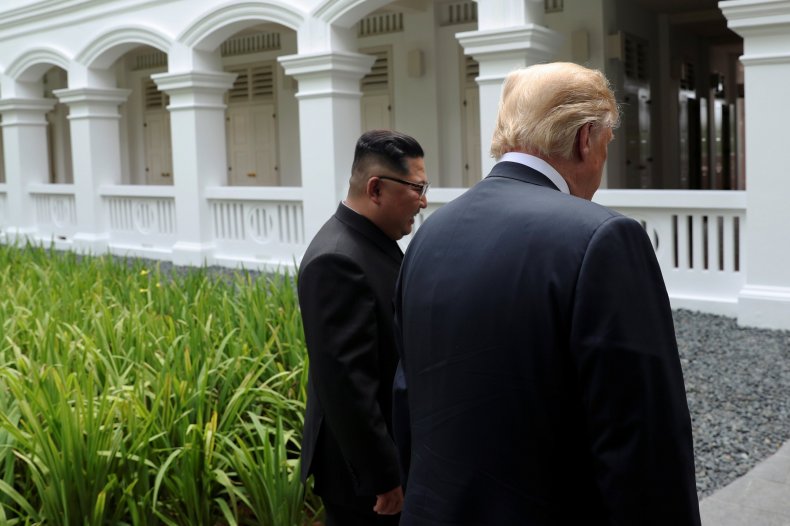 Pompeo also said that he had invited North Korean Foreign Minister Ri Yong Ho to meet with him in New York next week as various events of the annual United Nations General Assembly take place. He also invited North Korean representatives to meet with U.S. special envoy Stephen Biegun in Vienna, in order to kick off a series of negotiations that aim to completely denuclearize North Korea by January 2021. In exchange, Pyongyang has asked for a lifting of U.S.-led international sanctions, guarantees of security and a declaration of peace to a bloody mid-20th-century conflict that ended only with an armistice.
Moon and Trump were scheduled to meet next week too, giving the two a chance to discuss their strategy moving forward. South Korea has not been deterred by the same suspicion that the U.S. has displayed toward North Korea's goals, and urged Washington and Pyongyang to overcome their short-term differences in the spirit of securing a sustainable dialogue. In another first, Moon said he would discuss with Trump the prospect of officially declaring peace with North Korea, something Kim has sought to achieve in the early stages of talks.