Donald Trump Sounded Like a 'Mental Patient' in CPAC Speech, MSNBC Contributor Says
An MSNBC contributor was pretty stark in his assessment of President Donald Trump's speech over the weekend at the Conservative Political Action Conference (CPAC) in Maryland. Journalist Mike Barnicle said on Tuesday that Trump seemed like a "mental patient."
A panel on the show Morning Joe were in relative agreement that the speech by Trump was especially odd.
"It was insane," Washington Post opinion columnist Eugene Robinson said, via a clip posted by Raw Story. "It was two hours and 20 minutes of rambling, self-serving, self-justifying, or at least an attempt to be self-justifying, nonsense. If you listen to it, if heard grandpa talking like that, you'd be concerned. 'Is he alright? Is it time for his nap? I mean he went on and on. We've almost become inured to it, we've become numb to the fact that the president of the United States—the leader of the free world, the most powerful man in the world—can get up and just not make sense."
Host Willie Geist called it a "greatest hits show" for Trump's base.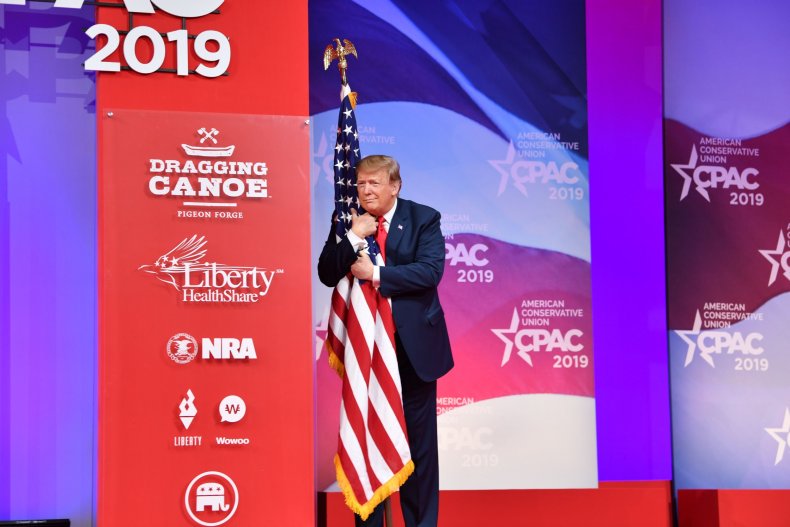 But Barnicle really drove the point home that he felt it was a truly weird performance from the president.
"I would submit that if you went to that speech, got the tape of it, clipped out the introduction that he's the president of the United States—you would look at it as if, 'uh-oh, thankfully the guy doing the act out here is fully clothed, he's not wearing paper slippers, he's clearly a mental patient and somebody in his family had better hopefully come on stage and take him off,'" he said. "I mean, it's that crazy. The length of it. The sustained assault on common sense. Going back to crowd sizes and things like that."
Geist countered that the crowd ate it up. Barnicle responded: "That is a crowd that applauded the death of John McCain. I mean, come on."
Trump's two-hour-long speech at CPAC featured everything from mocking the accent of former Attorney General Jeff Sessions, to the president literally hugging the American flag, to him claiming that Democrats were trying to take him out with "bullshit."
"Unfortunately, you put the wrong people in a couple of positions, and they leave people for a long time that should not be there," Trump said. "All of a sudden, they are trying to take you out with bullshit. With bullshit."