Trump 'Almost an Outcast' Among U.S. Allies Says Biographer After NATO Video Goes Viral: 'He Is a Bully And…a Braggart'
The apparent mockery of President Donald Trump by foreign leaders at the NATO summit showed that the U.S. president has lost respect among America's allies, Trump biographer Michael D'Antonio has said.
A group of leaders, which included Canadian Prime Minister Justin Trudeau, French President Emmanuel Macron and British Prime Minister Boris Johnson, were unwittingly filmed apparently discussing Trump at London's Buckingham Palace on Tuesday night, although the president's name was never mentioned.
When asked about the incident, Trump told reporters that Trudeau was "two-faced" and that he had "called him out" on the fact that Canada was not spending 2 percent of its GDP on defense, a target which the U.S. insists every NATO member meets.
Trump later pulled out of a planned press conference without giving a reason, leading the media to speculate he was upset about being the subject of ridicule.
D'Antonio, a Pulitzer Prize-winning journalist who wrote the book Never Enough: Donald Trump and the Pursuit of Success, appeared on CNN Tonight and told host Don Lemon that the incident was a symptom of the lack of respect the president now has globally.
"[Trump] has stomped around the world insulting people and threatening them. These are the two things that he does. He might bribe you as well, so there are three things that he does. This has made him, I think, not only a pariah in the civilized world, he's almost an outcast especially among America's allies. So, the first thing he does when he gets into office is trash NATO," D'Antonio said.
Last year, Trump reportedly criticized the alliance during a meeting of the G7, describing it as "mad as NAFTA" and "much too costly for the U.S."
D'Antonio continued: "Then he goes around to every gathering of world leaders and favors the strongmen and the tyrants. So, I think people don't respect him. They respect the power he represents, but even that, I think, is less and less."
Lemon asked if world leaders "put up with him." D'Antonio replied, "Oh, of course they put up with him. He is the kid no one invites to their birthday party because he is a bully and he is a braggart."
Newsweek has contacted the White House for comment.
The CNN Tonight discussion with Lemon also included Washington Post columnist Catherine Rampell who said that Trump was extremely sensitive about being laughed at.
This was illustrated by his 2016 election campaign in which she said he referred to how "the world was laughing at us something like 50 times before he took office."
After Trump returned to the U.S. following the summit on Wednesday, Democratic presidential candidate Joe Biden's campaign released a video which used the incident as proof that "the world is laughing at President Trump."
"They see him for what he really is: dangerously incompetent and incapable of world leadership," Biden tweeted next to the video.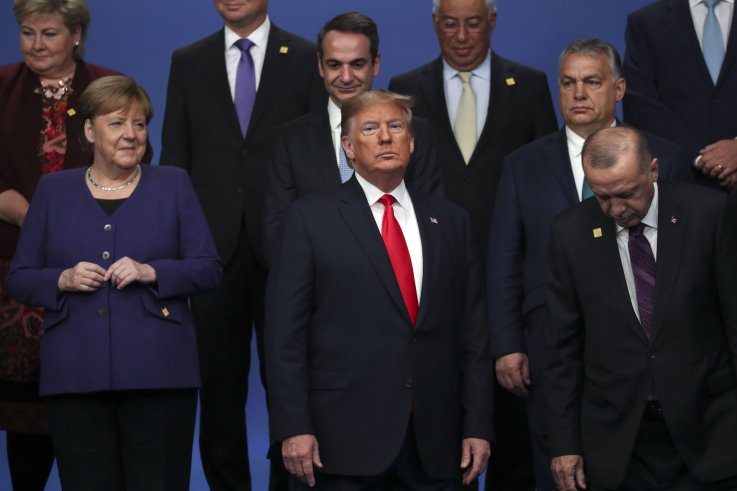 Trump 'Almost an Outcast' Among U.S. Allies Says Biographer After NATO Video Goes Viral: 'He Is a Bully And…a Braggart' | U.S.