Trump Misspelling 'Stolen' in Election Rant Sparks Avalanche of Bread Jokes
The internet was having a laugh at a typo in one of Donald Trump's Truth Social posts on Wednesday.
The former president posted that he was watching a former Twitter executive testify before the House Oversight and Accountability Committee. Trump said the social media platform spied on his campaign, limited his tweets and "would not send [them] out" before his was de-platformed.
Trump said the executive admitted that the 2020 presidential election was "rigged & stollen." The post was later deleted and reposted with the correct spelling of "stolen."
But before the typo was erased from Trump's Truth Social account, people online did not miss the opportunity to poke fun at the 2024 presidential candidate.
Washington Post reporter Josh Dawsey pointed out that stollen is a bread of fruits, spices and nuts.
Many people shared photos on Twitter of stollen, a German fruitcake traditionally eaten around Christmas.
One post parodied the Liam Neeson film Taken.
Some users said that "stollen" might actually be appropriate in this case because the bread is full of nuts, suggesting Trump is crazy.
This is not the first time Trump has referenced the German fruitcake.
Another Twitter user noted that Trump has misspelled stolen as "stollen" several times in past Truth Social posts.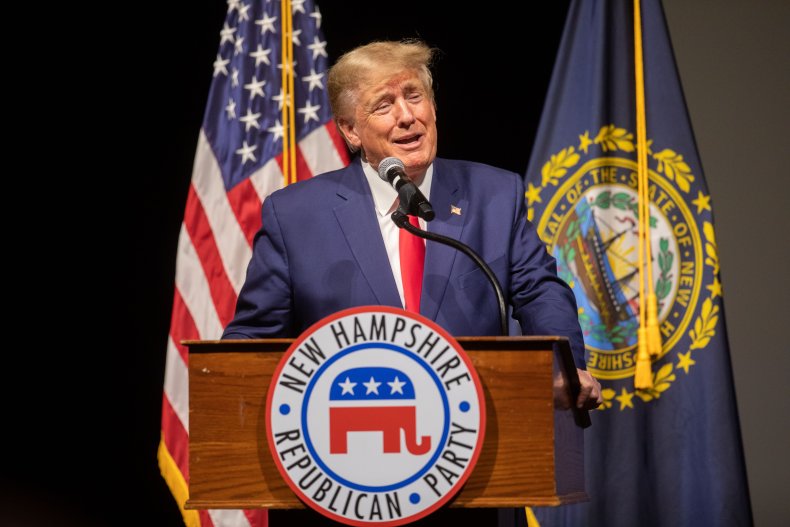 Trump often repeats his unproven claim that the 2020 presidential election was stolen, providing many opportunities for the typo.
He has made this specific typo so often that Snopes even did a fact check on it last year.
In a now-deleted Truth Social post from June 2022, Trump said: "I felt the Election was RIGGED & STOLLEN, have from the very beginning, & have only gotten stronger in that belief with time & large amounts of additional evidence and proof."
The post was deleted but a screenshot of the Truth Social post circulated on Twitter. Snopes confirmed that the screenshot of Trump's post was authentic.
Typos were also common when Trump was on Twitter during his time in the White House.
There was the infamous "covfefe" tweet, and the time he misspelled his own wife's name.
In 2018, Trump tweeted: "Great to have our incredible First Lady back home in the White House. Melanie is feeling and doing really well. Thank you for all of your prayers and best wishes!" His wife's first name is Melania.
Researchers at Factba.se found that Trump has 188 misspellings in his tweets from his inauguration day in 2017 until October 31, 2019, an average of one misspelling every five days, CNN reported in 2019.
His most frequently misspelled terms included "councel," "Barrack Obama," and "Capital Hill."
"Even with the benefit of the doubt—erring always on the side of 'is this possibly correct' such as judgement and judgment—eight of the top 10 [biggest misspellers in an analysis of politicians' tweets] are either Trump family members, current or former White House officials, or the Trump Corporation itself," Bill Frischling, the CEO of FactSquared, told CNN at the time.