Donald Trump Became 'More Powerful' Because of Capitol Riot: Expert
A security affairs expert said during a Senate Judiciary Committee hearing on Tuesday that he felt former President Donald Trump became "more powerful" as a result of the January 6, 2021, attack on the U.S. Capitol.
Dr. Robert A. Pape, a professor of political science at the University of Chicago who specializes in international security affairs, made the comments during a hearing that was held to examine violent extremist threats and white supremacy.
The hearing was called following the mass shooting at a Buffalo, New York, supermarket that resulted in the deaths of 10 Black people. The suspected shooter in the incident is an 18-year-old man who self-identifies as a white supremacist. Prior to the shooting, the alleged gunman posted a manifesto he had written online that cited the "great replacement theory."
The "great replacement theory" is a false conspiracy that a cabal is trying to replace white Americans with people of other races through immigration, interracial marriage and other means. The theory was discussed multiple times during Tuesday's Senate Judiciary Committee.
Democratic Senator Dick Durbin of Illinois asked Pape if social media was "exacerbating this situation" of extremism by spreading such hate-filled conspiracies.
Pape said, "We are now seeing those who advocate the 'great replacement' receive political benefits and financial benefits. Politicians in America—in the mainstream—are either directly or indirectly stressing the 'great replacement' and becoming more popular."
"Donald Trump, the former president of the United States, is more powerful today as a result of January 6 than he would have been without January 6," Pape added. "That is a very, very worrisome trend, sir."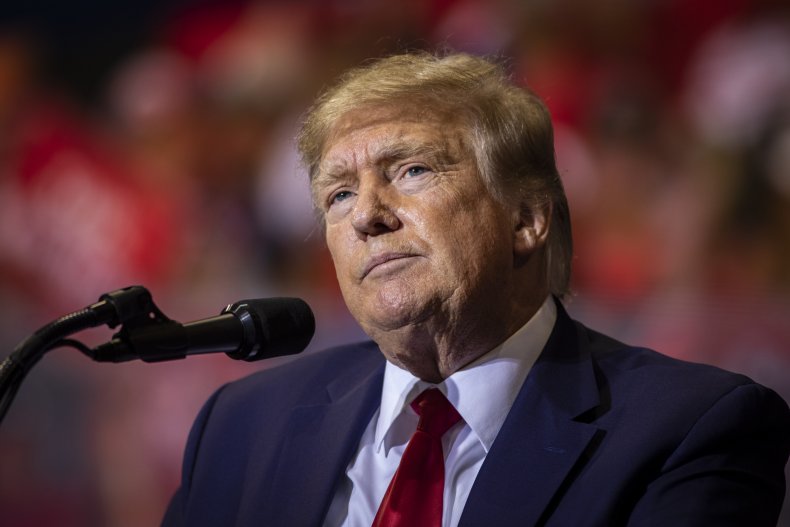 Pape also said he attributes the large number of mass shootings in the nation to a combination of the availability of automatic weapons with "volatile ideas and beliefs in the mainstream."
"It's not one or the other," he said. "You've got the combination of these two, which is why we're seeing many more of these events in the United States than we are, say, in Britain. And this is a very important combination. That's a deadly cocktail that promises more violence going forward."
Pape contended that media figures have also grown "more popular" due to pushing the "great replacement theory."
"What we are seeing are incentives for more politicians [and] more media figures to follow in those paths," Pape said, adding this is "why we have to be so concerned about the 2022 and especially 2024 election seasons."
Newsweek reached out to Trump for comment.