Nun Who Heads Catholic Lobby Group 'Horrified' by Trump Prayer Breakfast Appearance
The head of a prominent faith-based social justice lobby group has joined the chorus of disapproval opposing the guest list at the National Catholic Prayer Breakfast which will see the appearances of President Donald Trump and Attorney General William Barr.
Held since 2004, the virtual event which takes place on Wednesday after being postponed from March, due to the coronavirus pandemic, has frequently been a platform for politicians, including presidents.
But this year's event has been marred by anger at the appearance of Trump as well as the decision to award Barr, a Catholic, with the Christifideles Laici Award (Faithful Christian Laity), which is given in recognition of "good works and those who serve the Church so well."
Some Catholic groups and clergy have said that such an award is at odds with the federal government's decision to reinstate the federal death penalty, which in July was opposed by Pope Francis and U.S. bishops.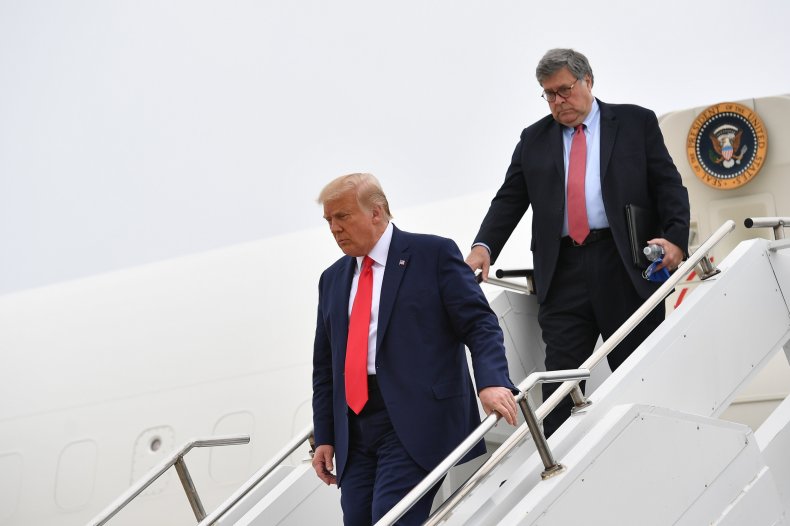 Tens of thousands of people have signed a petition set up by the non-denominational group Faithful America condemning Barr's award and Trump's appearance. His award has also been opposed by the Association of U.S. Catholic Priests.
Meanwhile Sister Simone Campbell who is the executive director of NETWORK Catholic Lobby for Social Justice said it was not appropriate for Trump and Barr to appear in such a prominent Catholic forum.
"I am horrified that they are giving an award to Attorney General Barr who had reinstituted executions of people on death row, which is shocking and counter to Catholic social teaching. It is abundantly clear, 'thou shalt not kill', and he is doing that and he is being given an award," she told Newsweek.
"Then they have President Trump who really doesn't have a sense of religion or religious values addressing the breakfast. This appears to be a crass political move.
"Based on who's getting the award and based on President Trump's policy, I don't think the breakfast will enrich or really create a sense of solidarity of 'we the people', because it is too focused on destructive activities," she added. Newsweek has contacted the National Catholic Prayer Breakfast and the White House for comment.
Abortion is an issue where Catholic dogma and electioneering most visibly intersect, especially with Trump's pitch to Christians, including evangelicals, as the pro-life candidate. The Catholic Church says that abortion is always wrong because life begins at conception.
Campbell is a political ally of Democratic presidential contender Joe Biden, himself a Catholic who has previously distanced himself on supporting some restrictions for abortion. He has said he would back legal abortion and funding for abortion providers.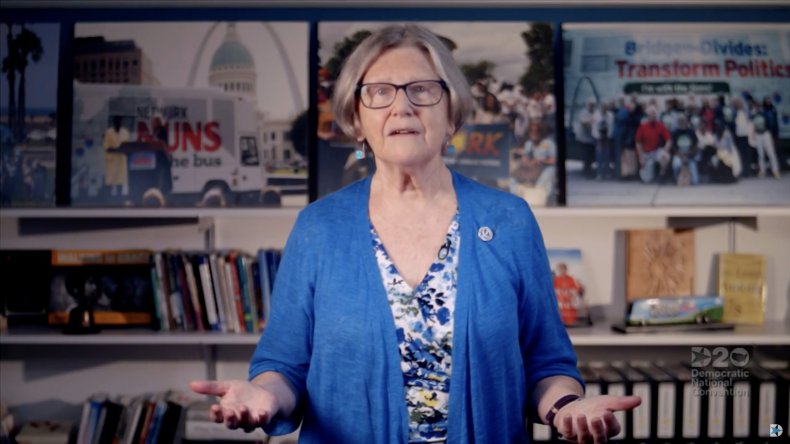 Campbell, who has previously declined to take a public stand on the morality of abortion protections, according to the Catholic News Agency, told Newsweek that the pro-life debate needed to be more nuanced.
When people are judging the Trump administration's pro-life credentials, she believed they should also take into account its COVID-19 response, policies on immigration at the U.S. border and public health policy, such as opposition to the Affordable Care Act.
"We have created a score card which takes Pope Francis's very clear summary on what Catholics need to be concerned about, including the care for the unborn. What Pope Francis says is equally sacred is the care for the born," Campbell said, adding that the head of the Catholic church wanted Americans "to be multi-issue voters.
"It's way more complex than wanting to end a women's right to choose, which is what Roe versus Wade is about," referring to the landmark 1973 ruling which safeguarded the right to an abortion on the national level, "or the criminalization of abortion.
"Those are two consequences of our faith commitment to care for the unborn. Quite frankly this has been a polarized fight for the last 50 years and look where it has got us? We haven't moved an inch," she said.
The wooing of the Catholic vote is important ahead of November 3, with followers backing both candidates. Although Biden has spoken about his Catholic faith, not all of his co-religionists support him. Last month, Father James Altman, a Catholic priest in Wisconsin, released a nine-minute video attacking the Democratic Party.
Meanwhile, the group CatholicVote announced earlier this month it would spend $9.7 million on campaign ads to draw attention to Biden's alleged lack of support for Catholic issues.
"Joe Biden's record makes clear he will not protect our Catholic values or defend our way of life," CatholicVote President Brian Burch said in a news release.