Donald Trump Era Left NATO Stronger, Baltic Allies Say
Former President Donald Trump's time in office left NATO stronger, according to the alliance's Baltic states, who sit on the front line of the West's confrontation with President Vladimir Putin's Russia.
For all the drama Trump brought to international relations, top ministers from Latvia, Estonia, and Lithuania all told Newsweek that the 72-year-old alliance is growing in strength, even as its members are split on how to respond to challenges new and old.
"There was sometimes very harsh rhetoric on both sides," recalled Latvian Foreign Minister Edgar Rinkevics in an interview with Newsweek.
"I think that even at the very critical moments, there was a kind of understanding that NATO is relevant. I would say that NATO probably has come out stronger...everyone understood that there is no alternative."
Trump's time in office prompted questions as to whether NATO was still fit for purpose. The pugnacious president regularly complained about "burden sharing"—i.e. that other nations were not spending enough on defense compared with the U.S.—and was hesitant to commit to the alliance's founding principle of collective defense.
The president reportedly threatened to pull out of the alliance entirely in private several times. And in public, the president wrought havoc at the 2018 summit in Brussels by threatening fellow members at the council meeting.
He also stoked disputes with Germany, France, Canada, Turkey, and the entirety of the EU. Trump left the 2020 NATO summit in London early after other leaders were caught on video mocking him. One op-ed article in The Washington Post declared soon after that the alliance was on "life support."
But while the president publicly raged against America's NATO commitments, the U.S. led the way in strengthening the alliance presence along Russia's borders.
In 2016, the alliance agreed—after Russia's annexation of Crimea and support for separatists in eastern Ukraine—to send four multinational battalion battle groups totaling 3,000 to 4,000 troops to Latvia, Estonia, Lithuania, and Poland; the four nations perceived as most at risk of Russian aggression.
The U.S. is the lead nation in the Polish contingent. The U.K. took the lead in Estonia, Canada in Latvia, and Germany in Lithuania. The plan is known as Enhanced Forward Presence.
Trump and his allies claimed credit for increasing military spending on the part of fellow NATO members.
Others were quick to point out that all NATO states had signed a commitment in 2014 to spend 2 percent of GDP on their militaries by 2024. Whether it was down to Trump or not, spending is certainly on the up.
Overall, ministers in the Baltic states told Newsweek they are happy with NATO's progress, if not the dicey rhetoric surrounding it.
"When it comes to decisions taken during the Trump administration in NATO, it had—at least here in this part of the world—a positive effect," Rinkevics said.
"I do believe that—to some extent—the pressure from his administration combined with the understanding that the threat is rising again, led us to the increase of defense spending. Many more countries are now spending more on defense than five years ago."
Putin's foreign policy has often been described as pragmatic and opportunist. The strongman can see and exploit weakness. For Baltic leaders, the best defense is strong deterrence.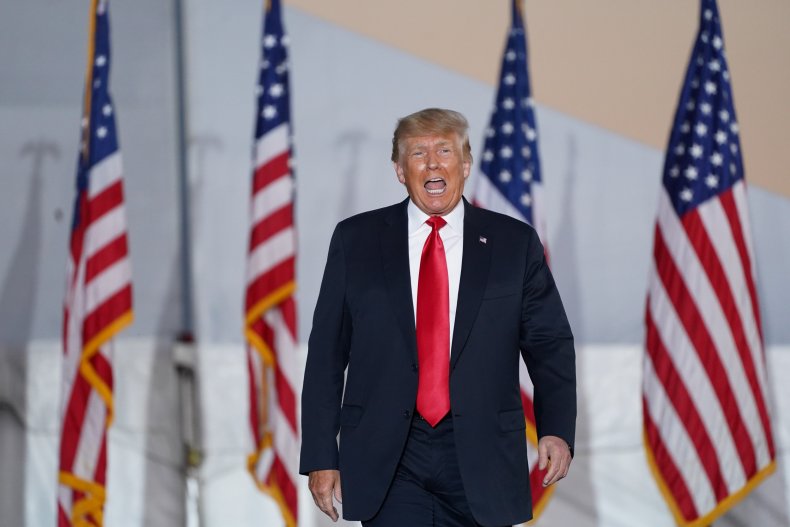 "We are happy with the deployment of Enhanced Forward Presence," Lithuania's foreign affairs vice-minister Mantas Adomenas told Newsweek. "More [deployments] would mean that the likelihood of any aggressive posturing would be considerably smaller."
The threat from Russia is never far from leaders' minds in the region. Russian warplanes regularly skirt Baltic NATO airspace, hackers test and breach cyber systems, troops, and hardware mass for major military drills.
The completion of the Nord Stream 2 natural gas pipeline also poses a new strategic threat to the EU and its partners in Ukraine. The Baltic states have been fiercely opposed to the project, but were unable to stop Germany from pushing ahead.
"We have a sort of military imbalance here. So a greater NATO presence would definitely be a forceful argument to maintain peace in this part of the world," Adomenas said.
"One never knows when Putin might need to bolster his regime. The problem is that he tries to resolve his domestic political problems—waning popularity and economic difficulties—through some other interventions.
"One never knows when the next time might come in his calculation. So we should be prepared, and I think greater presence will be a greater guarantee."
Estonian Foreign Minister Eva-Maria Liimets told Newsweek: "We're very glad about this [NATO] cooperation and presence, and also of course we rely on NATO air policing. All these defense measures are working very well from our perspective.
"We have good contacts with the United States and especially with the new administration. We were very glad to see that from the beginning they turned towards Europe to strengthen transatlantic cooperation. It is very much in our interest."
For all the talk of succession in Russia, Putin is going nowhere. The president has reworked the law to allow him to stay in power until 2036, by which point he could be 86 years old.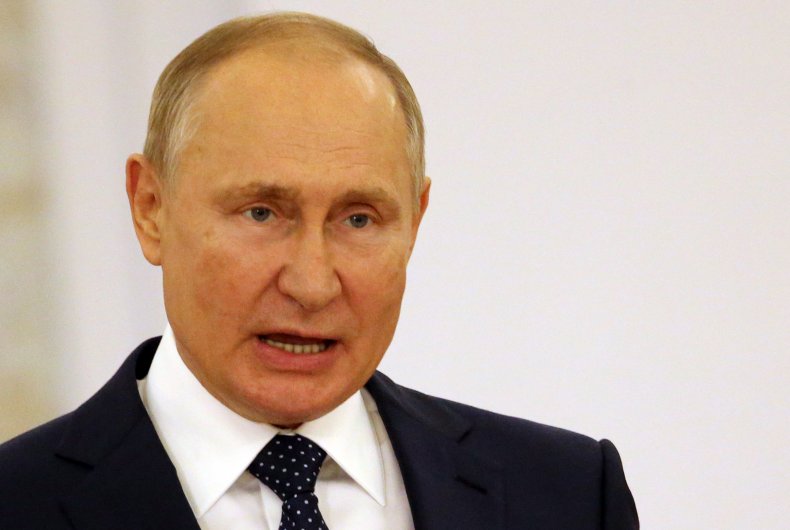 But the veteran leader is as much an expression of modern Russia as its maker. "That system is not going to be dismantled if one particular person steps down," Adomenas said.
"We have a systematic challenge to fundamental human rights, fundamental values of the international legal order. We have to formulate some responses to that. A response would be strategic, geopolitical, and long-lasting. This aggressive system is not going to go away."
All those who spoke with Newsweek urged America to keep its eyes on Russia, at a time when Biden's administration is juggling a vow to be tougher on Moscow with formulating a strategy to tackle the rise of China.
"Our focus at the moment is very much on NATO and the NATO strategic concept that would assess the current security situation properly, and also provide working methods for the organization to couple with this security situation," Liimets said.
"In all these areas we cooperate a lot with the U.S. and explain to them how we see the security situation and concerns in our region...For us, it's also of importance that the U.S. continues its presence and continues to be interested in developments in Europe."
While keeping watch on Russia, the NATO alliance is also trying to recover from the Afghanistan debacle.
The chaotic retreat from Afghanistan and the Taliban victory there is a black stain on NATO's legacy. Twenty years of death and destruction ended with the Taliban back in Kabul, overturning the hard-won freedoms and opportunities for Afghans.
Biden has been widely rebuked for his handling of the situation, as was Trump for his decision to make peace with the Taliban before any inter-Afghan agreement was secured. By setting departure dates, critics say, both effectively handed the Taliban a time to make their move.
"I do believe that the United States, as a NATO ally, is a reliable partner," Rinkevics said.
"What we really need to understand is why the assessment, both political and professional, about the ability of the [former Afghan President Ashraf] Ghani administration to keep power was so wrong.
"I think that we all understood that without a political process that included the Taliban—a kind of coalition government—there was no way for Afghanistan."
NATO's list of challenges is ever-evolving. Whether established challenges of Russia and international terrorism, or newer threats including China, climate change, mass migration, and cyber security, the decades-old alliance must juggle strength with agility.
It must also weather skeptics in the U.S.—particularly in the Republican Party—and in Europe; fraught transatlantic relations exacerbated by the recent AUKUS deal; and the push for greater European military autonomy led by French President Emmanuel Macron.
"Two, three, five years ago; the challenges were a bit different," Rinkevics said. "The harsh reality is that we still cannot live without each other."