Donald Trump gave a shout-out to surprise summer blockbuster Sound of Freedom and its star Jim Caviezel, who has been accused of showing sympathy with the far-right QAnon conspiracy theory, during an address on Friday at an event in Washington, DC.
The former president saluted Caviezel as a great guy during the Pray Vote Stand summit, which was hosted by the Christian conservative Family Research Council.
Sound of Freedom tells the story of Tim Ballard, played by Caviezel, who launched the Operation Underground Railroad (OUR) to rescue children from sex traffickers. Despite a budget of just $14.5 million, the film made more than $154 million in the United States and Canada alone, according to Box Office Mojo, outperforming a number of major Hollywood releases.
The movie has proven popular with supporters of the QAnon conspiracy theory. They believe Trump is secretly waging a war against a cabal of satanic paedophiles who occupy positions of power in Hollywood and Washington, D.C. However, Ballard insisted the movement has "zero connection to the actual story."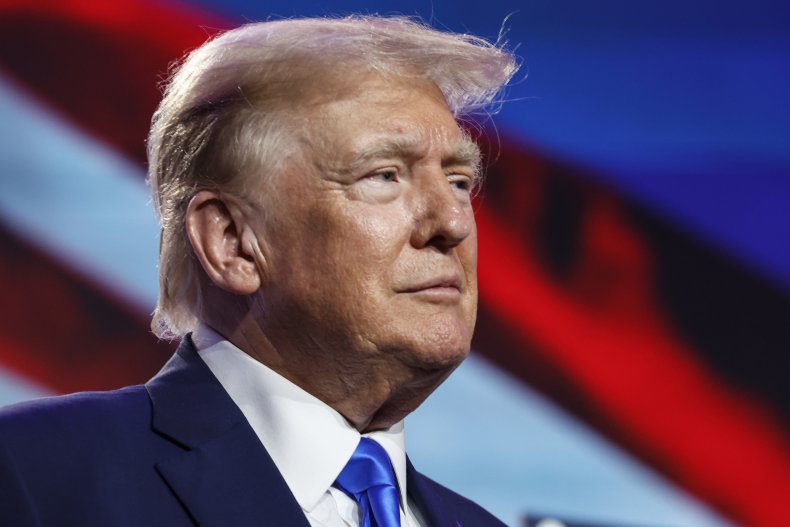 Speaking at the Pray Vote Stand summit, Trump also said he would reintroduce Title 42, a piece of legislation allowing border officials to immediately deport illegal migrants to protect the U.S. from infectious disease. If returned to the White House, he said he would do this to help stop child trafficking into America. In 2020, then-President Trump reimposed Title 42 to help protect the U.S. from the coronavirus pandemic, and it was used more than 2.8 million times to expel migrants before expiring in May.
Trump said: "I will also use Title 42 to end the child-trafficking crisis by returning all trafficked children to their families, in their home countries, immediately. And as Jim Caviezel – who's a great guy, you know who he is? – the movie Sound of Freedom, he said, 'God's children are not for sale.' Very simple."
In July, Trump hosted a screening of Sound of Freedom at his golf club in Bedminster, New Jersey, with Caviezel among the guests. After the movie, the business tycoon and politician said: "Jim, that was unbelievable. It's something that I'm not sure if you're supposed to enjoy or learn. It's a combination, but that was a great movie. Now I understand why it's doing so well."
Trump said: "It's setting records by the way. It's eating the biggest movies out there. They have some of the big summer blockbusters, and this is knocking the socks off of them. So that's pretty good."
Caviezel returned the praise during an appearance on the War Room podcast of Steve Bannon, Trump's former White House adviser, where he compared the former president with the biblical figure King David.
The actor said: "I believe Donald Trump was selected by God almighty... he probably didn't think he was the best guy [to be president] or maybe he thought he was the best guy, because, in my opinion, he's pretty great.
"A guy like him will be able to sit there and watch this [Sound of Freedom] and feel safe and peace," Caviezel added, "and I think that a lot of people that watch this that are following God feel that way."
In July, Caviezel denied either he or Sound of Freedom are "QAnon adjacent," though he did compare the conspiracy theory's supporters to Christians persecuted by the Pharisees, an ancient Jewish group, in the Bible.
Caviezel said: "Now, by way of analogy, if I were the apostle Saul (Paul) and I'm a Pharisee, I'm going to go after the Christians and take them down. Now, let's remove Christians and make it QAnon, I'm going to destroy them because the Romans told me they are evil.
"I'm going to destroy them because my own church staff, my fellow Pharisees said evil—Well, I'm going to take them out," Caviezel added.
Newsweek has contacted Donald Trump for comment via the press inquiry form on his official website.