As Donald Trump Chided South Korea Over Defense Spending, Kim Jong Un Launched More Missiles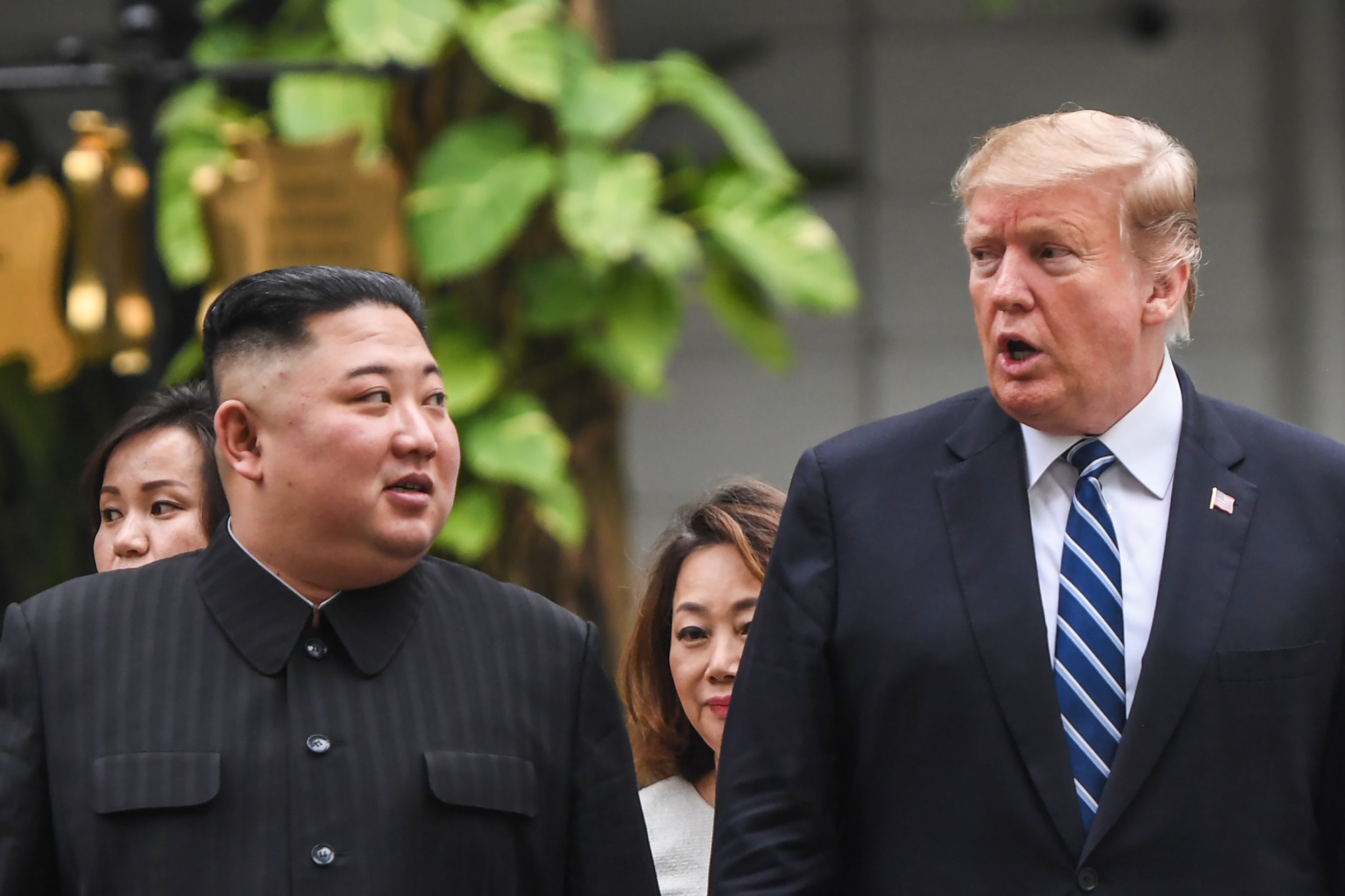 As President Donald Trump appeared to chide his country's ally South Korea about the cost to the U.S. of helping to defend it, North Korea launched yet more missiles, the latest provocation as denuclearization talks between Washington and Pyongyang falter.
The South Korean military said North Korea fired two short-range missiles from Kusong, not far north of the Sino-ri missile base, at around 4.30 p.m. local time in Seoul (3.30 a.m. EST) on Thursday, reported the news agency Yonhap. Both missiles landed in the East China Sea.
It followed North Korea's barrage of missiles fired on Saturday into the Sea of Japan. North Korean state media said the missile launches were part of regular military training and has not aggravated tensions in the region.
Trump told a rally of his supporters in Florida on Wednesday evening that America spends $5 billion defending a "very rich" country in a "very dangerous" area, which he did not name but, based on past statements, looked to be a reference to South Korea.
The president said the U.S. received $500 million from that country. "We lose four-and-a-half billion dollars to defend a country that's rich as hell and probably doesn't like us too much. Can you believe it? And we've been defending it for many years," Trump said.
He then described calling the leader to complain about the defense costs, demanding that they pay more, eventually negotiating a further $500 million payment with the promise of more two months later.
"And now the two months is up. So I told my people call them and ask for the rest of it, OK, and they'll pay. They'll pay," Trump told the crowd.
At a cabinet meeting in February, Trump made very similar remarks to those at the Florida rally, except he named South Korea explicitly.
"South Korea, we defend them and lose a tremendous amount of money. Billions of dollars a year defending them. They agreed, at my request, and working with Secretary Pompeo and John Bolton, they agreed to pay, yesterday, $500 million more toward their defense," Trump said.
"Five-hundred million, with a couple of phone calls. I said, 'Why didn't you do this before?' They said, 'Nobody asked.' So—it's got to go up. It's got to go up. Right now, it costs us $5 billion a year to defend.
"As an example, South Korea—we have a great relationship, and with President Moon. And we're doing great things. And North Korea is coming along. South Korea is just an example. But South Korea is costing us $5 billion a year. And they pay—they were paying about $500 million for $5 billion worth of protection.
"And we have to do better than that. So they've agreed to pay $500 million more. And over the years, it will start going up, and they will be terrific."
President Trump has met twice with North Korean leader Kim Jong Un to discuss the issue of denuclearizing the Korean Peninsula. Talks came after a period of fierce rhetoric between the two men during which threats of annihilation were exchanged.
Since then, tensions have eased drastically. But with little evidence that Pyongyang is upholding its commitment to denuclearize, discussions between North Korea and the U.S. are strained. Talks on one particular issue—returning to America the remains of soldiers who died in the Korea War—broke down entirely this week.
Despite the recent problems, Trump remains optimistic that a comprehensive deal will be done with North Korea, though his critics argue the president is in denial about Pyongyang's intentions, and that he has rewarded the regime by elevating its status in the world.
"Anything in this very interesting world is possible, but I believe that Kim Jong Un fully realizes the great economic potential of North Korea, & will do nothing to interfere or end it," Trump tweeted after Pyongyang fired missiles toward Japan. "He also knows that I am with him & does not want to break his promise to me. Deal will happen!"