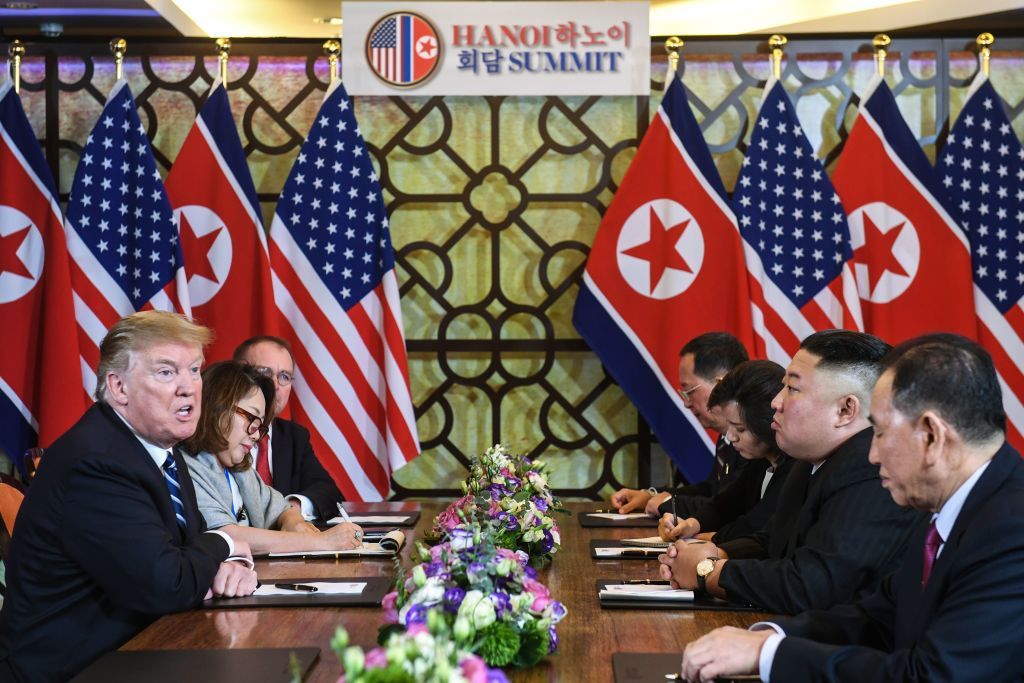 Talks between the United States and North Korea regarding the remains of thousands of U.S. soldiers have broken down following President Donald Trump's unsuccessful summit with Kim Jong Un in Vietnam at the end of February.
Democratic People's Republic of Korea (DPRK) "officials have not communicated with DPAA since the Hanoi summit," Chuck Prichard, a spokesman for the Defense POW/MIA Accounting Agency, said Wednesday, CNN reported. "As a result, our efforts to communicate with the Korean People's Army regarding the possible resumption of joint recovery operations for 2019 has been suspended."
During Trump and Kim's first summit, in Singapore last June, which marked the first time a sitting U.S. president had met with a North Korean leader, the two signed an agreement that said the remains would be returned. "The United States and the DPRK commit to recovering POW/MIA remains, including the immediate repatriation of those already identified," the joint statement from Trump and Kim said.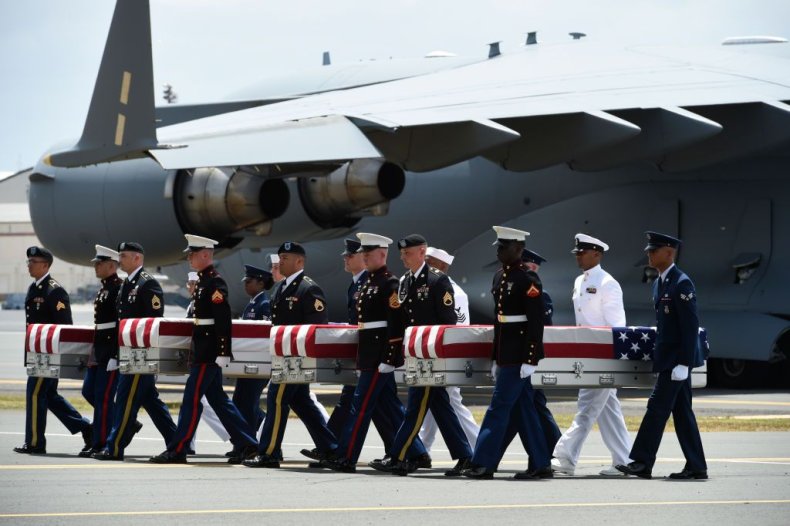 The remains of 200 service members were returned just over a month later, sent to the U.S. in 55 boxes. But about 7,700 U.S. soldiers' remains have remained unaccounted for in North Korea since the Korean War armistice nearly 66 years ago. Trump has often touted Kim's promise to repatriate the remains as a significant indication of his progress toward improving relations with North Korea.
"The remains are coming back," Trump insisted to reporters at the White House in February. "Their family members have found out exactly what's going on, and they've had ceremonies that are absolutely beautiful."
The White House or the State Department did not immediately respond to a request for comment when contacted by Newsweek.
Last Friday, North Korea conducted ballistic missile tests for the first time in more than a year. Although Trump has long argued that he and Kim have a positive relationship and that North Korea is ready to denuclearize, the weapons test was seen by analysts as a sign that Pyongyang has grown frustrated with the White House's response to negotiations.
The Trump administration attempted to downplay the repercussions of the missile test, with Secretary of State Mike Pompeo telling ABC News' This Week on Sunday that no international boundaries had been crossed. "We know that they were relatively short-range, and beyond that we know that they weren't intercontinental ballistic missiles either," he said.
But North Korean media offered a different account, reporting that Kim had overseen successful tests of "modern large-caliber long-range multiple rocket launchers and tactical guided weapons." Kim also told his nation's troops to remain at "high-alert posture" and to prepare to "defend the political sovereignty and economic self-sustenance of the country."
Before Pompeo's Sunday comments, Trump tweeted out an optimistic message regarding North Korea on Saturday. "I believe that Kim Jong Un fully realizes the great economic potential of North Korea, & will do nothing to interfere or end it. He also knows that I am with him & does not want to break his promise to me," the president wrote. "Deal will happen!"
Despite Trump's positive comments, many experts have long been skeptical of the president's negotiations with Kim. Satellite imagery and reports have suggested that the Asian nation has continued to expand its nuclear facilities, despite telling the Trump administration that it was willing to denuclearize.
At the end of January, Director of National Intelligence Dan Coats said that U.S. intelligence officials did not believe Kim was prepared to give up his nuclear weapons, as his regime sees them as integral to its survival.