Kim Jong Un Praises 'Long-Range' Rocket Tests As Trump Administration Claims They Were 'Relatively Short Range' Weapons
North Korean leader Kim Jong Un appeared in photos overseeing "long-range" rocket drills and praising the missle tests, as the Trump administration downplayed the threat, with Secretary of State Mike Pompeo saying Sunday the projectiles were "relatively short-range."
"Praising the People's Army for its excellent operation of modern large-caliber long-range multiple rocket launchers and tactical guided weapons, [Kim] said that all the service members are master gunners and they are capable of carrying out duty to promptly tackle any situation," Pyongyang's Korean Central News Agency (KCNA) reported Sunday, according to the Associated Press.
Pompeo then appeared on ABC News' This Week television program on Sunday morning to discuss North Korea. He argued that the weapons drill was not on the level of previous tests, which drew a fiery response from President Donald Trump in 2017.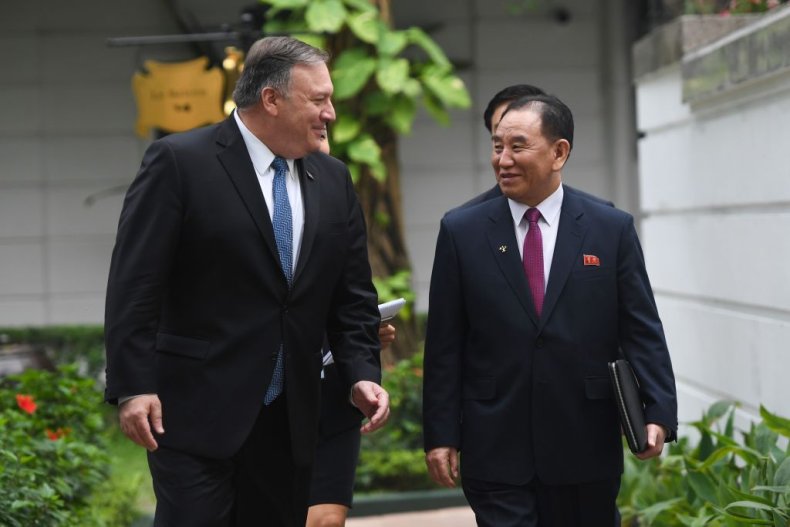 "At no point was there any international boundary crossed," the secretary said. They "didn't present a threat to the United States or South Korea or Japan," he asserted.
"We know that they were relatively short-range, and beyond that, we know that they weren't intercontinental ballistic missiles either," added Pompeo, saying that the Department of Defense would provide a better description of the weapons once the tests are investigated further.
Kim also reportedly commanded North Korean troops to be at "high alert posture" and to prepare to "defend the political sovereignty and economic self-sustenance of the country."
South Korea responded by saying it was "very concerned" by the weapons test, which came despite a pledge from North Korea last September to end "all hostile acts" by air, land or sea.
Trump maintained an optimistic tone toward North Korea on Saturday, despite the weekend weapons tests. "I believe that Kim Jong Un fully realizes the great economic potential of North Korea, & will do nothing to interfere or end it. He also knows that I am with him & does not want to break his promise to me [sic]," the president wrote on Twitter. "Deal will happen!"
Pompeo said he shared Trump's sentiments during his interview with This Week . "I too believe there's a path forward that we can achieve this outcome [of denuclearization]," he said. "We want a brighter future. That's why the president continues to talk about this, it's important," he added.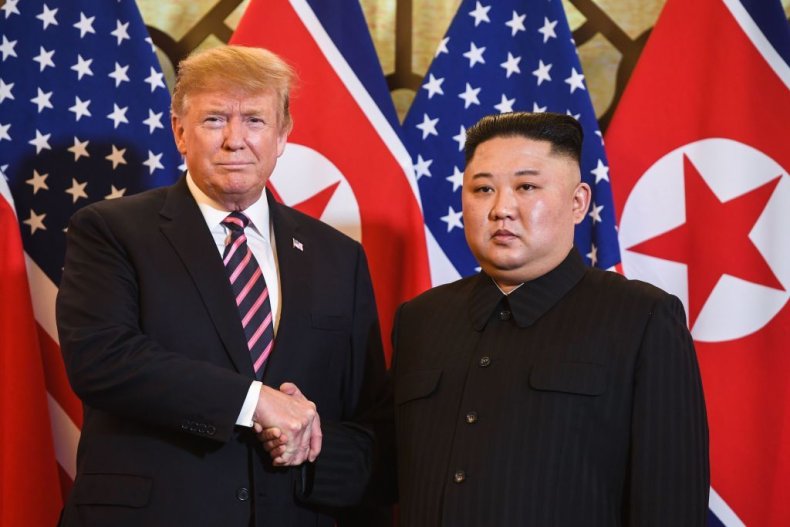 Last summer, Trump and Kim came together for a historic summit in Singapore, marking the first time a sitting U.S. president met with a top North Korean leader. Following their meeting, the two leaders shared a slew of optimistic statements touting the possibility of denuclearization and peace. However, numerous experts and even Trump's own intelligence community have noted that little real progress has been achieved to denuclearize the Asian nation.
"We currently assess that North Korea will seek to retain its WMD capabilities and is unlikely to completely give up its nuclear weapons and production capabilities because its leaders ultimately view nuclear weapons as critical to regime survival," Director of National Intelligence Dan Coats, who was appointed by the president, said in late January.
Trump then met with Kim for a second face-to-face summit in Vietnam at the end of February. But that high level meeting ended abruptly without any meaningful progress. The U.S. has maintained harsh sanctions targeting Pyongyang and analysts have said Kim appears to be growing frustrated that there has been little progress, as sanctions continue to cripple his nation's economy.