Donald Trump Isn't a Good Role Model for Children, Nearly 40 Percent of Republicans Say in Poll
While Republicans—by and large—approve of the job President Donald Trump is doing, a decent portion might not want him to pass along life lessons to their children, a new poll released on Tuesday indicated.
A new survey from Quinnipiac University asked: "Do you think that President Trump is a good role model for children, or not?"
Fifty percent of GOP respondents said that, yes, Trump was a good role model. But 37 percent of Republicans responded he was not a good role model.
A large portion of the country as a whole felt the president was not a good person for kids to look up to. Seventy-two percent of respondents overall said Trump was not a good role model, while just 21 percent said he was a good role model. Among Democrats, a whopping 97 percent said Trump was not a good role for children.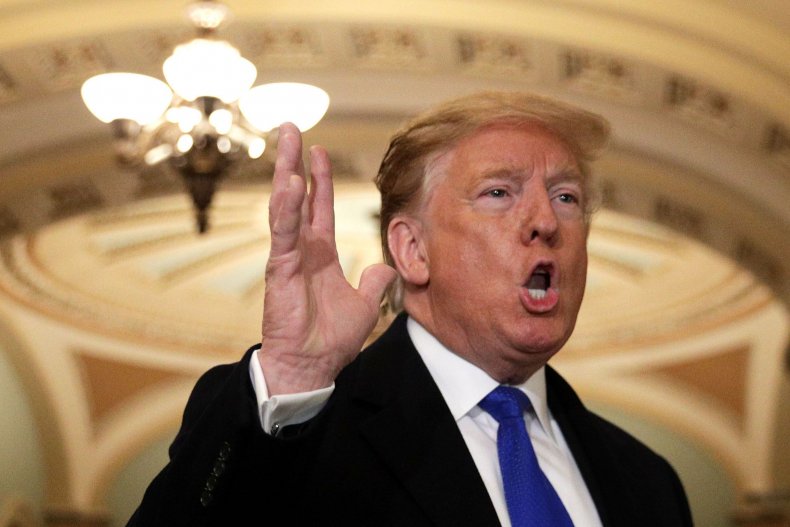 While the Quinnipiac survey found nearly 40 percent of Republicans didn't think Trump was a good role model for kids, it did find that most GOP respondents thought he was doing a good job. Eighty-nine percent of Republicans said they approved of the job he's done, while just 9 percent disapproved. The poll pegged Trump's overall approval rating at 39 percent, with 55 percent disapproval. That figure is a bit lower than where the FiveThirtyEight daily tracker—which aggregates public polls—had him pegged, at 42.1 percent support.
The Quinnipiac University poll surveyed 1,358 voters from March 21 through March 25. It had a margin of error of plus or minus 3.3 percentage points.
Trump's presidency has been tumultuous, combative and frequently scandalous, which might account for some Americans' hesitations to label him a role model. Trump has, for instance, been at the center of alleged hush-money payments made to women he's been accused of having affairs with. He's also made comments that prompted accusations of racism—at his campaign launch, for instance, Trump said Mexico was often sending "rapists" and "drug dealers" to the United States.