Pastor Won't Turn on Trump Because God Chose Him to 'Save' America
Pastor Shane Vaughn of the First Harvest Ministries in Waveland, Mississippi, said that he won't abandon former President Donald Trump because he is "a man that God anointed to save America from herself."
In a video posted last week, Vaughn, an avid Trump supporter, urged his followers not to turn on the former president—a trend the preacher believes is sweeping through the MAGA movement. In the aftermath of the 2020 presidential election, the Christian pastor insisted that Trump would still return to the White House despite Joe Biden's victory.
"This man that fought for you and me from the moment he stepped in the White House [has] now suffered an election loss that—you know what happened and I know what happened," Vaughn said in a video for First Harvest Ministries. "He is sitting there trying to put his presidency back together."
Riffing off of the term "RINO," or "Republican in Name Only," the pastor said he'd be labelling those who betray Trump as "TINOs," or "Trump in Name Only."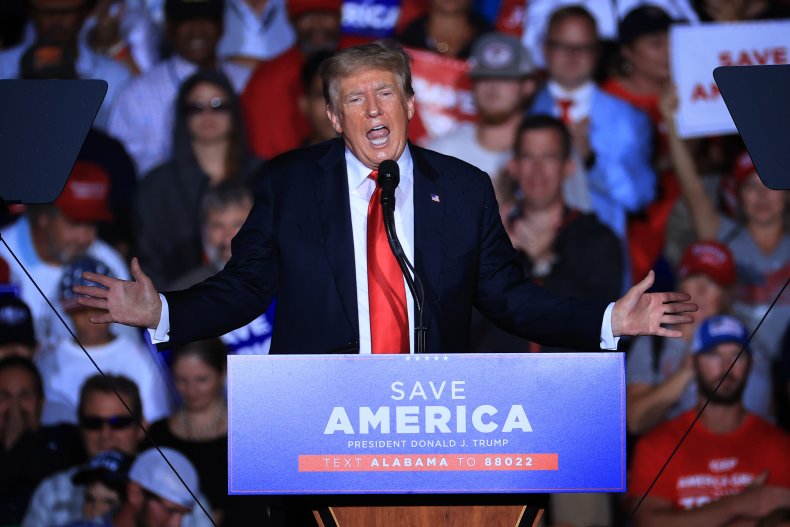 "There is a name for you. You've never heard it before. Because Professor Toto created this name," Vaughn said, referring to himself. "You're going to hear it everywhere after tonight because, in this world, we've got DINOs and RINOs. Ladies and gentlemen, we now have TINOs."
"If you're a TINO, if you are Trump in Name Only, I want to say this to you: Trumpism is not a man. Trumpism is a message with a man that God anointed to save America from herself," he said.
While the term "RINO" is not new, Trump's frequent use of the word has popularized the name in recent years.
Conservative Republicans have historically used "RINO" to describe members who are arguably not right-leaning enough in their views, but Trump's carefree application of the term to critics in his party has been used more broadly to anyone who disagrees with the former president.
Trump has ramped up his "RINO" rhetoric in the weeks leading up to the first Republican primaries this year to describe those running against his endorsed candidates.
The former president dubbed West Virginia Representative David McKinley, who is running against Trump-backed Representative Alex Mooney, as a "RINO" for voting in favor of the creation of the House committee investigating the January 6 Capitol riot, and Biden's $1.2 trillion infrastructure law.
Conservatives have also used "RINO" to slam some of Trump's endorsements who they believe to be "too liberal."
Last month, Vaughn said Trump's midterm endorsements are part of a larger strategy to ensure that he can successfully take back the White House in 2024.
"He's putting his secretaries in there because they are the ones that handle the counting of the election," Vaughn explained in an April 3 video. "The man is just brilliant. And people don't even see what he's doing. They don't know what he's doing. The man had it figured out before you even knew there was a problem."
He also claimed that Trump being ousted from the Oval Office was in God's plan, saying that, "God allowed him to be moved temporarily, to expose this and come back and be able to fix this mess. It's going to be phenomenal."
Newsweek reached out to Vaughn for comment.