Donald Trump's Personal Pastor Believes God Told Her to 'Show Him Who I Am'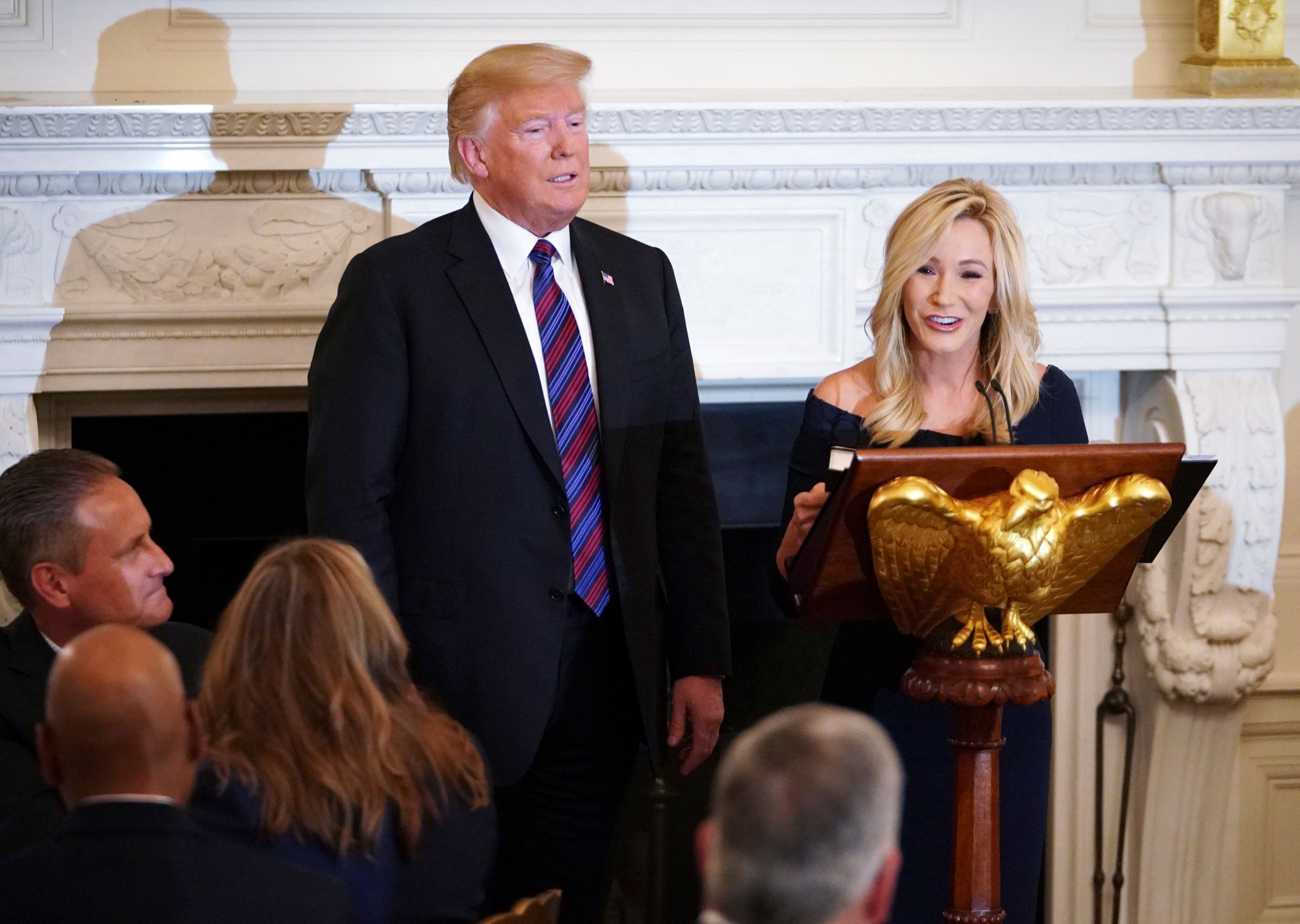 President Donald Trump's spiritual adviser and personal pastor Paula White, who runs a Florida megachurch that generates millions of dollars and preaches the "prosperity gospel," believes she's on a direct assignment from God.
In an interview with The Guardian, White, whose relationship with Trump stretches back to 2002, said God told her directly to "show him who I am," referring to the president. She is chair of the president's evangelical advisory committee and a confidant.
"I encounter thousands of people, millions of people, over the course of ministry, but there's been a handful of people that I knew was like, this was direct assignment," White told The Guardian, adding that God's calling to her was "directly regarding Trump."
She also claimed that in 2011 that the president held a prayer meeting with up to 30 pastors at Trump Tower in New York to ask what God thought about the prospect of him running for the White House. The praying lasted six hours. Trump joined in for half that time.
Despite his reputation as a hedonistic New York playboy, and accusations of extramarital affairs, Trump is highly popular among evangelical Christians, thanks in part to vocal endorsement by community leaders, including White.
Trump has also struggled to demonstrate his faith. When asked during the 2016 campaign, he could not name his favorite biblical verse, and he also referred to Holy Communion as "my little wine and my little cracker."
Yet he maintains the support of evangelicals who believe they have a good chance of advancing their beliefs, such as banning abortion, with Trump in office and are supported by the devoutly religious Vice President Mike Pence.
According to a biography on the Paula White Ministries website, the 52-year-old grandmother turned to God at the age of 18 after a troubled childhood in which her father took his own life and she experienced sexual and physical abuse.
Since then she has preached the Bible and built up her own controversial ministry premised on the prosperity gospel, which teaches that devotion to the Christian faith leads to material riches on Earth and encourages heavy donations to the church.
As well as running her own ministry, White is senior pastor at New Destiny Christian Center, a megachurch in Florida that draws thousands of worshipers to its weekly services and generates tens of millions of dollars in revenue.
Thrice married, White has one son from her second marriage and is currently married to Jonathan Cain, the singer in the band Journey, famed for its hit song "Don't Stop Believin'."
She regularly appears in the media, often on Christian television channels. White was among several prominent televangelists to be investigated by Senator Charles Grassley in 2007 over concerns about their fundraising.
In 2011, Grassley's report found no clear examples of wrongdoing, but not all those under investigation cooperated fully, and no subpoenas were issued, Christianity Today reported.
White has often come in for criticism. "I have been called a heretic, an apostate, an adulterer, a charlatan and an addict. It has been falsely reported that I once filed for bankruptcy and—my personal favorite—that I deny the Trinity," she said in a January 2017 interview with CNN.
A year later, White caused controversy by suggesting that unless her followers donate their first month's paycheck that year to her ministry, they could face the wrath of God.
"Right now I want you to click on that button, and I want you to honor God with his first fruits offering," she said in a video shared to her website. "If god doesn't divinely step in and intervene, I don't know what you're going to face—he does."