The evangelical adviser to Donald Trump has blasted conservative Christians who do not support the president.
Pastor of Dallas' First Baptist Church, Robert Jeffress, is very public in his backing of Trump, even saying last month in support of his southern border policy that "heaven itself is going to have a wall around it."
In an interview on the Todd Starnes Radio Show on Tuesday, Jeffress rebuked fellow evangelicals who did not share his enthusiasm for Trump.
"Let me say this as charitably as I can. These 'Never Trump' evangelicals are morons. They are absolutely spineless morons and they cannot admit that they were wrong," he said.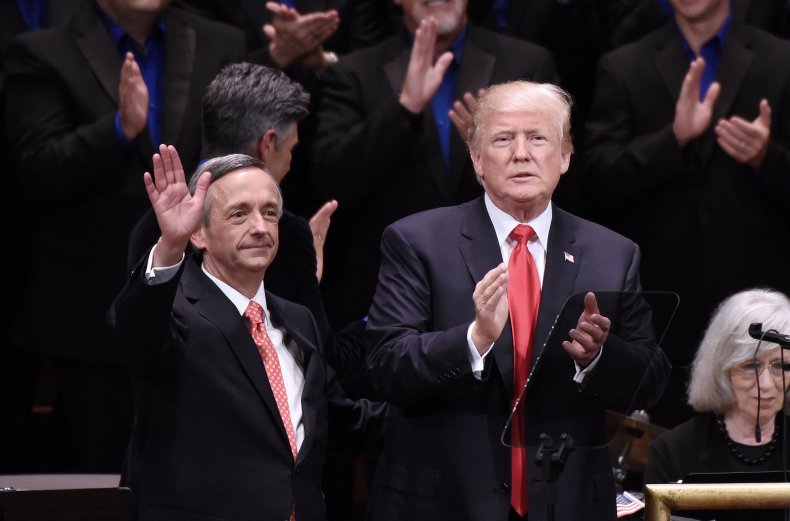 In the interview, Jeffress also took aim at evangelicals who did not back Trump's anti-abortion stance, referring to the move by New York governor Andrew Cuomo to sign into law the Reproductive Health Act allowing abortions after 24 weeks if it protects the mother's health, or if the fetus won't survive.
"What you're seeing that Andrew Cuomo and others have proposed it's not only sinful and wrong, it is barbaric. It is the sign of what Romans 1 in the New Testament calls a depraved mind that would allow that to happen."
He said that Christians should speak out about what he says was an issue of "good versus evil."
"We cannot afford to be like German Christians who, in the rise of the evil reign of Adolf Hitler, just remained neutered. They remained silent. And you saw what happened there."
Jeffress has been criticized for his views before. His comments that "you can't be saved by being a Jew," were raised by Israeli media ahead of the prayer he gave at the opening of the U.S. embassy in Jerusalem last May.
He has described Mormonism is a "heresy from the pit of hell," Islam as an "evil religion" that "promotes pedophilia", and Catholicism "a cult-like, pagan religion," CNN and The Washignton Post reported. Former Massachusetts Governor and presidential candidate Mitt Romney called him a "religious bigot" in a tweet for his religious views.
A survey by the Public Religion Institute found that two-thirds of white Evangelicals, 52 percent of white Protestants and 56 percent of Catholics backed his wall proposal.
Jeffress himself invoked the Bible to defend the southern border wall, telling Fox News in January: "The Bible says even Heaven itself is going to have a wall around it. Not everybody is going to be allowed in. So if walls are immoral, then God is immoral."
Meanwhile, Trump is set to issue a national emergency declaration to bypass Congress which has refused to approve the money that the president has demanded for his border wall.