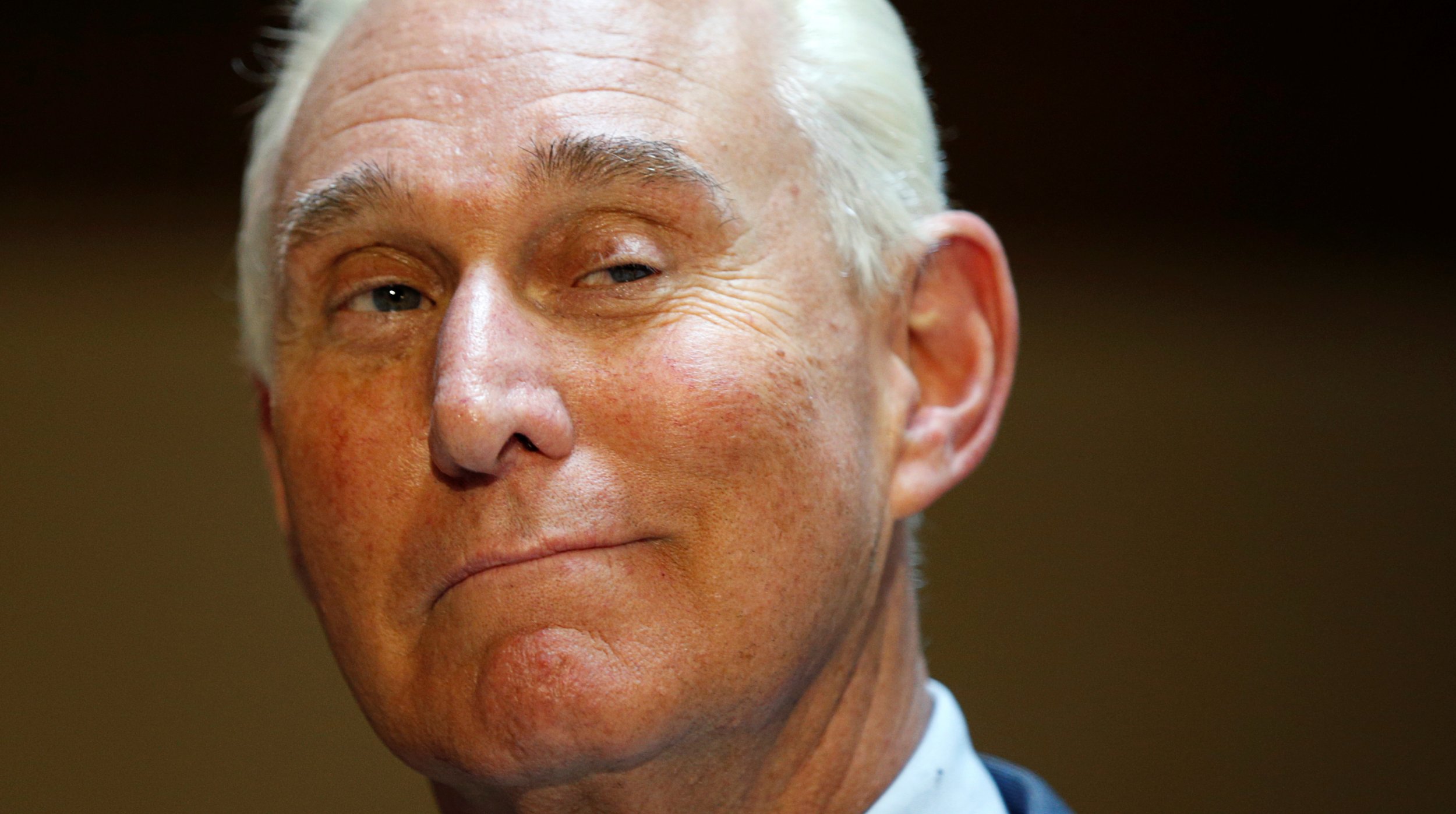 If former Trump Campaign Manager Paul Manafort's surrender to the FBI Monday had the president's loyalists rattled, they sure as hell weren't admitting it.
"A federal prosecutor can indict a ham sandwich. They can make anything look as they wish. That doesn't mean it's accurate," Roger Stone, a longtime Donald Trump confidant—and a former Manafort business partner who's known him for 50 years—told Newsweek.
"I just don't think this has any reflection whatsoever on the president."
Manafort on Monday turned himself in to face a dozen charges tied to a federal probe into Russian meddling in the 2016 race for president. The government alleges Manafort and an associate, Rick Gates, conspired to defraud the United States, among other crimes.
Stone, who himself testified before the House Intelligence Committee as part of a legislative examination of Russian interference in U.S. politics, said he last spoke to Manafort on Saturday.
At that time, Stone said, his former business partner "did not know whether he was the target of this indictment," but didn't think so.
Stone, who earned his "dirty trickster" moniker during the Richard Nixon years, said he had not discussed the collusion allegations with Trump, having spoken to him most recently about the release of records related to the assassination of President John F. Kennedy.
He said he'd advise Trump to turn the tables by launching an investigation into the sale of U.S. uranium mines to Russia while former Democratic presidential hopeful Hillary Clinton was serving as secretary of state.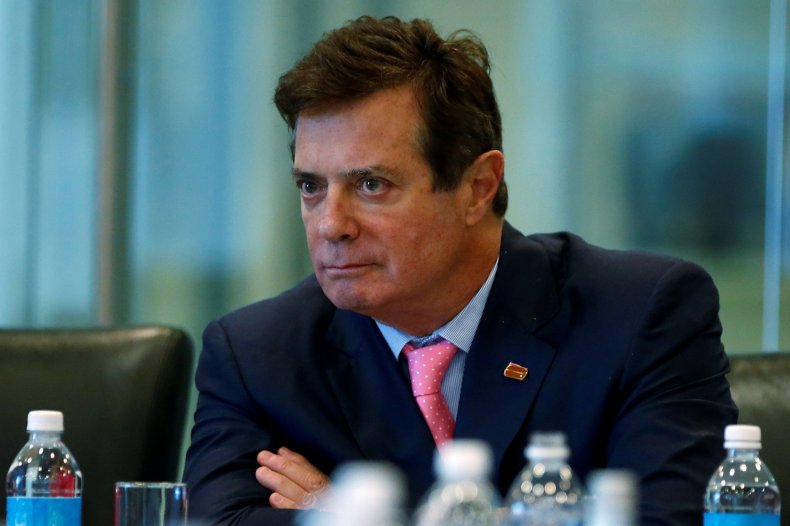 Sebastian Gorka, who until recently advised Trump in the White House, was thinking along similar lines Monday.
The Manafort charges mean "NOTHING to President Trump or his Make America Great Again Agenda," Gorka told Newsweek via email. "Now the Clinton 'Dodgy Dossier' and Uranium 1? That's a completely different matter."
Joseph Borelli, a New York City Council member who served as co-chairman of Trump's 2016 presidential campaign in the Empire State, also downplayed Manafort's surrender: "This not the 'smoking gun' that the media has been salivating over all weekend," he told Newsweek.
The reference echoes back to the days of Nixon, who resigned in 1974 after he was unable to overcome the political damage sustained after the revelation of the "smoking gun" White House tape. The recording illustrated the lengths to which Nixon went to try to derail an FBI investigation into the Watergate break-in.
In a phone interview, Borelli said "it's possible that Paul Manafort is a criminal and deserves prosecution—and that the first indictment in the Russia-collusion investigation has absolutely nothing to do with Russian collusion."
He quickly pivoted to the time-honored Team Trump tactic of blasting the press: "Under normal circumstances, having someone indicted who's associated with you would look very bad," Borelli said, "but when the media has spun outlandish stories of Russian collusion, this can only be seen as coming up short."
Unsurprisingly, those outside Trump's inner circle cautioned against being too quick to assume the president would retain a "Teflon Don" ability to seemingly shrug off even the ugliest of scandals.
"The Manafort indictment [is] not related—yet—to Russian election meddling, but financial wrongdoing; [Trump] has the same vulnerability," warned strategist Rick Tyler, who worked on the campaign of Trump primary foe Ted Cruz.
"The president is now tweeting [and] trying to say that this proves there was no collusion; [nothing of] the sort," Tyler told Newsweek. "If they're willing to look into Manafort's financial dealings before he became involved in the campaign, Mueller will be willing to look at Donald Trump's financial dealings before he became a presidential candidate. That should worry him a great deal."
True believers remained unmoved by such caveats.
"None of it touches Trump," insisted Michael Caputo, a consultant and former Trump campaign advisor.
"There is absolutely zero Russian collusion. This is an attempt by the Mueller investigation to pressure Paul and Rick to reveal something that doesn't exist, and I'm sure [they] will sort through these charges to defeat all of them," said Caputo, who like Stone has been questioned by congressional investigators and likewise denies wrongdoing.
Caputo repeated a mantra that those close to Trump might as well print up and put on T-shirts: "There was no Russian collusion by the Trump campaign," he said.
"The president would never tolerate it in his ranks and certainly would never do it himself," Caputo added, saying Manafort's troubles aren't "nothing," but he believes "this will be sorted out" and not "under any circumstances [will] any of today's indictments [ever] end up touching the president."
Harlan Hill, a New York–based consultant who serves on the advisory committee for Trump's 2020 re-election campaign, told Newsweek that "anyone surprised by Manafort's indictment hasn't been paying attention"—and he seemed to have no trouble putting the embattled Manafort squarely under the bus.
"President Trump fired Manafort in disgrace after just three months on the job," Hill said of the ex-manager, who technically resigned, albeit apparently under duress, in August 2016.
"The president is fighting every day for working people," Hill said. "I don't see that changing because Manafort is being exposed as just another sleazy Washington swamp monster."
Jason Le Miere contributed reporting.