Donald Trump continues to perform exceptionally well in the polls, outpacing President Joe Biden this week in seven key states.
As the 2024 presidential election grows nearer, Trump, the current frontrunner in the Republican primary race, is polling ahead of Biden in a hypothetical matchup despite being indicted on four separate occasions. The former president faces 91 felony charges across the cases, ranging from falsifying business records to mishandling classified documents and conspiracy to defraud the United States. Trump has pleaded not guilty to all charges.
Trump faces a challenge when it comes to unseating Biden, but the president has been plagued by concerns about his age and health. Biden's approval rating plummeted throughout his presidency, including after the rocky United States withdrawal from Afghanistan in August 2021 and as inflation continues to fuel economic stress nationwide. He is currently facing an impeachment inquiry from House Speaker Kevin McCarthy over his alleged involvement in son Hunter Biden's business dealings.
Trump is edging out Biden in seven key states according to a Reuters/Ipsos poll conducted online from September 8 through September 14. In the poll, which gathered responses from 4,413 American adults, Trump led with 41 percent to Biden's 35 percent in Georgia, Arizona, Wisconsin, Pennsylvania, North Carolina, Nevada and Michigan.
Biden won six of the seven states during the 2020 election, including Arizona, Pennsylvania, Wisconsin, Nevada, Michigan and Georgia, home to Trump's most recent indictment. Trump won North Carolina in 2020.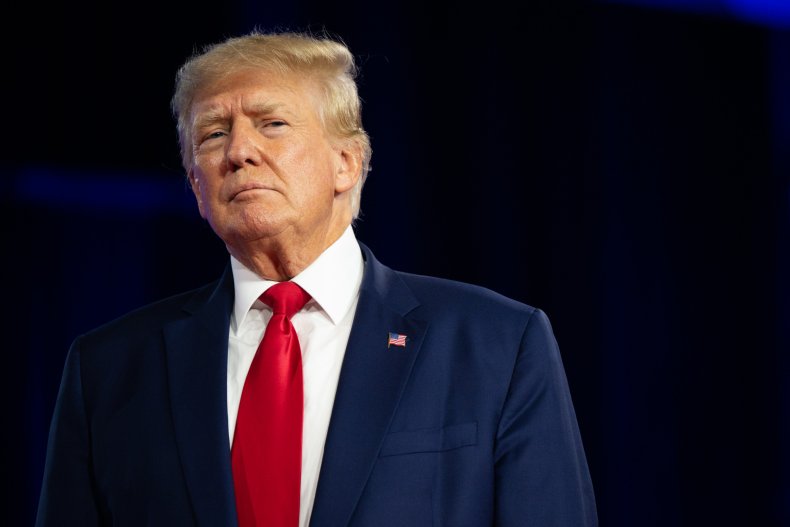 Trump was indicted in August in Georgia on 13 counts over allegations of election interference stemming from the then-president asking Secretary of State Brad Raffensperger to "find" the votes he needed to win the state in 2020. Trump has denied any wrongdoing.
Trump's legal woes in Georgia appear to have done little to dissuade voters from leaning toward the Republican in the 2024 election.
A telephone and online survey by Rasmussen Reports/The Absolute Truth With Emerald Robinson found that the majority of Georgia voters believed that Trump was prosecuted unfairly in the Georgia case. The survey polled 1,061 likely Georgia voters between September 8 and 11. Results revealed that if the 2024 presidential election were held today, Trump would win Georgia with 47 percent of the vote compared to Biden's 38 percent.
"Voters know that Biden has weaponized the justice system to go after his main political opponent, President Trump, because the polls show him crushing Biden in the general election," Trump's campaign told Newsweek.
"The fact is that President Trump will be the nominee and will beat Crooked Joe Biden because he's the only person who can supercharge the economy, secure our border, safeguard communities, and put an end to unnecessary wars. Americans want to return to a prosperous nation and there's only one person who can do that—President Trump."
Biden managed to flip several swing states during the 2020 election, but he faces tough odds come 2024—especially among independent voters, many of whom have expressed support of Green Party candidate Cornell West. West could manage to secure enough votes to skew the results between Trump and Biden, giving Trump the lead he needs to return to the White House.
It's unclear how Trump's legal woes will impact the 2024 election, given that he faces several overlapping trials that could interfere with his campaign, regardless of whether he is found guilty. However, in addition to edging out Biden in the polls, Trump remains the frontrunner for the Republican nomination.
Trump recently shared results from Interactive Polls on his Truth Social account in which he had 60 percent of the vote in the GOP race, a 47-point lead over Florida Governor Ron DeSantis in second place with 13 percent. The poll also revealed that in a hypothetical match-up between Trump and Biden, Trump had 48 percent of the vote in Georgia compared to Biden's 46 percent.