Trump Claims He's More Popular Than Obama, Tells Voters to Ignore Low Approval Ratings
President Donald Trump on Sunday suggested that TV viewers should ignore shows and pundits that report him having low approval ratings, also sharing an incorrect approval rating from one pollster.
In a tweet, POTUS hit out at the suggestion he did not have an approval rating of about 50 percent—claiming that Rasmussen showed him with "around" a 50 percent approval rating. However, it does not.
"Rasmussen and others have my approval ratings at around 50%, which is higher than Obama, and yet the political pundits love saying my approval ratings are 'somewhat low,'" he tweeted.
"They know they are lying when they say it. Turn off the show - FAKE NEWS!"
Unfortunately for the president, his own claim was incorrect. Rasmussen currently has the president at a 44 percent approval rating, 6 percentage points below his suggested number.
Despite the president giving his approval rating from Rasmussen a nudge upwards, he was indeed correct that Rasmussen reflects a higher rating than most other polls.
Indeed, a poll from CNN released several weeks ago put the president's approval rating on a par with its all-time low from last December.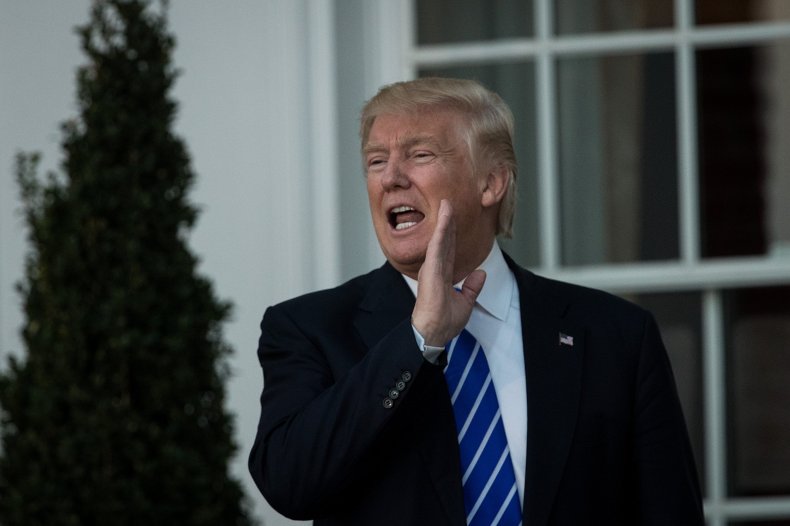 That survey showed just 35 percent of Americans approve of the president's performance, while a number of other polls put the president's approval rating in the high 30s and early 40s, in numbers he has claimed are "fake news."
One Politico/Morning Consult poll released on Wednesday spelled bad news for the president in the run-up to 2020, suggesting that currently, Trump would not even beat a generic Democrat candidate in a survey that asked voters who they would back.
The poll showed Trump at just 36 percent compared to a generic Democrat candidate with 44 percent; with an even greater percentage of female voters backing a generic Democrat against the president.