Trump Steps Off Campaign Trail to Promote Brand as Election Approaches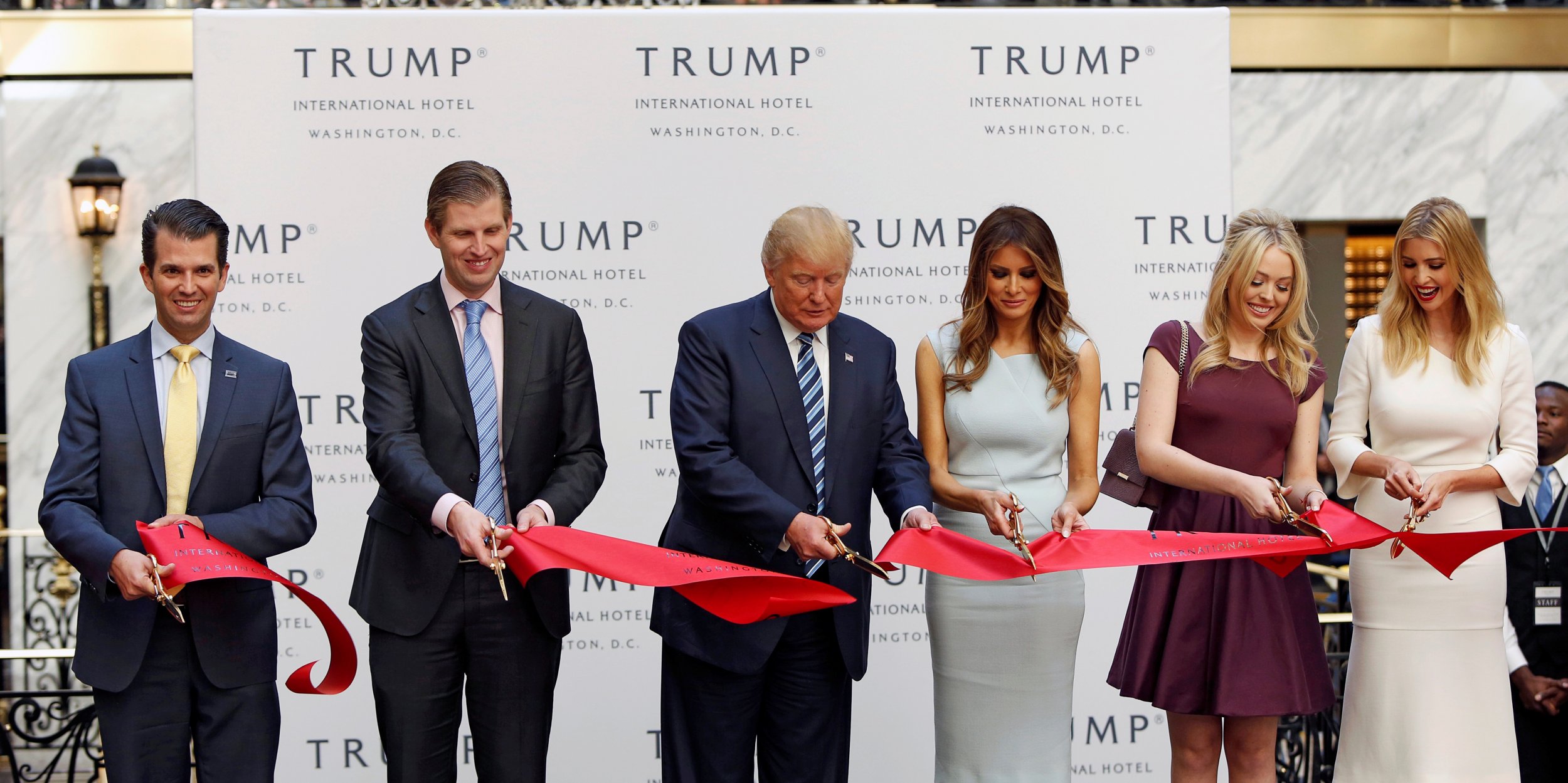 With just 13 days remaining until the presidential election, Donald Trump on Wednesday presided over a ribbon-cutting ceremony for his new hotel in Washington, D.C., before holding a rally in the crucial state of North Carolina. Meanwhile, his opponent, Hillary Clinton, was scheduled to stump at two separate events in the battleground state of Florida, where polls indicate a tight race between the two contenders.
The Republican nominee, who is trailing Clinton in national polls, held a press conference before the formal grand opening of the new Trump International Hotel. "We are going to the lobby, we are going to cut a ribbon, then I am going to North Carolina," he told the crowd at the end of his address, which he used to promote his business. Trump boasted that the hotel, which is a renovation of the historic Old Post Office just a few blocks from the White House, finished under budget and ahead of schedule.
Speaking before her father, Ivanka Trump thanked the candidate for attending the opening, despite his "grueling schedule" on the campaign trail. The ceremony was the wealthy businessman's second brand promotion event this week. On Tuesday, the candidate brought reporters to Trump National Doral, one of his golf courses and resorts in Florida. There, the former Celebrity Apprentice host asked his employees to say a few "good" words or else, "You're fired!" Some media reports have speculated that the recent visits to his properties are his way of looking beyond the 2016 election season, which ends in less than two weeks.
But in an interview with the Today show earlier Wednesday, Trump's campaign manager, Kellyanne Conway, said the candidate is showcasing his tangible accomplishments by stopping at his properties and buildings. "He's got the most active campaign schedule of the two candidates by far," she said. "Donald Trump stops off to unveil just an incredible, stunning piece of architecture and new first-class hotel, and everybody's hair is on fire." Conway said Clinton took time off of the trail to attend an Adele concert on Tuesday night. (The candidate turned 69 Wednesday). The campaign manager noted that Trump has made 12 stops in Florida over the last two days, and later this week will campaign in Ohio, New Hampshire and Maine.
His campaign told The Washington Post it hasn't scheduled any more big-money fundraising events to benefit the Republican Party. Trump has had a tumultuous relationship with established Republicans throughout the election season. House Speaker Paul Ryan, who was the GOP's 2012 vice presidential candidate, recently said he wouldn't defend Trump and instead would concentrate on protecting his party's congressional majorities in the final stretch before November 8.
Clinton, the Democratic nominee, headlined her last fundraiser—in Miami—on Tuesday night. But the Post said her campaign has scheduled 41 other events between now and November 3 that feature high-profile surrogates, including her daughter, Chelsea, and the singer Cher.
On Wednesday, Trump's running mate, Mike Pence, will stop in Colorado, Nevada and Utah. The last is a historically red state where the two presidential candidates are neck and neck in polls. His visit comes a day after a Utah paper—owned by a subsidiary of the Church of Jesus Christ of Latter-day Saints—ran an account by Clinton's vice presidential nominee, Tim Kaine, about his service as a Jesuit missionary in Central America and how it relates to the work of Mormon missionaries. The Clinton campaign isn't planning to send Kaine to Utah, where they are relying on regional surrogates to relay the presidential nominee's message. Kaine will be on the trail Wednesday in Pennsylvania.