Trump Pushes Claim That Brian Kemp's 50-Point Victory Was Fraud
Former President Donald Trump's "Save America" political action committee (PAC) on Tuesday sent an email to subscribers that linked to an article that claims Governor Brian Kemp's victory in last week's Republican gubernatorial primary was the result of voter fraud.
No credible evidence has been presented of widespread fraud in the May 24 primary.
Kemp, the incumbent, scored a lopsided win in the primary with approximately 74 percent of the vote, according to the Associated Press. His vote total was more than 50 percentage points higher than the count for David Perdue, a former U.S. senator who was endorsed by Trump.
Kemp was once a Trump ally, but the former president has since publicly bashed him multiple times after the governor refused to contest the 2020 presidential election results in Georgia, where Trump has falsely claimed there was voter fraud.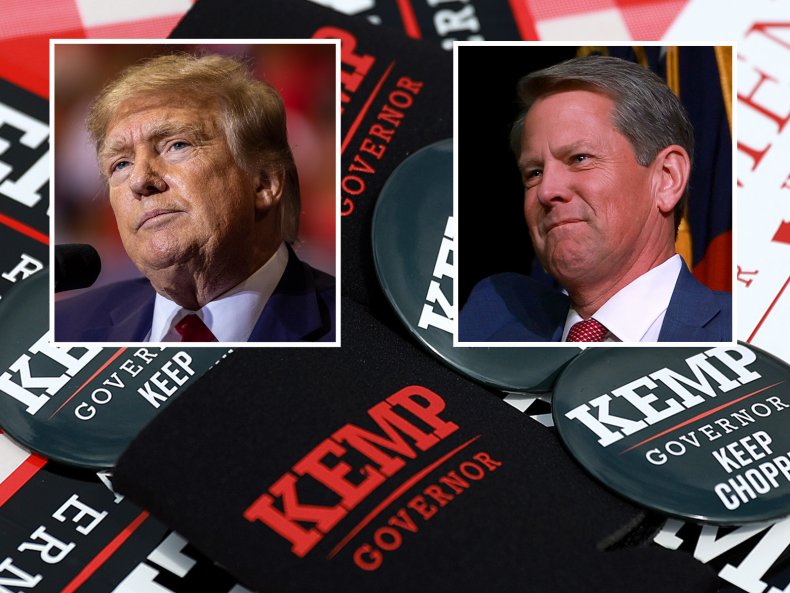 Trump endorsed Perdue in December 2021 and campaigned on his behalf. Meanwhile, former Vice President Mike Pence appeared at a Georgia rally for Kemp the day before the May 24 primary.
On Tuesday, Trump seemingly questioned the results of last week's primary by including a link in his PAC's email to an article by conservative writer Emerald Robinson entitled "Something Stinks in Georgia."
"On Primary Day in Georgia, Kemp gets 74% and Perdue gets 22%. Nobody in any election in America gets 74% of the votes. Ever. It doesn't happen. Obvious fraud," Robinson wrote in the article shared on her Substack page.
Robinson was once a White House correspondent for Newsmax, but she was removed by the outlet last year after she posted a conspiracy theory about COVID-19 vaccines on Twitter. Newsmax announced in January that her contract was not being renewed, and she has since been hired by Lindell-TV, the online network founded by MyPillow CEO Mike Lindell.
In her story on Georgia's primary, Robinson cited polling aggregation from RealClearPolitics as showing the margin between Kemp and Perdue leading up to the primary was not as great as it turned out to be. However, RealClearPolitics' polling averages still found Kemp had a lead over the other candidates in the race.
Robinson also wrote that Trump's endorsement helped secure primary victories for J.D. Vance in Ohio and for Ted Budd in North Carolina. She said the former president's record of picking winners with his endorsements was part of what makes Georgia's primary results "so curious and so suspect."
For his part, Perdue has not objected to the results of the primary. Instead, he announced during a concession speech that he had called Kemp and congratulated him. Perdue also said that he was supporting Kemp in November's election against Democrat Stacey Abrams.
Newsweek reached out to Trump for comment.