Donald Trump Rages After Being Compared to Mob Boss in New Book
Donald Trump has attacked a "radically deranged" lawyer who is due to release a highly critical book which discusses the investigation into the former president by the Manhattan district attorney's office.
Prosecutor Mark Pomerantz quit as special assistant district attorney in February 2022 amid reports that Manhattan District Attorney Alvin Bragg would not be seeking an indictment of the former president over his financial dealings.
In March 2022, a damning resignation letter from Pomerantz was made public stating the D.A.'s office was in "no doubt" that Trump had committed "numerous" felonies related to tax fraud and false financial statements and that not prosecuting the former president would be "a grave failure of justice."
In his soon-to-be-released book, People vs. Donald Trump: An Inside Account, Pomerantz likens how the former president runs his business empire to notorious mob boss John Gotti's methods.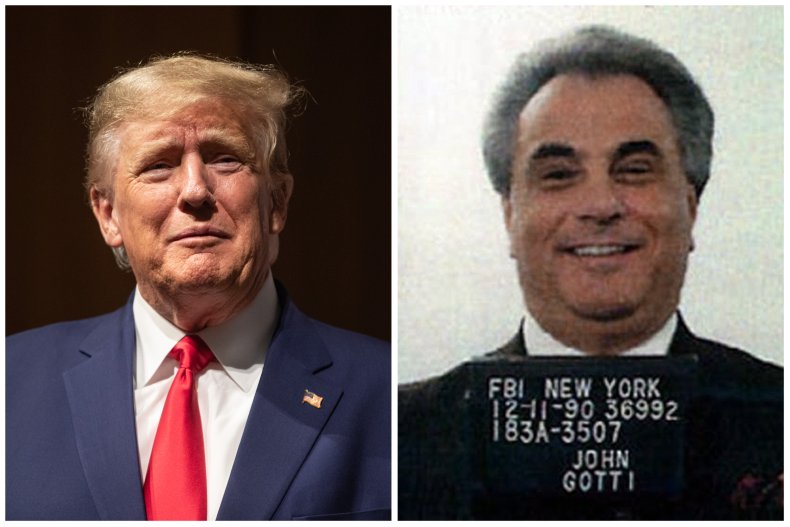 "He demanded absolute loyalty and would go after anyone who crossed him. He seemed always to stay one step ahead of the law," Pomerantz writes, according to abstracts of his book seen by The New York Times.
"In my career as a lawyer, I had encountered only one other person who touched all of these bases: John Gotti, the head of the Gambino organized crime family."
Gotti, who died in 2002, was the leader of the most powerful of the five New York crime families in the 1980s. He earned the nickname "Teflon Don" after he was able to beat a number of racketeering and other criminal charges for years. He was eventually convicted in 1992 of offenses such as conspiracy to commit murder and sentenced to life in prison.
Pomerantz also said he considered attempting to file racketeering charges, similar to those used for mobsters, against Trump before other prosecutors dismissed the idea.
In a post in Truth Social, Trump has accused Pomerantz of "obsessively spreading falsehoods" about him in the book, set to be published Tuesday.
"Crooked Hillary Clinton's lawyer, radically deranged Mark Pomerantz, led the fake investigation into me and my business at the Manhattan D.A.'s Office and quit because D.A. Bragg, rightfully, wanted to drop the 'weak' and 'fatally flawed' case," Trump said on Sunday evening.
"Now, Pomerantz got himself a book deal, and is obsessively spreading falsehoods about me. With all of this vicious disinformation being revealed by a 'prosecutor,' how can I ever be treated fairly in New York, or anywhere else? End the Witch Hunts!"
The former president has threatened to sue Pomerantz over the claims made in the book. The former president's lawyer, Joe Tacopina, told The New York Times that the Gotti comparison was "just another desperate attempt by Pomerantz to sell books."
Trump had also criticized Pomerantz and the investigation into him in a series of other Truth Social posts after extracts of the lawyer's book were published in the press.
"The Mark Pomerantz book absolutely KILLS the Fake 'Case' against me which had been looked at by the Manhattan D.A. I actually believe that I will be treated fairly, and that the many lies and innuendos made by disbarred & discredited witnesses have FAILED," Trump wrote on Saturday.
"Even the head of the Major Economic Crimes Unit quit because she didn't want to prosecute me based on the weak evidence and also, I hear, the Statute of limitations, which has long ago expired. This is why [former Manhattan DA] Cy Vance never brought it. Thank you!"
At the time of Pomerantz's resignation, Bragg was investigating whether Trump had fraudulently inflated the value of his assets and properties to receive better bank loans and other financial benefits
"His financial statements were false, and he has a long history of fabricating information relating to his personal finances and lying about his assets to banks, the national media, counterparties, and many others, including the American people," Pomerantz wrote in his resignation letter.
"The team that has been investigating Mr. Trump harbors no doubt about whether he committed crimes—he did."
Bragg denied that the probe into Trump has been brought to a halt.
The Manhattan DA's investigation into Trump is now looking further into allegations the former president paid hush money to adult film star Stormy Daniels, real name Stephanie Clifford, to keep an alleged affair she had with Trump a secret ahead of the 2016 election.
Pomerantz told The New York Times that prosecuting Trump for the hush money allegations alone would be a "very peculiar and unsatisfying end to this whole saga."
Pomerantz has been contacted for comment.