Were There Really 'Thousands' Of Trump Supporters Lined Up Days In Advance For President's Orlando Rally?
Since first launching his election campaign, President Donald Trump has repeatedly demonstrated his penchant for estimating crowd sizes⁠—often incorrectly⁠. On Monday evening, he was at it again, announcing that "thousands of people" were already lining up in Orlando, Florida, for his official 2020 campaign launch.
"Thousands of people are already lined up in Orlando, some two days before tomorrow nights big Rally," Trump tweeted on Monday evening, before promising "large screens and food trucks for those that can't get into the 25,000 capacity arena."
"It will be a very exciting evening!" the U.S. leader promised.
While the Amway Center's website states that the venue's capacity is capped at 20,000 seats, it is unclear whether Trump was also including standing room in his statement.
Earlier in the day, Trump had tweeted out that the rally looked "to be setting records," with his campaign apparently receiving "over 100,000 requests."
"Our country is doing great, far beyond what the haters and losers thought possible⁠—and it will only get better!" he said.
Images taken on Monday of the scene outside of Orlando's Amway Center, where Trump is expected to lead his rally on Tuesday, did, in fact, show dozens, if not hundreds, of Trump supporters lined up outside the venue, with a series of tents set up on the sidewalk.
Some, AFP photographer Gregg Newton observed, had even been waiting outside the facility for more than 40 hours in anticipation of the president's rally. Many in the crowd donned "Make America Great Again" hats, while others wore Trump 2020 shirts and buttons.
While there certainly were supporters camping outside the Amway Center ahead of the president's 2020 campaign launch, their numbers did not appear to be in the thousands by the time Trump put out his tweet.
According to local News 6 outlet Click Orlando, there were initially eight Trump supporters who had set up camp outside the Amway Center on Monday morning, with the first one showing up at 2:30 a.m.
Gary Beck, a Trump supporter from Panama City, said he was the first in line.
"There's going to be a bunch of people and it's going to be pretty intense," Beck told the local outlet. "The electricity is going to be high. It's time for America to get back on its feet and be made better than it's ever been before."
Later in the day, there appeared to be dozens of Trump supporters joining Beck, with many prepared to spend Monday evening sleeping outside just to be some of the first to make it into the Tuesday night rally.
By Monday evening, there were "several hundred people" lined up outside the Amway Center, according to CBS White House Associate Producer Sara Cook, who posted footage of the scene outside the facility to Twitter.
"Many have tents and plan to stay in line all night (and stuck out a thunderstorm earlier today,)" she wrote.
Orlando Police Department spokesperson Cassandra Lafser said the department did not have an estimate on the "numbers of people currently waiting for the event."
"Crowd sizes for any event are unpredictable," Lafser said. "The City of Orlando, including our Orlando Police and Fire Departments, are preparing for an increased number of people in downtown Orlando Tuesday."
Meanwhile, another Orlando Police department spokesperson told Newsweek the size of the crowd outside the Amway Center "is not something we're estimating right now."
"We are aware that some people started lining up on Monday morning," the spokesperson said.
Throughout his presidency, Trump has repeatedly boasted overinflated estimates for his crowd sizes, without providing any evidence. The U.S. leader ran into trouble the day of his inauguration when he falsely claimed that he had the largest inauguration crowd in history.
It was later revealed in a report by The Guardian that a government photographer had altered and cropped the photos from the U.S. leader's inauguration day to make the crowd appear larger.
At a rally in Houston last October, Trump also bragged, without any evidence, that he had attracted a "record crowd," claiming that there were 50,000 watching the event outside the arena.
Houston Police Chief Art Acevedo contradicted the president's claim directly, tweeting out that there were only 3,000 people watching outside the Toyota Center that day.
While the number of Trump supporters lined up outside the facility by Monday evening may not have been in the "thousands," many have said that the fact that people are lining up 40 hours in advance at all is a positive sign for the president's 2020 campaign.
"In case you're wondering how the 2020 election is going, hundreds of Trump supporters showed up 40 hours before the Orlando rally officially starts," political commentator Ryan Fournier wrote on Twitter. "Trump Train Coming!"
Meanwhile, Andrew Pollack, the father of Meadow Pollack, who died in the February 2018 Parkland school shooting, wrote on Twitter that the "energy is definitely on President Trump's side!"
"Tomorrow, President Trump will fill a 20,000 person arena and have jumbo screens for the massive crowds outside. Meanwhile, Joe Biden is struggling to fill a local diner," he said.
One special guest the U.S. leader can definitely expect to see outside the rally is the now-famous Trump Baby blimp, or at least a replica of the balloon, which is expected make an appearance at a "Win With Love" counter-protest opposing Trump's campaign and policies.
Trump's campaign launch in Orlando is expected to begin at 8 p.m. on Tuesday.
The rally will mark his first campaign event in the city since he ended his 2016 presidential campaign with a "Thank You Tour" stop at the Central Florida Fairgrounds.
Florida played a key role in securing Trump's 2016 election victory and the GOP also saw support there during the 2018 midterm elections.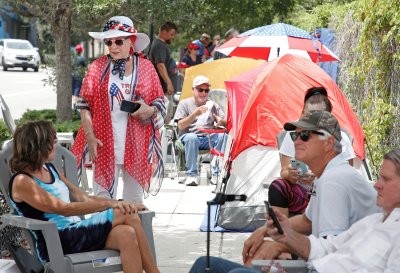 This article has been updated with comment from the Orlando Police Department.