Donald Trump Told to Resign or Be Impeached by Democrat, Who Warns Congress: 'Silence Is Betrayal'
A Democratic congressman who has twice forced votes to begin impeachment proceedings against Donald Trump has renewed a call for him to resign or be removed from office, two days after the president's onetime campaign manager Paul Manafort was convicted on eight fraud charges and former lawyer Michael Cohen pleaded guilty to eight criminal counts.
"This is a sad time for our country," Representative Al Green of Texas said in a statement Thursday. "It's becoming increasingly clear that the president will have two options: either resign or face impeachment, which does not require the president to have been found guilty of a crime."
The framers of the Constitution created the impeachment process as a means to remove an unfit president, Green stated.
"Hence, the ultimate question isn't whether the country has a way to remove an unfit president, but rather whether Congress has the will to remove an unfit president," Green continued. "As Dr. Martin Luther King, Jr. wisely indicated, 'There comes a time when silence is betrayal.'
"Such a time is upon us," Green concluded.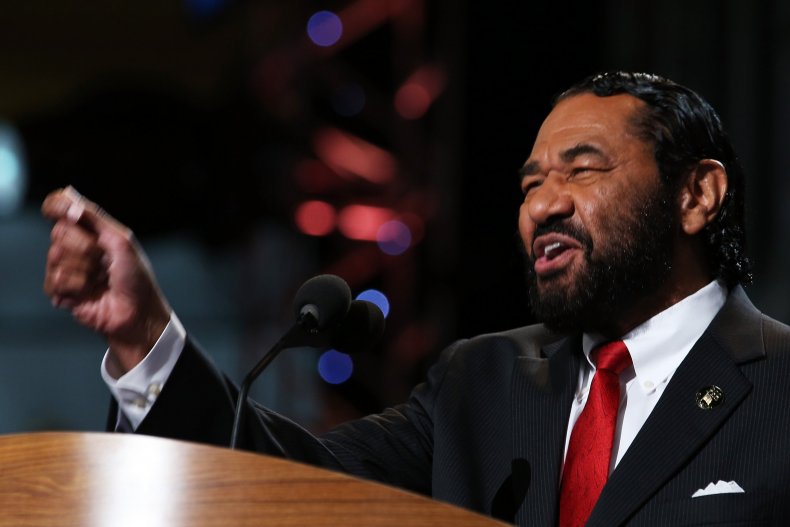 In an interview Thursday, Green told Democracy Now that impeachment was necessary "Because of the harm the president is currently doing to our society." he added: "You cannot allow this harm to continue. At some point, the harm can become irreparable in certain circumstances."
It is unclear if and when Green would bring an impeachment vote before the House again, but he tweeted Thursday morning: "Whether we like it, want it, or oppose it, the November election will be about impeachment. #CountdownToImpeachment #ImpeachmentIsNotDead."
Green has forced two votes around the turn of the year on articles of impeachment against Trump. His articles of impeachment in December accusing Trump of committing "high misdemeanors" and being "unfit to be president" failed 364-58. Green's second attempt in January, after Trump reportedly referred to Haiti, El Salvador and African nations as "shithole countries," got more support but failed 355-66.
Even top Democrats have been reluctant to call for impeachment hearings on Trump. House Minority Leader Nancy Pelosi and Democratic Minority Whip Steny Hoyer stated they wanted to wait for the results of special counsel Robert Mueller's investigation into Russian interference and possible collusion with the Trump campaign in the 2016 election.
Green's statement Thursday that the president does not need to be found guilty of a crime to be impeached is correct.
Three veteran constitutional lawyers in their book The Constitution Demands It: The Case for the Impeachment of Donald Trump, released earlier this month, argued that Trump has committed enough impeachable offenses for removal proceedings to begin.
"A lot of people are under the misimpression that the only impeachable offenses are crimes for which one could be prosecuted and imprisoned," one of the authors, Ron Fein, legal director of Free Speech for People, told Newsweek recently. "But emoluments are a perfect example of offenses that are impeachable that are not a prosecutable crime."
This story has been updated to include fresh quotes from Al Green.