Donald Trump Rips Mike Pence for Not Having 'Courage' on 1/6 to Reject Election Results
Former President Donald Trump attacked his former vice president for not having the "courage" to reject the results of the 2020 election.
At a Turning Point USA conference in Phoenix on Saturday, Trump repeated his complaint that Pence could have done more to stop the certification of his electoral defeat on January 6.
"I only wish that my friend, Mike Pence, had that additional courage to send the results back to the legislatures, because it all happened so quickly," Trump said to loud boos from the audience.
"You know, they schemed on this plan for four years," the former president claimed. "This all happened so quickly. If he would have sent it back to the legislatures—somebody gave him bad advice."
As well as railing against Pence, Trump repeated baseless conspiracy theories about the election he lost to President Joe Biden as he hailed a widely discredited months-long audit of votes in Arizona's Maricopa County.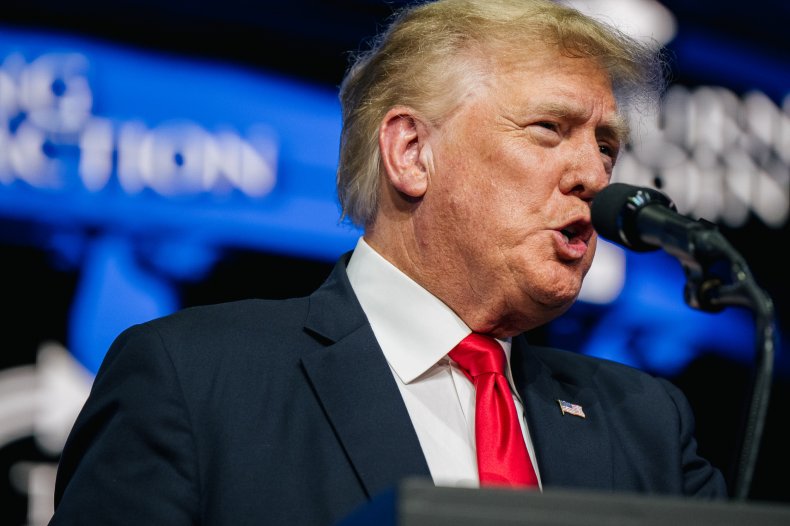 It came despite Arizona Secretary of State Katie Hobbs, a Democrat, urging Trump to get over his election loss. "Nothing that's going on here is going to change the outcome, and, really, this is nothing more than being a sore loser," she told CNN on Friday.
Yet Trump continued to air his grievances, alleging there's "no way Democrats win elections without cheating."
"If I lost the election, I'm okay with it. Seriously," he said. "I'll start building buildings. I'll keep myself busy, but they stole it from us."
Trump's baseless claims of voter fraud at a rally on January 6 prompted a mob of his supporters to later storm the U.S. Capitol and interrupt the certification of Biden's victory by Congress.
Seven people died during and after the rioting, including a woman who was fatally shot by police as she tried to break into the House chamber. Two police officers died by suicide in the days that followed, and another officer, Brian Sicknick, collapsed and died after engaging with the rioters.
On Tuesday, a congressional committee investigating the events of January 6 will hold its first hearing.
House GOP leader Kevin McCarthy claimed the committee had lost "all legitimacy and credibility" after House Speaker Nancy Pelosi objected to McCarthy's chosen Republicans— Reps. Jim Jordan of Ohio and Jim Banks of Indiana. Both voted against the certification of the election hours after the Capitol was breached by rioters.
"We have the duty, to the Constitution and the Country, to find the truth of the January 6th insurrection and to ensure that such an assault on our Democracy cannot again happen," Pelosi said in a letter to fellow lawmakers on Friday.
"Our imperative must be to find the truth," she added. "We must do so in a way that retains the trust of the American people in the proceedings, so that they will have confidence in the truth that emerges."