Donald Trump Staked His Reputation on Accused Child Molester Roy Moore—and Lost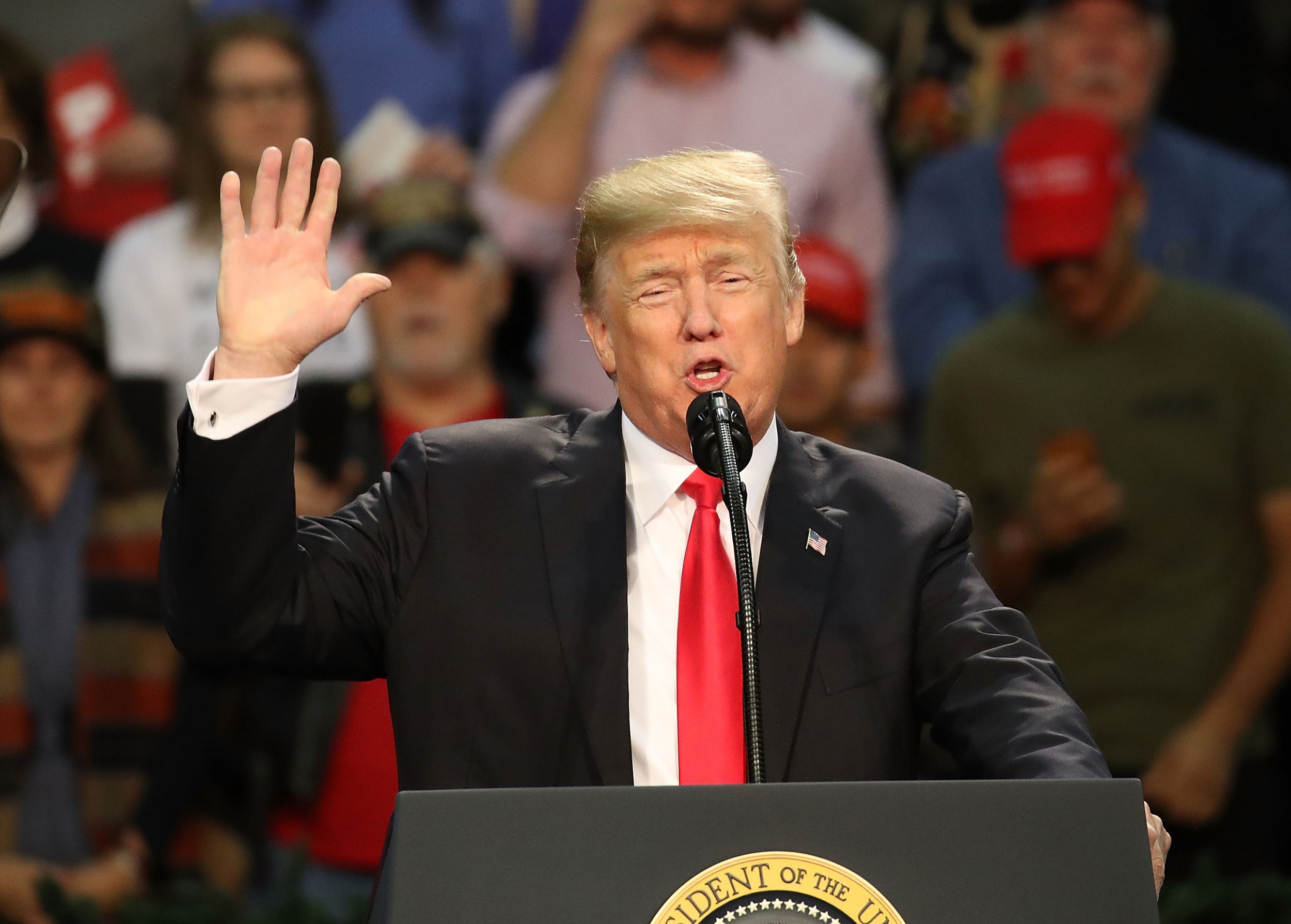 Against the wishes of his party and his daughter, President Donald Trump enthusiastically endorsed for the United States Senate a man accused by nine women of preying on them when they were teenagers and he was in his 30s. On Tuesday night, Trump had not only endorsed an accused child molester, he had endorsed a loser.
Related: President Trump's Reaction to Doug Jones Winning Was Totally Mature and Not Petty
"I think it's going to be an 'I told you so' moment for a lot of people," Fox News political analyst Gianno Caldwell told Newsweek Tuesday, referencing Senate Majority Leader Mitch McConnell and House Speaker Paul Ryan, in particular. "This has literally endangered the power of the GOP."
For Trump, it continues a worrying trend of defeats. In the Alabama Republican primary in September, Trump backed Luther Strange, and lost. In Virginia governor's election last month, Trump endorsed Ed Gillespie and lost. And now he has backed a man who has become the first Republican to lose to a Democrat in a U.S. Senate election in Alabama in a quarter of a century.
"It shows his base is much smaller than people acknowledge," GOP strategist and commentator Evan Siegfried said. "Every demographic he needs to be reelected is not with him. Only his base stands by him."
The result leaves Republicans, who have already struggled to pass legislation in Congress, with just a single-seat majority in the Senate. And Tuesday's loss could well encourage "more of an independent streak within Republicans," Caldwell said.
The campaign in Alabama had been dominated by the allegations against Moore, which included that he initiated sexual contact with a 14-year-old and attempted to rape a 16-year-old. Republican senators called on Moore to step aside and when he didn't they insisted that he would be the subject of an ethics investigation, if elected. Meanwhile, Trump's daughter Ivanka, said that there was a "special place in hell for people who prey on children." But Trump stood by his man.
Whereas Democrats sought to distance themselves from those accused of sexual misconduct, compelling Senator Al Franken of Minnesota and Congressman John Conyers of Michigan to resign in recent weeks, Trump linked himself with an accused child molester.
Democrats did not wait long to paint Tuesday's result as a defeat for Trump.
"This election wasn't about right versus left, it was about right versus wrong," Democratic National Committee Chairman Tom Perez said in a statement. "The people of Alabama sent a loud and clear message to Donald Trump and the Republican Party: you can't call yourself the party of family values as long as you're willing to accept vile men like Roy Moore as members."
One of Trump's biggest critics in Congress, Democratic Representative Maxine Walters of California, weighed in in even stronger tones.
"How many diet cokes did Trump consume while he gulped and waited for the defeat of his pedophile candidate??" she wrote on Twitter.
With the Republican majority in the Senate shrinking, Trump could be further compelled to try to reach across the aisle for help from Democrats.
"He won't have a choice," Caldwell said. "The thing President Trump likes to do best is win and if he sees an opportunity to win that's what he'll do."
Unlike in the case of Strange, Trump did not immediately delete his tweets endorsing Moore after the election results came in. Instead, he tried to brush off the loss, blaming the more than 22,000 votes tallied for write-in candidates.
At least behind closed doors, Trump may also direct some blame at his former chief strategist, Steve Bannon. It was the Breitbart News chief, an ardent supporter of Moore, who reportedly encouraged Trump to stick his neck on the line for the embattled Republican candidate.
"This isn't damaging for President Trump, who it's really damaging for Steve Bannon," Siegfried said. "Steve Bannon has excelled at helping Democrats win Senate seats that they have no business winning."