Donald Trump Calls San Francisco a 'Slum' and Nancy Pelosi a 'Sick Puppy' After Criticism of His Coronavirus Response
President Donald Trump called San Francisco a "slum" and dubbed House Speaker Nancy Pelosi a "sick puppy" after she criticized his response to the COVID-19 outbreak at the weekend.
The commander-in-chief told Fox & Friends on Monday morning that Pelosi's claim that he was fiddling while people died was a "horrible" thing to say. He also called her statement a "disgrace to her country," and suggested the federal government might "take over" San Francisco and "clean it up."
"It's a sad thing, she's a sick puppy in my opinion, she really is," President Trump said. "She's got a lot of problems, and that's a horrible thing to say."
He later added: "For her to make a statement like that, I thought it was a disgrace. I think it's a disgrace to her country, her family... and I guess now when she says I pray for the president... I don't think that's true."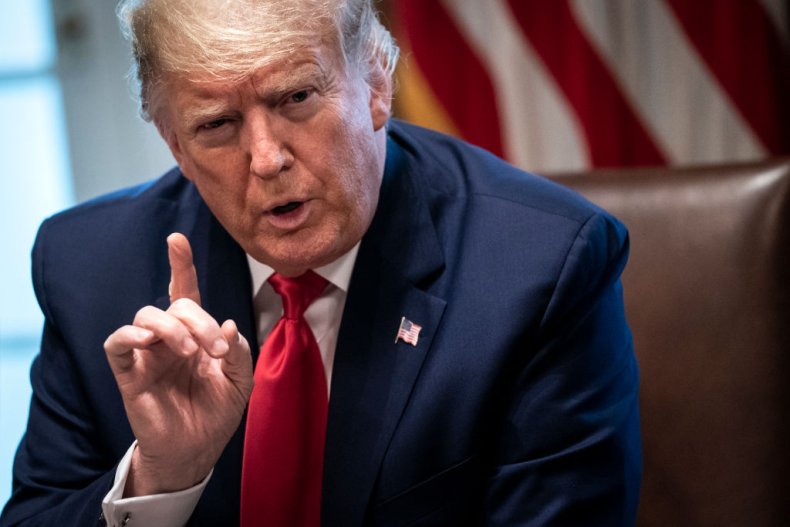 Moving onto San Francisco, the district Pelosi represents, Trump said: "Her area where she lives has become like a slum. It's a slum and she should focus on that.
"Her area that she's in charge of has become, from being one of the best in the whole country, has become a slum... in fact the federal government, we may get involved and take over that area and clean it up."
Newsweek has contacted Speaker Pelosi's office for comment and will update this article with any response.
President Trump's remarks on Fox & Friends this morning came after the California Democrat berated him for denying the threat of the novel coronavirus on CNN's State of the Union.
"His denial at the beginning was deadly," she said. "His delay of getting equipment to where—it continues his delay in getting equipment to where it's needed, is deadly."
She later added: "As the president fiddles, people are dying. We just have to take every precaution."
Speaking to Fox & Friends about his decision to delay his initial plan to return the U.S. to business as usual, President Trump said a spike in coronavirus cases was expected around Easter and would drop to a "very low number" at the start of June.
His comments came a day after he told reporters at a coronavirus press conference on Sunday that he would be extending the administration's social distancing guidelines to the end of April.
"The peak for death rates is likely to hit in two weeks," he said. "Nothing would be worse than declaring victory before victory is won."
His decision to extend the social distancing guidelines set out by his administration earlier this month marked a reversal of his earlier aim to have the country "opened up and raring to go" by the Easter holidays.
Dr. Anthony Fauci, the leading infectious disease expert on Trump's coronavirus task force, told reporters on Sunday: "The decision to extend this mitigation process until the end of April, I think was a wise and prudent decision."
President Trump also used the Sunday briefing to suggest that masks being provided to New York could be "going out the back door."
"How do you go from 10-to-20-to-300,000...even though this is different. Something's going on...Where are the masks going? Are they going out the back door?" he said.
His remark prompted a backlash from some doctors, with Greater New York Hospital Association President Kenneth Raske saying: ""They [medical professionals] deserve better than their president suggesting that PPE is 'going out the back door' of New York hospitals. I urge you to focus on what you—and all of us—can do to help."