Donald Trump has said it would be a "total disaster" if Nancy Pelosi were to serve as president if he and Vice President Mike Pence were incapacitated due to coronavirus.
Trump reacted this morning to a report that Pelosi, Speaker of the House of Representatives, could be third in line to take on his role, just behind Pence.
Sharing an article from Just the News, Trump wrote: "Then we must be very careful.
"Crazy Nancy would be a total disaster, and the USA will never be a Communist Country!"
The Constitution states that should neither the president nor vice president be able to serve, then Congress is to provide law on the next person in line.
Current law dictates that the Speaker of the House of Representatives could quit that role to then move into the duties of President.
The discussion comes after three White House staff members have been diagnosed with coronavirus, with Pence's press secretary the latest confirmed case. Pence declined to go into quarantine after their diagnosis.
Both Trump and Pence are both tested regularly and they have given back negative results.
The White House is ramping up efforts to contain any spread of the virus, with a directive issued ordering most officials to wear masks in the West Wing.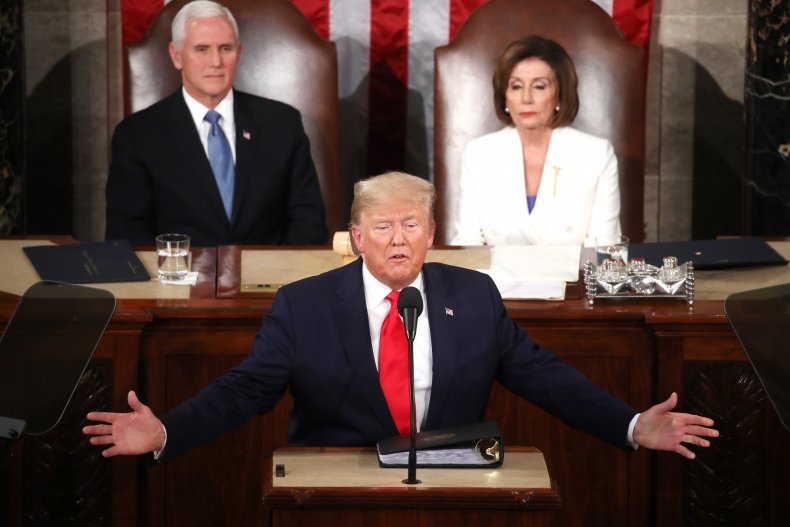 Three members of the White House coronavirus task force have taken levels of isolation measures, amid concerns over contact with people infected by COVID-19. Dr. Anthony Fauci, the director of the National Institute of Allergy and Infectious Diseases, is among them and is in a "modified quarantine."
Kevin Hassett, a top economic adviser to the president, previously told CBS News it was "scary to go to work" amid the pandemic.
Newsweek has contacted the White House and Pelosi for comment.
Trump and Pelosi have frequently clashed throughout his tenure as president. Pelosi was a key figure in Trump's impeachment and the president has previously branded her "dumb" while condemning her actions.
Pelosi has also strongly criticized Trump's response to the coronavirus outbreak, branding what she saw as "delay" from the president as "deadly." Last month she urged members of the public to ignore comments from the president and instead focus on the opinions of scientists and experts.
Pelosi has served as the Speaker of the House of Representatives since 2019. She also previously held the role from 2007 to 2011.
The U.S. continues to confront the highest number of coronavirus cases of any country. The nation has seen more than 1.3 million cases of coronavirus since the outbreak began and more than 80,000 people infected have died, according to Johns Hopkins University figures. Of those to contract the virus, more than 230,000 people have recovered.
New York has the highest figures of any state in the country and the graphic below, from Statista, shows the 10 most severely affected states as of May 12.