How Donald Trump and Sean Hannity Are Promoting Theory Ukraine Interfered in 2016 Election to Help Hillary Clinton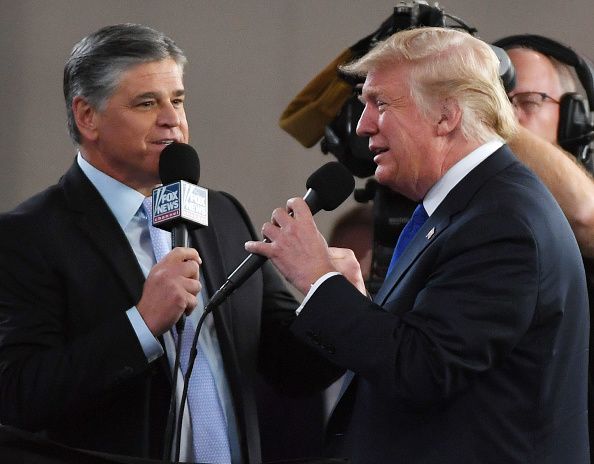 As Ukraine prepares for its presidential elections on March 31, collusion with a foreign country and President Donald Trump's former campaign manager Paul Manafort have made their way into the public discourse. And President Trump, his son Donald Trump Jr., and the president's favorite television presenter Sean Hannity are helping the conversation along, alleging that anti-corruption leaders in Ukraine tried to sway the U.S. election in favor of Hillary Clinton.
It all started on March 5, when U.S. Ambassador to Ukraine Marie Yovanovitch criticized the country's record on corruption, pointing to a recent high court decision to decriminalize illicit enrichment—when a public official has significant increases to their wealth or assets that cannot be explained by their income. Ambassador Yovanovitch specifically noted that the high court's decision weakens Ukraine's National Anti-Corruption Bureau, a law enforcement body established after a pro-Western movement ousted pro-Russian president Viktor Yanukovych in 2014.
From there, Ukraine's officials went on the offensive, appearing to target the bureau. Ukraine's Prosecutor General, Yuriy Lutsenko, announced on U.S.-based Hill Television earlier this month that he was opening a probe into alleged efforts by Ukrainians to influence the 2016 U.S. presidential election. Those efforts, he said, involved the head of the National Anti-Corruption Bureau, Artem Sytnyk. He also alleged that U.S. ambassador Yovanovitch had attempted to pressure him not to prosecute certain people, a claim the State Department denied in an email to Radio Free Europe.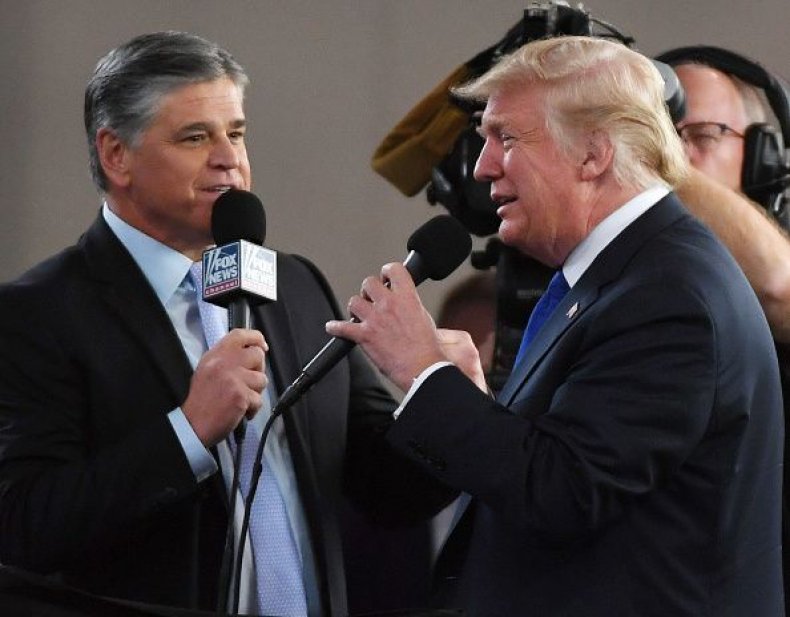 Lutsenko alleged that Sytnyk published information about secret payments from Ukraine's former President Yanukovych's party to Trump's former campaign manager Paul Manafort in order to hurt the Trump campaign. The bureau says the information was published in the name of transparency, not to influence the U.S. election.
The prosecutor also told The Hill this month that he is expanding the inquiry into whether Sytnyk was trying to sway the 2016 elections in favor of Clinton. Conservative television presenter Sean Hannity then invited the reporter from The Hill onto his show to repeat the claims. Trump, who watches Hannity's show and reportedly speaks with the television presenter frequently, then promoted Lutsenko's narrative.
"As Russia Collusion fades, Ukrainian plot to help Clinton emerges," Trump tweeted on March 20.
Sytnyk played a central role in discovering and publishing secret records, nicknamed the "black ledger," with information about $12.7 million in undisclosed cash payments made by Yanukovych's party to Manafort from 2007 and 2012. The anti-corruption bureau alleges that Yanukovych stole from Ukrainian taxpayers in order to pay Manafort. The former Trump campaign manager had worked as a political consultant for Yanukovych for years.
On Wednesday, a Swedish broadcaster revealed that a shell company that Yanukovych allegedly used for accepting bribes also made payments to a company, Inlord Sales LLP, which transferred funds to Manafort.
But some members of Ukraine's government—who areeager to curry favor with the Trump administration to gain U.S. support in their own fight against Russian interference—have tried to frame Sytnyk's revelation about the payments to Manafort as an attempt to hurt Trump's campaign.
Previous reports suggested that Ukraine's government may have stopped cooperating with special counsel Robert Mueller's investigation into Manafort so that the Trump administration would sell the country lethal weapons with which to defend itself from pro-Russian separatists in eastern Ukraine. And a Ukranian court ruled in December last year that the National Anti-Corruption Bureau's transparency efforts were an attempt to influence U.S. elections.
Olga Lautman, an investigator covering Russia and the former Soviet Union, told Newsweek that Lutsenko recently met with Trump's lawyer Rudy Giuliani in Washington, and that the efforts to create a narrative about people in Ukraine working to help Clinton and hurt Trump was coordinated with Republican leaders.
"Manafort is at the heart of this investigation and Lutsenko is investigating how Manafort's black ledger files were leaked and whether this was an attempt to sway the election in Hillary Clinton's favor," Lautman told Newsweek. "This is all a very poorly orchestrated attempt between Prosecutor General Lutsenko, Trump, and the Republican Party, who are now vowing to open their own investigations into the matter to deflect from Russia's attack on America to Ukraine's 'involvement' with Hillary Clinton."
Michael Carpenter, a former deputy assistant secretary of defense in charge of Russia and Ukraine, argues that an investigation into Manafort's work in Ukraine should not be politicized.
"It's outrageous that anyone would question the motive of Ukrainian authorities for investigating Paul Manafort—a corrupt political hack who worked for Ukraine's disgraced, kleptocratic former president," Carpenter told Newsweek. "Manafort's a convicted felon who committed financial fraud in the United States, and he may have committed similar crimes in Ukraine, so why wouldn't they investigate him? Even more appalling, however, is that the investigation was reportedly stymied by senior Ukrainian officials because they thought it would upset Trump."
"Whether they arrived at that conclusion on their own or whether Trump advisors like Rudy Giuliani helped guide them to that realization remains an open question," Carpenter added.
Conservative U.S. media have focused on U.S. ambassador to Ukraine Yovanovitch, pointing out that former President Barack Obama had appointed her.
"Calls to remove former President Barack Obama's U.S. Ambassador to Ukraine, Marie Yovanovitch, have intensified over the last week as a scandal in Ukraine surrounding the 2016 U.S. presidential election has started to gain more attention," reads a March 24 article in the Daily Wire, a conservative website founded by political commentator Ben Shapiro.
The article cited claims that former Congressman Pete Sessions had written a letter to Secretary of State Mike Pompeo asking for Yovanovitch to be removed. The U.S. president's son Donald Trump Jr. then tweeted the article.
"We need more @RichardGrenell's and less of these jokers as ambassadors. Calls Grow To Remove Obama's U.S. Ambassador To Ukraine," Donald Trump Jr. Tweeted, referring to Trump's pick for ambassador to Germany Richard Grenell.
Grenell has been widely criticized for lacking experience and offending U.S. allies during his short tenure as U.S. ambassador to Germany.
Meanwhile, Ukraine's National Anti-Corruption Bureau issued a statement saying Lutsenko's claims about U.S. election interference are an effort to "discredit an independent anti-corruption agency."
"The NABUs jurisdiction is to expose and eradicate corruption offenses committed by Ukrainian top-officials," the statement reads. "Therefore, during the investigations, the NABU Detectives have never collected evidence as of illegal activities of Paul Manafort, as he was beyond the competence of the National Bureau…. We remind that the NABU published information mentioning the presence of Paul Manafort's name among others on the pages of the so-called 'black ledger' in response to numerous requests from Ukrainian and foreign media in order to avoid any speculations."