Trump Calls Female Professionals 'Sweetie' and 'Honey,' Makes Jokes About Their Weight and Appearance, Anonymous Book Claims
Excerpts of a new book purportedly written by an anonymous official within the White House have been emerging, painting a negative picture of President Donald Trump, including revelations that add to claims that he is a misogynist.
In the latest publication that scarcely has a good thing to say about Trump, the book titled A Warning, portrays the president as cruel, inept, and sexist.
Excerpts obtained by The Washington Post suggest that a group of senior officials within the White House had thought about quitting en masse in a "midnight self-massacre" as a call to arms about what they feared was Trump's increasingly erratic behavior.
Get your unlimited Newsweek trial >
The Post noted that the book "does not re-create many specific episodes in vivid detail" so as to protect the author's identity. However, it presents the president as making sexist comments.
The author writes: "I've sat and listened in uncomfortable silence as he talks about a woman's appearance or performance. He comments on makeup. He makes jokes about weight. He critiques clothing. He questions the toughness of women in and around his orbit.
"He uses words like 'sweetie' and 'honey' to address accomplished professionals. This is precisely the way a boss shouldn't act in the work environment," the book notes.
Trump's attitude towards women has been in the spotlight before. Last month, The New York Times reported an exchange between the president and the Department of Homeland Security head, Kirstjen Nielsen.
Get your unlimited Newsweek trial >
During a discussion about the legal justification of shooting down drones, he said: "Kirstjen, you didn't hear me the first time, honey," Trump said, according to two people familiar with the conversation, adding, "shoot 'em down. Sweetheart, just shoot 'em out of the sky, O.K.?"
On the 2016 campaign trail, Trump dismissed as "locker room talk" his conversation in a leaked Access Hollywood audio tape in which he said his fame allowed him to to "grab [women] by the pussy."
The book, All the President's Women: Donald Trump and the Making of a Predator, released last month draws on over 100 interviews from women and lists dozens of claims of "unwanted sexual contact."
The White House has dismissed the latest book about Trump, A Warning, which was written by the same author of an op-ed in The New York Times last September headlined "I Am Part of the Resistance Inside the Trump Administration," which described how senior officials are trying to shield the U.S. from the president's impulses, a piece which the president derided as treasonous.
White House press secretary Stephanie Grisham said, according to the Post: "The coward who wrote this book didn't put their name on it because it is nothing but lies. Real authors reach out to their subjects to get things fact checked—but this person is in hiding, making that very basic part of being a real writer impossible. Reporters who choose to write about this farce should have the journalistic integrity to cover the book as what it is—a work of fiction."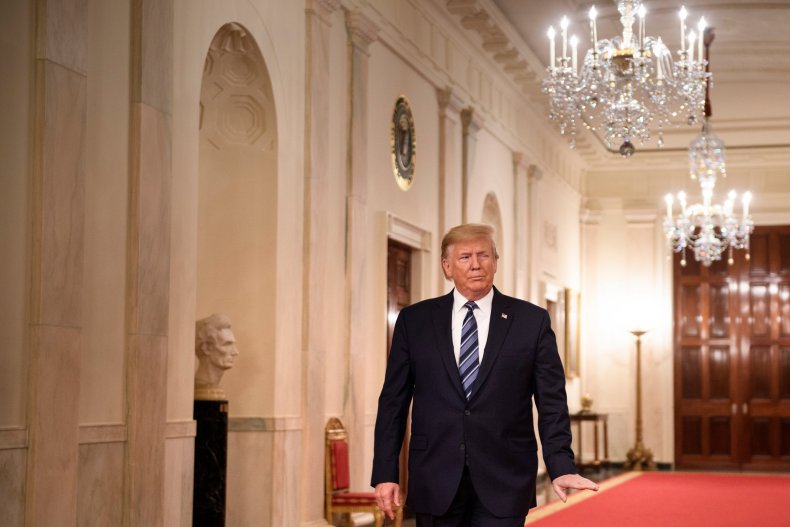 Trump Calls Female Professionals 'Sweetie' and 'Honey,' Makes Jokes About Their Weight and Appearance, Anonymous Book Claims | U.S.