Donald Trump Should Be Impeached Now Because 'The Constitution Demands It': New Book
Congress, which has the authority to begin impeachment hearings against President Donald Trump has been reluctant to act, awaiting the results of special counsel Robert Mueller's criminal investigation, among other things.
But in a new book, three veteran constitutional lawyers argue that the framers of the Constitution provided impeachment as a remedy in anticipation of a leader like Trump, and that he's committed enough offenses for removal proceedings to begin immediately.
The framers of the Constitution "were obsessed with corruption," and "to defend against this ever-present danger, they built bulwarks into the Constitution itself," the book The Constitution Demands It: The Case for the Impeachment of Donald Trump, set for release Tuesday, says.
"President Donald Trump has been violating the Constitution since the moment he took the oath of office—and since then, the corruption, abuse of power, and abuse of public trust have only gotten worse," the authors Ron Fein, John Bonifaz and Ben Clements write.
The attorneys, who work for the nonprofit Free Speech for People, identify eight categories in which Trump "has already crossed the line into impeachable territory."
First, they say, Trump has violated the Constitution's emoluments clauses because he refused to separate himself from his companies upon being sworn in and continues to profit from business from foreign and domestic governments.
"A lot of people are under the misimpression that the only impeachable offenses are crimes for which one could be prosecuted and imprisoned, but emoluments are a perfect example of offenses that are impeachable that are not a prosecutable crime," Fein, the nonprofit's legal director, told Newsweek. "Furthermore, it is not only not a crime, but it's not part of special counsel Robert Mueller's investigation."
The book alleges seven other impeachable offenses by Trump: conspiring to solicit and conceal illegal foreign aid during his presidential campaign, obstructing justice, improperly directing law enforcement to investigate and prosecute his political opponents, pardon power abuse, advocating for violence and undermining equal protection of the laws, recklessly endangering the U.S. by threatening nuclear war, and undermining freedom of the press.
All eight impeachable offenses have been cited by the Need to Impeach campaign, which has obtained more than 5.5 million signatures calling on Congress to start impeachment proceedings, and were first presented publicly in a white paper at a National Press Club event last December involving the campaign.
The campaign's founder, Democratic donor Tom Steyer, has since endorsed the book and said it does an "outstanding job" of detailing how Trump violates the Constitution on a daily basis.​
"Their legal arguments are clear and demonstrate that he has more than met the criteria for being removed from office," Steyer said in an email to Newsweek. "I personally urge Americans to read their book and demand that members of Congress do the job they were elected to do and start proceedings to impeach Trump."
Despite the campaign's efforts, few Congress members backed two forced votes to begin impeachment proceedings against Trump. House Minority Leader Nancy Pelosi and Democratic Minority Whip Steny Hoyer have opposed pursuing Trump's removal as Mueller intensifies his probe.
One of the authors, Fein, pointed out there wasn't major support to remove former President Richard Nixon, who is the only American commander-in-chief to resign, until the judiciary committee had voted to issue articles of impeachment. The book seeks to compel Congress to move forward with impeaching Trump, and provides readers with sample phone scripts to contact their representatives.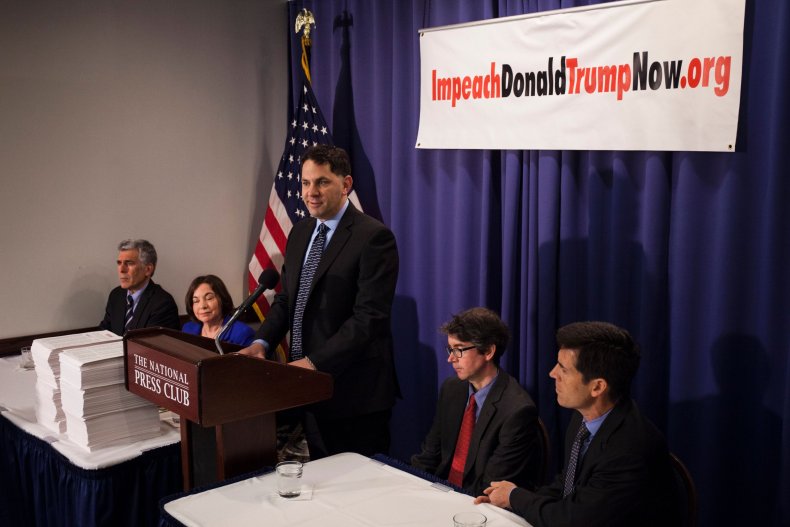 Some grounds laid out in the book, like the emoluments, are "crystal clear" offenses, Fein said, while others have no precedent "simply because no other previous president dared to cross the lines."
"We think that all of them are independent impeachable offenses," Fein said, "And certainly when put together, add up to an overwhelming case."