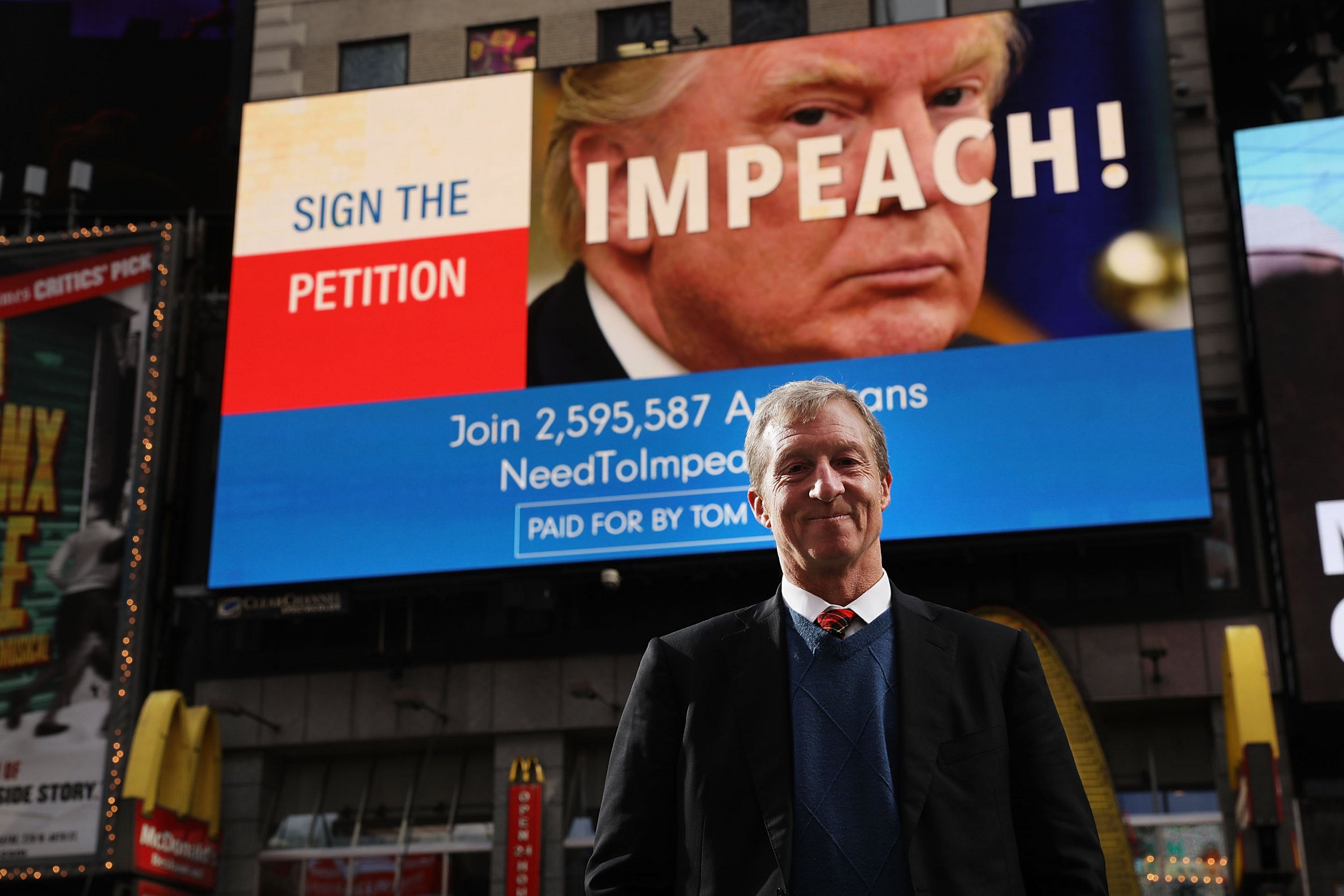 For Need to Impeach campaign founder Tom Steyer, it's not a matter of if, but when, President Donald Trump will be removed from office.
"There will be increasing evidence and increasing urgency with the American people to get this guy out of office as people realize we really can't survive him," Steyer said during a recent sit-down with Newsweek in New York City.
"When it happens, I don't know. Exactly what the next events will be, I don't know. That there will be next events, I do know," said Steyer, adding that they will support his campaign's objective.
Before launching Need to Impeach in October to demand impeachment proceedings, Steyer said he was betting that every day would bring more evidence to back up his case that the president deserves to be booted from the White House.
"And we think that's happening," the Democratic billionaire said, citing a recent New York Times op-ed column on 10 ways Trump has obstructed justice.
Related: Will Trump be impeached in 2018? Here's what the odds say
"We're going to see more information coming out of the investigations. We're going to see more attempts to obstruct justice," Steyer predicted. "We're seeing them almost on a daily basis at this point."
According to Steyer, there is no need to wait for the results of special counsel Robert Mueller's intensifying investigation into possible collusion between Trump's campaign and Russians in the election because he "obstructed justice and that has always been the primary basis for impeachment of the president of the United States."
Among instances that Trump critics say show he committed obstruction of justice are his comment to former FBI Director James Comey last February to let go of an investigation on resigned national security adviser Michael Flynn, and that Trump later fired Comey because of "this Russia thing."
Steyer added that he cannot foresee what steps may lead to Trump's impeachment because the president constantly commits new, unpredictable offenses.
"I liken it to being on a wild horse," Steyer said. "We as a country are on a wild horse and we don't know where it's going."
The White House did not respond to a request for comment from Newsweek.
For Need to Impeach, the biggest roadblock has been partisanship, Steyer said, with Republicans "hunkered down trying to defend the indefensible."
Democratic Representative Al Green of Texas has forced two votes to start proceedings on impeaching Trump. The most recent one in January—after Trump referred to Haiti and African nations as "shithole countries"—drew eight more Democrats in favor, but failed 355 to 66.
"He has lowered the standards for Americans. I mean, just as a glaring example, no other American president used a four-letter word, bathroom language, in meetings," Steyer said of Trump.
House Minority Leader Nancy Pelosi and Democratic Minority Whip Steny Hoyer have opposed pursuing impeachment while Mueller carries out his probe. But Steyer said that more politicians have shown willingness to support a movement against Trump when it doesn't explicitly involve impeachment.
Steyer said he is relying not on the number of people in Congress whose votes are needed to initiate impeachment proceedings, but on the voice of the American people.
Need to Impeach has collected more than 4.7 million signatures on a petition demanding Congress to begin proceedings to remove Trump. Its largest event to date, Party to Impeach, will take place on Saturday, ahead of President's Day, with impeachment-themed house parties planned in more than 500 communities across the U.S.
"Obviously, the elected officials don't want to hear me at all. The only thing they can hear and have to hear is the voice of 4.5 million Americans" and counting, Steyer said. "That is a shockingly powerful statement."